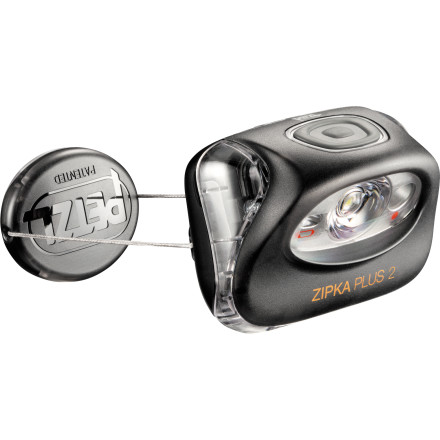 Detail Images
Petzl's Zipka Plus 2 Headlamp is as versatile as it is lightweight. A retractable, durable Dyneema cord lets you attach the Zipka to pretty much anything—your head, your wrist, a tent pole, or your cat's tail.*
Single, focused white LED provides even, powerful light for its size
Red LED maintains your night vision with solid mode or blinks to improve your visibility
Runs on 3 included AAA batteries; also compatible with rechargeable lithium batteries
Water-resistant design for reliable use in stormy weather
My pocket construction light..
I keep this in my coat pocket and I am always ready for having light where I need it. I notice my clients kind of freak out when one minute we are looking at a dark area and then I have a beam lighting up an area and they have no idea where the light is coming from. I also use it when I walk the dog just holding it in my hand. It is a great tool for so many jobs. I also use it for working under the hood of my vehicles.
I got this head lamp as a stocking stuffer for christmas. Honestly I was a bit deterred from using it due to the string design. I was worried about breakage. But much to the contrary,this sucker is strong, sturdy and well designed. I prefer it to norma elastic head lamps because it doesn't put as much pressure around my head but still stays securely attached. As far as brightness, it's nothing to brag about but for the size it gets the job done. Probably the best light for Fast Packers.
Great for when you need a little light
Gender:

Female

Familiarity:

I've put it through the wringer
This is by no means an all-purpose heavy-duty headlamp. It's a lightweight, no-band, spark to light up the night when you need to see, but not far, and not in dire circumstances. We keep one in the house and one in the camper. I keep one in my running pack in case of emergency if I'm going out long. My husband keeps one in his hunting pack for the same reason.
a lot of flaws, but still...
Gender:

Male

Familiarity:

I've put it through the wringer
I bought this headlamp to have in unison with whatever mountaineering headlamp I have. I primarily use this one for getting around base camp, reading some books in the tent and working on electrical projects at my house. I like this product because it is small and compact. It is not really weather resistant, which often leads to corrosive batteries leaking in the battery compartment. One of my complaints is that it is really hard to get the batteries to close right in the battery compartment and I have had several occasions where the compartment pops open and the batteries shoot out. The zip cord sometimes catches my hair and winds it up with the cord into the internal mechanism which can be painful. I have had 8 of these since they first came out. Often the padding on the forehead comes off after a little bit of time. Now some positives. I like this item for some of the same reasons I don't like it. First of all I like the zip cord. I can wear this around my wrist like a bracelet and have it right there ready to go when I am trying to get around base camp. Another thing I like about this is it is very compact and easy to pack in a pocket or hook to a bag. If you don't mind putting up with some of these quirks then this could be a decent headlamp for you. Besides all of the flaws, I still by 1-2 per year of these, and keep around some zipka 2s as backups. I can't get enough use out of them.