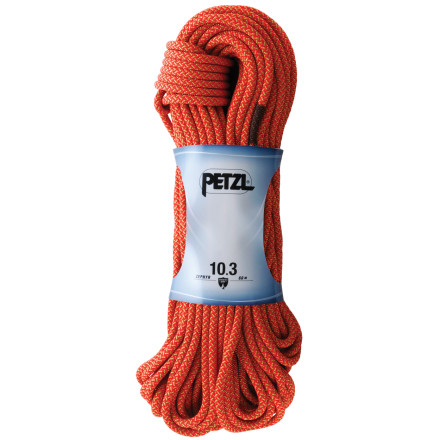 The Petzl Zephyr Climbing Rope tackles the local top-rope crag, multi-pitch granite walls, and days of dogging your project with equal toughness. The Zephyr's 10.3mm diameter gives you extra friction and increased control, while its thick, durable sheath offers up a longer lifespan. Petzl also added a Duratec dry treatment to the sheath and core for enhanced protection against water absorption and freezing.
Got a 50m on SAC as my first climbing rope over a year ago. It's held up well, and although the sheath has fuzzed a bit, if you take care of it it'll last. Still surprisingly supple considering the use it has seen.

My one complaint is the middle and end markers - they are black marks on a dark blue rope that can be difficult to see. Moreover, the middle and end marks are too similar; they're both black markings, however the middle one is a long black mark and the end markers are a number of short black markings. Next time I'll look for a rope that uses a pattern change at the midway point to make it that much more obvious.
So far a good, very durable rope
This rope holds up very well. I've read what others have said about the sheath being lousy, but that hasn't been my experience; still no fuzz. I've also taken some long pendulum type falls where the sheath has been dragged across the granite in a manner which would expose the core on a lesser cord, but my Zephyr has survived without any damage that I can't live with. There is no doubt that this rope is heavy (I have the 60m) but for my uses the extra durability and strength of a 10.3 more than compensate.
This rope is great! It has a great handle and the sheath feels nice and thick but very flexible. I took it to the desert just after I bought it and it seemed like it repelled the sand. It is the perfect weight too, not so light that you worry about strength and not so heavy that you feel like you gained fifty pounds just before take off. It clips easy and even though it is a 10.3 it feels more like a 9.8. This is my first Petzl rope but for sure not the last.
The zephyr is my first rope, so emotionally I'm attached to it like a 7th grader is attached to their first crush. But logically and practically I see the flaws in it. The sheath is not that strong, and fuzzed in a couple spots my first time out. Also the super dynamic nature of the rope feels a bit odd at times as it will creep through your belay device when someone is hanging or it will feel bouncy on a rappel. But really I think these are nit-picky things when it comes down to it. Its a good rope that will see a good 2-3 years of beginner sport climbing use if treated well.

Some things I really enjoy about the rope are the marking for mid and ends. The middle mark makes setting up rappels very easy, and the ends super useful for managing how long to make a pitch on ice. I like the size too as a starter rope as its quite strong, if a bit heavy.

So all in all i like this rope for now, and as I get better I'll upgrade, like everyone upgrades from that first crush in middle school.
I bought this as my first rope and am quite pleased with it. I got the 70m. Lifetime warranty is a big thumbs up!
Great for what it is designed for
I have been climbing lightly on this for 2 years now, lead sport and occasional top roping. I treat ropes very gently. This rope has never sat in dirt and is coiled in a rope bag 99% of the time when part is touching the ground. I have only had to wash this rope once; it is in great condition. The dry coat really helps it repel dirt and keeps it easy to handle in rain and sleet when everyone with a brain is indoors. Lead falls on it still feel spongier than falls on my friend's 9.8 ropes when following. This rope does carry a slight weight penalty for its highly dynamic nature. While researching similar ropes the only one more dynamic was a beal rope, so this rope adsorbs falls really well, but will stretch accordingly far. The mid and 6-meter-from-end marks are great for rapelling. This would make a great first rope, not so great for leading harder climbs because of its weight.
my first rope. after climbing on other people's ropes, i had an idea of how i would liek it to feel and this one has been amazing. it is very light and springy, doesn't feel like i'm packing a cable. it has been holding up great and shows not even the slightest bit of wear
Good rope, but I'm sure there are better
I bought this rope over a year ago, my first rope. As a first rope it has been fabulous; we've taken it to dozens of crags, it has run through the belay devices of a small army of people, it has saved my life and the lives of my friends many, many times.

Toprope falls, lead falls, rappel, sharp edges, blunt sandstone, stomped on, dropped, pinched; this rope has been abused (although no jumar, no canyoning, no ice climbing). It's held up well enough, but now my friends are looking at the rope and making noises to me like maybe it shouldn't be a lead rope any more. There are some frays, and there's a point towards one end where the core doesn't quite feel right. I'm tempted to cut the end off (5-6 feet) and keep going full throttle on this puppy, but it seems like if I'm going to respect my friends this rope has to become the thrasher toprope/gym lead/anchor rope.

So, I feel like I've had my money's worth on this rope, it gets at least 3 stars.

But, I also feel that a rope could do better. It could take the abuse that has been dished out to it, and still inspire confidence in its integrity. So I'll try some other manufacturers; and maybe some day I'll come back to Petzl.
This rope is a piece of junk. The sheath fuzzed up the first few times out, and now it picks up dirt and is a pain to belay with.
I've owned a lot of ropes over the years and this is the worst constructed rope I've ever owned. My friends Petzl rope is doing the same exact thing...
Search on the web, there's a lot of other people having problems with the Petzl Zefurrr...
The mid markings and the warning markings on each end makes this rope really nice and convienent. I have the 60m length. It is a bit heavy but seems quite durable. The dynamic properties of the rope are very apparent when you rapelle down from any cliffs. I haven't had to use the dynamic properties due to a slip or fall as we still top rope when we climb.

I chose this rope with the intentions to start lead climbing and it's all-around potential with the duratec coating. Also, the diameter of the rope makes belaying and rappelling possible without gloves.