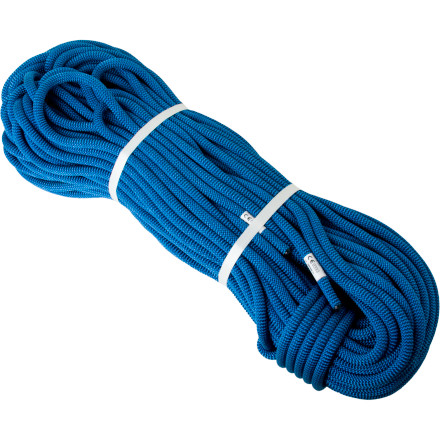 Detail Images

Community Images
For a tough, all-around rope that is sure to keep you safe for many climbs to come, uncoil the Petzl Xion 10.1mm Dry Climbing Rope. Built with 22% more sheath than typical Petzl ropes, the Xion 10.1 offers ease of handling and increased longevity for the long haul. Its Duratec Dry treatment helps keep out moisture during drizzle or humid conditions so you don't have to worry about added water weight. A factory-made butterfly coil means this cord is ready to use the moment you get it so you can hear the envious 'oohs' and 'ahhhs' of your partner right away.
Linda cuerda
Familiarity:

I've used it several times
Es una cuerda de buena calidad, la camisa exterior no soporta mucha abrasión, pero con algo de cuidado se puede mantener en buenas condiciones.

El único inconveniente que le encontré es la marca a la mitad, después de algunos usos es difícil de distinguir. Le falta contraste a los colores.



It is a rope of good quality, the outer shell not supports a lot of abrasion, but with a little care can be maintained in good condition.

The only drawback I found is the halfway mark, after a few uses it is difficult to distinguish. Lacks contrast to the colors.
Aaaah, love this rope.
Gender:

Male

Familiarity:

I've used it several times
I've used this rope about 10 or so times and I am in love with it. I've climbed with it in the hot of the Arizona summer and the snows of the Mt. Lemmon. I've seen it soaked in water, laying in snow, caught between cracks in the wall, and beaten by the sun. It is a relentless, smooth sliding, fantastic looking, and easy to identify middle marked rope.
Ain't no party, ain't no disco.
Fantastic rope. It's durable enough for those of us who love to sport climb and take some whippers. I have put this rope through many a stressful fall over the last year and it hasn't even begun to show wear and tear, not to mention that it flows very smoothly for the belayer. Highly recommend this rope.
first rope
Familiarity:

I've used it several times
Im a beginner and its my very first rope, have used it many times and im glad i went for this, its easy to flake and coil, looking in getting a second one of this.
Durable, and very rope-like.
Familiarity:

I've used it several times
This rope has many ropelike properties. It catches me from falls.

It is also damn durable and still looks pretty new after lots of use. It has barely gotten fuzzy from running over rocks, and doesn't pick up any dirt, even at some muddy crags.
First Time User
Familiarity:

I've used it once or twice and have initial impressions
Went out with my buddy the other day who had just bought this rope and used it for the first time. The rope handled great through both the Grigri 2 and Reverso 4. I recommend this to climbers looking to just hang out around the crag. I will definitely be picking one of these ropes up soon!
Awesome rope
Familiarity:

I've used it several times
Took this rope out to Pilot MT for its first use and it handled everything from rappelling to TR to leading all with super ease, Im very surprised with how the rope handled. It even started to rain as we were getting finished and it took the rain like a pro.
This rope is burly and ready for lots of adventures. It has a real soft and subtle feel to it that makes belaying easy, clipping easy. falling is easy to since you know this thing is tough.



The middle line disappeared very quickly. which is a bummer, it should be bright pink or something


This guys has lasted me over 2 season to date, lots of top roping, lead falls, etc
PETZL Xion 10.1 climbing rope
Love my Xion
Gender:

Male

Familiarity:

I've put it through the wringer
This is an excellent rope. I have the blue 60. It's extra thick sheath gives me peace of mind, and maybe even a little more confidence, before I start climbing. I don't even think about the rope when I am climbing but what climber does? It feeds like butter through my ATC and GRI GRI II. It gives a nice and comforable catch from 4 to 40 feet--and I am sure beyond. I use it for sport, trad and top roping. I have climbed with this rope many, many days in the year that I have owned it. I treat it well but like everyone inadertently subject it to bad rock now and then. I have no complaints about its durability. I find myself strangely emotionally attached to this rope. When I buy another rope, I am going to buy the green 70. I am a Xion guy for life, as long as they don't change it. Petzl did this one right. Photo of Andy M. leading at the King Pins, Vantage, WA, protected by our beloved Xion.
Ridiculously awesome rope.
This rope has seen many routes, tons of dirty landings off the side of the rock and lots of rubbing on the rock. It still looks pretty much brand new. Highly recommend this rope to be your main go to for all your climbing adventures.
Great rope
Gender:

Male

Familiarity:

I've used it several times
Very easy to handle. Not too heavy if you place protection to minimize rope drag.
Anybody happen to use this rope for tree...
Anybody happen to use this rope for tree climbing? Would it be appropriate?
I'm sure it would work. It's a solid rope and knots tie easily.
Like it a lot, seems burly.
This is an amazing all around rope!



Fall and fall again and this hefty rope will catch you.



It lasts forever and handles incredibly well. Another solid product from Petzl, though I didn't buy it from backcounrty-sadly.



BUY THIS ROPE FOR ALL DAY CLIMBING WITH EASE!