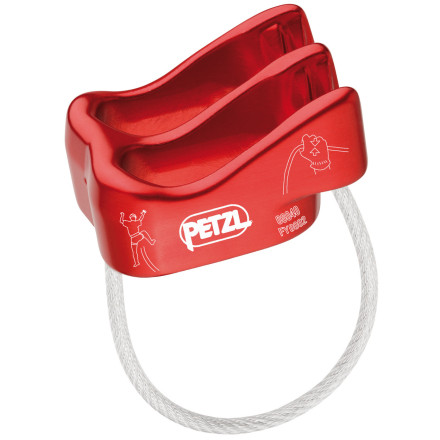 Detail Images

Videos
Description
Slim down your rack without sacrificing bomber gear.
Petzl created the Verso Belay Device for lovers of the Reverso who want to lighten their rack. Not only is the Verso 31% lighter than the Reverso, it's more compact. Whether you're climbing with a single, half, or twin rope, Petzl's Adaptive Rope Control technology adapts by increasing or decreasing the braking friction to suit the diameter and conditions. When you're climbing partner is working the crux, the Verso's asymmetrical grooved sidewalls decrease friction for ease when taking up slack. Use this belay device with asymmetrical biners for max efficiency.
Cant go wrong.
Familiarity:

I've used it several times
Super easy to use! I would recommend this to anyone who is looking for a quality ATC.
Unanswered Question
Not sure why this says it is 31% lighter than the Reverso. Actually, the Reverso is 59 grams and this, the Verso, is 57 grams. Definitely not a 31% difference in weight. Perhaps you're talking about the original Reverso? Either way, this is incorrect, and should be changed.
The World's Worst Belayer
Classic ATC
Familiarity:

I've put it through the wringer
I have the older version of this, which used to be a red color scheme. It's a great belay device. I always recommend that people learn to use an ATC before moving on to a grigri, and this one is a classic. Never leave ground without it!
Great Belay Device for Lighter Belayers
I ordered the Verso to belay my 50+lbs-heavier-than-myself boyfriend, and I love it so far. The grooves give me better control and security when lowering my climber, and they help me with quicker, firmer, stronger lock-offs during falls. It's super lightweight, which I love, and the color is vibrant. The boyfriend noted, though, that belaying me with the Verso was a little more difficult than using his own standard ATC device. He stated that this was because I am much lighter, and the grooves aren't necessary for him to belay me and thus just kind of slowed him down. I would recommend it to climbers who belay heavier climbers though, I love it!
Ditto to Jessamyn's Review.
Gender:

Male

Familiarity:

I've used it several times
Love it. Easy to use. Light and smooth. Couldn't have said it better!
I love this ATC. It's light and smooth but locks off great. Super easy to use.
By far the best ATC that I have ever owned or used. On this site it says that its used for rope diameters between 7.5 and 8.9mm, but that must be the minimum (or a mistake) I don't remember ever seeing any such information in the attached info packet and I've used this device countless times with a 10.2 and 9.8 and never had any issues. The "Adaptive Rope Control Technology" is perfect allowing a nice soft catch, but providing enough 'bite' to give you plenty of confidence.
Simple yet perfect belay device. However IMHO just go with the reverso 3 instead. It might be a tad heavier but is so versatile!!!
I picked this up to use with 8mm rope as my BD ATC doesn't quite have the holding power. This belay device works great with my 8mm rope as well as the other 10.5mm ropes I use.
Its a great light biner. What i'd like to point out is that the Rope groves on this atc are not as deep as the Petzel Reverso 3 and even the BD ATC-XP. So it may have a bit less stopping power but i have not used them back to back. Its smooth with no snags and gets the job done very well.
I bought this as a spare belay device to loan out (I use a first generation reverso usually), but since then I've started using this every time I don't plan on needing to autoblock. It's light and smooth, but has plenty of friction when the time to lock off comes.

If I'm belaying a second (or anyone) from the top, I'll want an autoblock. Otherwise I'll save the weight and use this device.
This device is clean, incredibly light and very efficient for belays. I enjoy the simplistic designs of Petzl for the majority of my climbing gear. From harness to belay device to ascenders, I trust Petzl! Now if they will just sponsor me, I'll go pro with their gear!