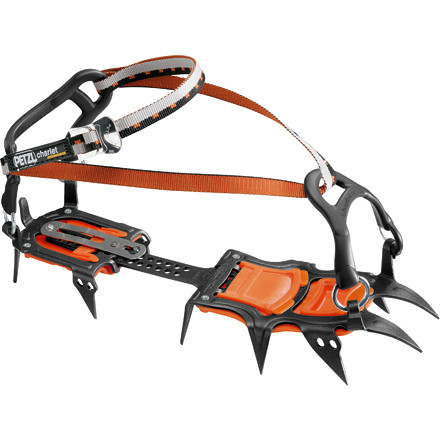 Detail Images

Community Images
Description
Proof that simple designs provide great performance.
The classic design of the Petzl Vasak FL Mountaineering Crampons makes them an ideal choice for general mountaineering and glacier travel. Whether you want to climb Rainer or Denali, these Petzl 12-point crampons get you up there.
Classic 12-point design ideal for mountaineering
The horizontal front points provide excellent shear resistance in steep snow
A Flexlock full-strap binding system to allow them to be strapped to any boots or even your trail running shoes in a pinch
Anti-balling plates included
Good performance, Very poor durability
Gender:

Male

Familiarity:

I've put it through the wringer
I am a glacier guide and purchased these crampons with hopes they would would last for at least 1- 4 month season. The crampons are very sharp and are easy to cut a pant leg on but they move through the ice like butter and handle well. However they are not durable, the toe piece on my first pair broke within 2 months of use and during a tour leaving me at an awkward situation. Petzl replaced the set for the cost of shipping. My second set lasted about another 2ish months before a large crack again appeared in the toe piece, I contacted petzl about the issue fearing they would break again on a tour or on a mountain. However this time petzl told me they would not replace them because they were "extensively used". Pretty much all the guides broke at least 1 pair over the summer, However we give clients grivel G12's and some of those have lasted over 10 years. Better pack a spare set if you take these crampons on anything serious.
Great
Gender:

Male

Familiarity:

I've put it through the wringer
Fantastic general mountaineering crampon that can also climb ice just fine. Used them several times in RMNP (Colorado 14ers) and they excelled. I have the Leverwire configuration and it works great with the La Sportiva Nepal mountain boot - easy to fit and adjust and super secure once it's been fitted to the boot. Highly recommend.
Which option would work best with the Black Diamond factor 130's?
Hey!



I'd recommend the Leverwire version for use with your touring boots.



Let me know if there's anything else I can do for you.



Ben

brabinowitz@backcountry.com

801-746-7564
PETZL - Commitment to Quality
Unanswered Question
I purchased these crampons with the Flexlock binding. I have flexible winter boots, so I set the linking bar to "articulated" mode per the instructions. However, now I cannot compress the crampons for storage or transport. i.e. the front and back parts no longer slide together. So they do not fit in the Petzl Fakir crampon bag that I purchased with them. Is the a known issue, or am I doing something wrong?
stiff
Familiarity:

I've used it once or twice and have initial impressions
description says these crampons could be used with trail runners. don't do that. connector between front and back isn't flexible, so it'll hold your foot rigidly flat. I wore them with snowboard boots, and it felt like my Achilles tendon was being stretched with every step. these would probably be fine on ski boots or stiff mountaineering boots.
hola me gustaria saber si el precio es en...
hola me gustaria saber si el precio es en pesos o en dolares,
Por favor, perdona mi espaol. El precio es en dlares americanos
Good for fit for Snowboard boots
Familiarity:

I've used it several times
As noted by a few on here already, the Flexlock option on these works great with snowboard boots.
Boot fitting issues
Gender:

Male

Familiarity:

I've used it once or twice and have initial impressions
I bought these crampons in the spirlock variety because I was interviewing for an entry level guide job and needed to fill out my equipment list. I tried pairing them with a pair of La Sportiva Nepal EVOs and had problems getting them to fit tightly in the back. As far as I could tell the two heel tabs were too far apart (and the boot's heel was too narrow) to make a tight connection. With the heel bail out of the boot's welt the heel points ended up right under the center of my heel, instead of behind it, by the time both the heel tabs made solid contact. With the bail connected a moderate amount of force (probably standing on a slope) would have made the heel shift side to side, and possibly loosen the whole attachment. This is a problem I would expect on all the styles besides the flexlock (which I also tried and was only able to get two the three heel tabs to make contact at any time).



This was the the first set of crampons (and boots) I owned instead of borrowed, so if I did something wrong I'd like to hear it. I think it's very strange that the most popular boot and most popular crampon wouldn't work together, so it's very possible I messed up the attachment.
Was given a pair of these by a NPS Ranger,...
Was given a pair of these by a NPS Ranger, what is a good hiking and mountaineering boot that go with these?
Congrats on the score!

Since they're strap style, they'll work on any boot. Take that with a huge grain of salt.

While strap crampons will work with regular hiking boots on lower angles, they are too flexible for effective crampon use on steep grades where you may need to front point. Your calves will be screaming in no time.

For general light mountaineering, a semi-flexible full shank mountaineering boot will work. I use La Sportiva Makalu's for non technical terrain, but that's because they are a good fit for my foot. A mountaineering boot by a reputable maker in the $250-$350 range is a good place to start.

If you're looking for some serious mountaineering where you'll find yourself on glaciers, the minimum I'd reccomend is a heavier boot like La Sportiva Nepal or Scarpa Mont Blanc for single boots and, of course, any sturdy plastic double,

Every maker makes their boots a little differently. I reccomend trying as many brands and styles as you can to get the best fit. It helps tremendously to have a competent shoe/boot salesperson to properly measure your feet and find you the best fit. The existance of your toes may very well depend on it.
Ill be doing some light hiking and mountaineering in them, but I also have plans on summiting Gardner, Adams and Rainier this summer with the same ranger that gave them to me. (If time allows). So need a good all around boot. I would ask the NPS Friend, but he is a difficult one to get hold of.
La Sportiva Batura is a winner too. It's built on the Nepal last, but features a zip up neoprene cover for waterproofing and insulation.

this boot, along with the Nepal, doesn't feature an inner boot (or liner) so you don't get the nice warm slipper for camp. Plastic double boots do for an affordable price. Top of the line boots like the Scarpa Phantom, La Sportiva Olympus Mons also feature an inner boot, adding warmth and avoiding exposure when donning/doffing. But you didn't mention the Himilaya and these cost many monies.
Work well from Nevada to Alaska
I have been using these for years and just got another pair (the first pair got stolen on Mt Hood, hope they work as well for them as they did me). I am old fashioned and a very hard Judge on equipment. I only wear Galibier Super Guide boots and only Vask 12 points. This combo has not failed me form the Coast Range Alaska to the Ruby's in Nevada and the Alps. If they make a better crampon of this type it is not out yet.

These have done well on vertical ice as well as mixed climbs and just going up or down when the need arises. At 54 I won't change my ways or equipment and these are the cats meow...


Just picked these up and the quality is great. Can't want to get them out in whatever this winter throws our way.
Has anybody swapped out the toe-bail on...
Has anybody swapped out the toe-bail on the level wire for the telemark-specific toe-bail that Petzl sells?
To answer my own question, yes, I've done it; yes, it works. Swapping out the toe-bails on them sucks: I had to use a pair of vice-grips and a bench vice to make it happen, since the spring-steel of the toe-bail is pretty stiff, and there's not a lot of room to move in the design. Still, doable with about half an hour's work
Beautiful crampons, quality made, awesome design. I just opted this season to try out the Petzl Darwin's instead - curious to see how vertical front points perform in waterfall ice.
This may be a dumb question, but what is...
This may be a dumb question, but what is the best campon style (leverlock, leverwire, or flex lock) for a climb up denali/rainier with la sportive spantik? thanks!
Spantik! Awesome, great boot (from what I've read). Because it has both front and wear toe welts, you can get the leverwire. It'll fit the best, and be the most comfortable.
This may be a dumb question, but what is...
This may be a dumb question, but what is the best campon style (leverlock, leverwire, or flex lock) for a climb up denali/rainier with la sportive spantik? thanks!
The Leverwire style is the most secure. All the other styles were created to fit a wider range of boots but the Spantik can fit Leverwire crampons so you're in luck!
Cant wait to strap these to my new boots this winter and keep up the the skiers.
These work really well for my tele boots,...
These work really well for my tele boots, but I have had a few problems with my AT boots. I have them fitted correctly, but the prong at the back of the heel sometimes slides around and into the tech heel groove. Am I doing something wrong or should I just file the thing off?
I needs to be tight enough that it snaps into place, kind of like a ski binding. If it's that tight I don't know how it would slide around. But, if it does you might need to make some modifications.
Thanks for the advice, but unfortunately I have the Flexlock style so there isn't any snap system. I took another look at them last night, and they're certainly tight, but the heel isn't wide enough to make contact with the rear "prong" and the two side posts (to which the rubber harness attach). I also could generate enough force in my basement to get them to slide around like they have on hard snow and ice. Maybe the boot is just too small. It's a Garmont Radium Mondo 28, for the record. I'll see if I can upload a picture tonight or tomorrow.