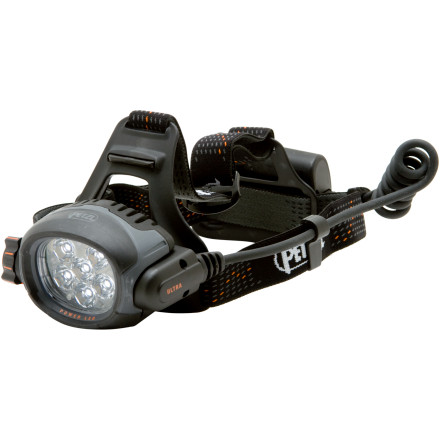 Detail Images
When you run the Wasatch 100 for the tenth time, participate in Sweden's 10MILA orienteering race, or bike at night, it's quite important to be able to see where you're going. Let the Petzl Ultra Headlamp lead the way. This headlamp provides 350 lumens at its maximum brightness and lights the trail with both long-distance and wide-angle light at the same time. The stabilized plate and foam pad fit snugly on your head as you bound up or down the mountain and three brightness levels let you balance how far you need to see with how long you need the batteries to run. Check the indicator on the battery to view battery level. An extension cord (sold separately) allows you to keep the rechargeable battery pack warm under your clothing in extreme cold.
Just got done with an 18 hour MTB race and this lamp worked perfectly! The brightness is adjusted with a single knob that has positive clicks and doesn't move around on its own. Much easier to use than ones with a button. The elevation adjustment was equally positive and secure. Helmet mount was simple but solid. Battery life was excellent!
If you are not serious about a light, it may be too costly. I have several Petzl Lights and all are A+ for what I expect from them. The Ultra is more than a light it is my partner. When I go on a night search and rescue. I take my light and two battery packs and start the charge once back in the Jeep or if out of the Jeep all night I can make it last on one battery however, at times I do burn through one fast. One situation other searchers were teasing me about being able to land the copter by myself but, after one got a thorn jammed in his hand and his light wasn't bright enough to see the smaller splinters it left to get them out he repiled I was only joking earlier. When we are in the mountains and need brighter light to see tracks for example, they call for me because it is the BEST LIGHT on the mountain. Thank You For Reading.
Yeah it's good, it is heavy and unless fitted right will move on you. I fitted mine on top of a buff and it fine! Great light life, with great distance. The beam will brake up in unclear night ( may cause reflection, making it hard to see) three beam setting, top beam is amazing. Best bet is to get the belt and put the battery in a back pack or the the harness petzl offer. It a good light the best just the heavy maybe a over kill for trail running, I just run with myo now, smaller, easy and fast. Petzl make great product you can rely on!!!!
Does come with wall charger
# High-output, large capacity ACCU 2 ULTRA rechargeable battery pack (Lithium Ion 2000 mAh)

# ULTRA quick charger: 100/240 V EUR/US compatible quick wall charger

# Degree of protection: IP 66
# 3-year guarantee
This is from Petzls web site http://www.petzl.com/en/outdoor/ultra-series/ultra
Sorry Jon maybe you got one that was missing the adapter.
Bought this headlamp along with two other less expensive headlamps to compare them. The Brunton L3 (3 watt) and the BD Icon (3 watt / 100 lumen) were comparable to each other. But the Petzl Ultra WAY outshined those two. What a solid headlamp too. I couldn't help but think that this is THE headlamp for search and rescue types who want LOTS of light! Simply amazing.

The other thing I love about the Petzl Ultra is the Lithium-ion rechargeable battery. It has to be the best headlamp battery anywhere. If this headlamp wasn't so dang expensive it would get 5 stars from me fer sure.
full disclosure i got one to use as a pacer from petzl. the light is absolutely amazing. i've used a lot of lights and this is by far and away the brightest, even when compared to $500 bike lights. my bottom line: it's an amazing light. i would not use it during a race because it's heavy. i will use it to pace friends in races however. it might be the best pacing light on earth... but it's drastically over priced.

Backpacker's Take on it:
"If you were the first kid on the block to buy a JetBoil, a SPOT, and a folding titanium spork–and your money wasn't invested in AIG–check out the Ultra. This insanely bright and comically expensive searchlight employs the most advanced outdoor LED circuitry currently available, quadrupling the effective distance of standard headlamps. It's easily the brightest lamp we've tested, rivaling the power of some HID mountain-biking lights; even on the lowest of its three settings, you'll flood your tent or kitchen area with brilliant, shadow-free light. Which begs the question: If you're going to drop $430 on a headlamp–a headlamp!–shouldn't it come with mounts for your helmet and handlebars? It's more illumination than most people need for hiking and mountaineering, and it's too expensive not to offer more versatility. It's not light, either, and burn time on the rechargeable lithium-ion battery pack ranges from just two to 15 hours. But if money is no object, go ahead–be brilliant. $430; 12.2 oz"
How does it fit over a bicycle helmet?
How does it fit over a bicycle helmet?
It adjusts over the helmet & attaches by using special clips. For the price it should include a round trip plane ticket to pick it up.
Uh...is this light really $429.95? And if...
Uh...is this light really $429.95? And if so, why's it so great?
It's crazy bright, lasts a long time, and the battery pack is detachable so you can keep it under your clothes when it's super cold out. I still think it's overpriced, but those are the reasons.
Best Answer
Not waterproof or even water-resistant at this price? I am not sure how this even made it past marketing. Yes 350 lumens is amazing for headlamp standards, but I would hold off, I promise there will be a light as bright if not brighter within the year that is water-resistant and probably will cost about the same.
It has an IP66 rating. Which means dust-proof and storm-proof. Like the deck of a crab-boat - constantly deluged, but not submerged.
This is a very functional headlamp that chases the night shadows. Great for going fast with confidence. Some complain that it has no bike mount. Get the helmet clips and it is quick to clear the corners and turns.
Lithium Ion rechargeable battery, those are NOT cheap in any respect (try pricing out Li-Ion radio control car batteries, laptop batteries, etc)

IP66 rating. Takes a BEATING and smiles about it.

350 Lumens. Nothing is as bright, and it is not easy to make anything that bright, especially something that small, considering a 1 watt LED bulb produces 80-100 lumens and costs a decent sum.

3 year guarantee, INCLUDING the expensive battery.

Remote battery pack, for extreme cold and weight distribution.


You wanted to know why it was so expensive, you simply aren't going to find those features in a sub-$300 light, let alone one with Petzl's professional series reputation backing it up. To ErkMD, you won't see one out by years end, or in the next year, that you described, this is a very niche product. And, if your underwater with it, you don't want that brightness, it will highlight every speck of floating dust and it will be like putting on high beams in fog (unless you are in a swimming pool, in which case, why are you wearing a $400 headlamp...)