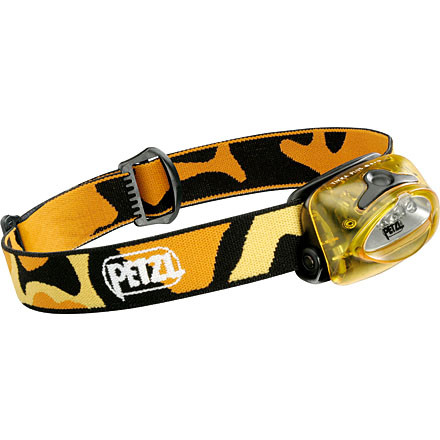 Detail Images

Community Images
Mehhh....
Familiarity:

I've used it once or twice and have initial impressions
When you adjust the light downwards, the casing pops open and the light goes out.
Good lamp for the $$$
Gender:

Male

Familiarity:

I've put it through the wringer
Great battery life and very good lamp compared to others in its price range.

Obviously there are better lamps out there but it would be tough to find one for the price.

Also it is very light and comfortable, and stylish (for a headlamp)
I use it every time I go hiking or climbing.
It works wonders and still hasn't lost a charge after almost a year.
Perfect light adjustment. Light. Battery life bueno. Dig.
Product changes: lumen values et al
FYI the Tikka Plus is now the Tikka Plus/2. The old Tikka Plus had 4 of the Nichia CS LEDs (the CS is approximately 80% brighter than previous Nichia 5mm LEDs). Now the model has one central (larger) LED with higher output. The previous Tikka Plus was 35 lumens, the Tikka Plus2 is 50. I suspect although no one is saying that the one LED (instead of the array of 4 Nichia CS) is an underdriven Seoul Semiconductor P4- a very good and reliable LED.BTW for this type of headlamp, regulation is not so much of an issue: this, like most LED flashlights and headlamps that use a cluster of 5mm emitters,is intended more for close-quarters illumination (read: general camp tasks , reading, path-walking and personal illumination)than for long-distance illumination, so beam usability is not seriously affected by some reduction in brightness. This is an excellent headlamp for those purposes. As another reviewer mentioned, Princeton Tec also makes an excellent headlamp, the Quad, which is regulated, and is slightly lower in cost.
it's not that this thing is bad its just that princeton tec does this kind of light and does it better
A great headlamp for the money. Light weight, durable and it looks good too. Not the brightest light for night time trail running but the battery lasts a long time.
There are lots of lights to chose among, but I own two of these and use them on many search and rescue night missions. It's light weight, ease of use, and comfort on the head make it the best I've used. Hint -- in really cold weather, use Lithium batteries and it will last all night at 20 below! Most of the lights in this photo are Petzl Tikka Plus Headlamps -- photo is from an overnight rescue in the White Mountains of NH.
Great headlamp. This thing cranks out some light, is lightweight, and burns for days. It does take 3 batteries though, which if they could make it down to 2, would be probably the best small light available. The light that it throws off is great for the trail (high), the bivouac for the bathroom (med-low) and reading in the tent (low). The Tikka packs down pretty small too, so you have no real excuse not to be caught out without a light.
Great product, super light and batteries last nearly forever. Better construction and design than the original Tikka. Great for reading in the tent and camp use. Not quite bright enough for dedicated night hiking but it will work for that when needed.
I have the old Tikka with 3 LEDs. It's lasted for years with changing the batteries only a couple times. Simple on/off, no colors or dimming necessary. The number of uses a small, robust headlamp like this can have is unimaginable. Enjoy Petzel, the best.
This headlamp is super bright, lightweight, and I have not replaced a battery since I got it. This thig is 10 times better that its closest rival.It is super comfortable because it doesn't have the added battery pack in the back! Petzl has always made excelent gear, and this is no exception. Trust me, unless your climbing Everest or on an extyreme trekking trip, this is the only headlamp u will ever need!
Good headlamp, did the job, no complaints on functionality. 4 stars vs. 5 because a few buddies on the trip had lamps w/ a red light option which I wish this had. Made hanging out in the dark more soothing.
This light is great to have when out camping or moving at night. Its pretty bright for its size and lasts a good while. Starts to dim once the batteries are getting low. Used it caving and it worked great. Its small and lightweight so there is no excuse for bringing it on every excursion.
I have only used my head lamp for some night bouldering and worked great. It was way bright and lit up the whole boulder. It was also a huge help when we got turned around in the forest. Do not worry it lead me to a trail which got me outa that enchanted place.
This headlamp has been great. It is very bright and takes forever to run the battery out. It also has some neat little features, all with just 1 button. I highly recommend this headlamp. I do not leave without mine, even on day hikes!
I can't say much, but what I can say is that it's an awesome headlamp. Kept a much better battery life than my last BD light.
What's not to like?! Its sweet!
This is an excellent piece of equipment. Its simple, lightweight, easy to adjust and to say the least, it gets the job done. i have used it for many different activities and it works great every time. its great for running at night, backpacking/camping, and much more. And 3 AAA batteries are extremely easy to change. Buy this product, it wont let you down.
Anybody have any idea how many lumens this...
Anybody have any idea how many lumens this head lamp produces on high?
Best Answer
They put out about 35 Lumens. However, because it's not voltage regulated, its brightness will diminish fairly rapidly (you will start to see less light about 15-20 minutes of use). Check out the Princeton Tec Quad for a brighter headlamp (45 Lumens), one that's voltage regulated (meaning it will maintain the high output longer), has a battery indicator, includes a lifetime warranty, and is 100% waterproof. It's also made in the USA and costs about the same.
I love the headlamp. Used it on the night section of the 2007 Wasatch 100 and on many dawn-patrol training runs leading up to the race and it never failed me. This is a great headlamp that is small enough to forget your are carrying it and bright enough to show you the way