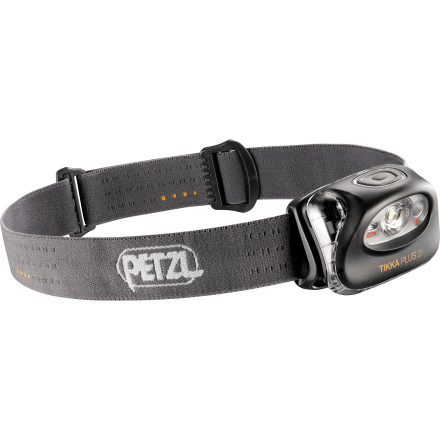 Community Images
Description
Don't leave camp without it.
The timeless workhorse of the Petzl lineup, the Tikka Plus 2 Headlamp offers reliable hands-free illumination that's helpful in more situations than we can even count. Single-bulb white and red LED modes deliver consistent, powerful beams with no blank spots.
Two brightness modes let you focus up close or light up an entire trail
Red LED maintains your night vision in solid mode; also features a blinking safety mode for improved visibility in traffic
Powered by 3 AAA batteries (included); also compatible with rechargeable lithium batteries
Water-resistant design for reliable use in stormy conditions
Share your thoughts
What do you think of the
Petzl
Tikka Plus 2 Headlamp
? Share a...
bright, simple to use
Familiarity:

I've used it several times
70 lumens, not bad for a light that size. love the red light for reading in my tent at night. it's like using f.lux on my computer.
Can use it for anything
Familiarity:

I've used it several times
This is a replacement for an older version, so I knew it was going to be great. It's brighter than the previous, and so light and comfortable it almost was used in an OR half way around the world as a surgeon's headlight when they had problems with batteries. It's always in my pack, and goes everywhere with me. Definitely pick one up.
Great Scott!
Familiarity:

I've used it several times
I didn't realize how dim my old Petzl headlamp was, until it finally bit the dust, and I purchased a new one as a replacement. This is a great headlamp. I like the different settings, and the emergency red light. Great lighting, and very useful. I definitely recommend this, especially at this price. What a steal!
Nice, basic light
Gender:

Male

Familiarity:

I've used it several times
Simple to use. Light weight, nice primary and secondary beams. Secondary (dimmer) beam could use a bit more diffusion but that's my preference. Nothing really stands out but nothing's really deficient, either. A good deal at sale price. Certainly not worth the full price.
Everything but the red light...
Familiarity:

I've put it through the wringer
I've owned several Tikkas over the past few years, and I have yet to find a reason to buy anything else. The design is spot on as far as functionality, reliability, convenience, and aesthetic. This one is no different. Picked it up on sale, and it's a good buy. I'd been using a Tikka 2 (not the plus), and it was on it's way out (and it was brown, not as cool as red). I decided this would be a good purchase, and for the most part, it is.

First, it's pretty bright. Enough for pretty much anything I use it for. Doing stuff around camp, climbing when it's starting to get a little dark, working on projects at home, etc. It's comfortable, the tilt mechanism works well, and it feels and looks solid. I pretty much only use the brightest setting.

However, the red light isn't that great. At least for me, I can't really see anything with the red light. Perhaps it's just my night vision, which I've never had problems with, but I think if Petzl is going to advertise a red LED, they need to do better than just putting the blinking light from your portable hard drive on here. It's pretty much useless in my opinion.

Overall, I'd love to give this 5 stars, and definitely would if there wasn't a red light, which doesn't really do much. It seems like an after-thought to me. If you really want a red light, go with the Tactikka, that works quite a bit better.
does the job
Familiarity:

I've put it through the wringer
This is a solid piece of equipment. Not nearly as bright as more heavy larger headlamps but for most needs this thing does the trick. You can see, it's reliable, it's lasted me regular use over a number of years. Battery lasts a respectable amount of time. Not tons of options for the light strength but that's not really necessary most of the time. Love switching it to red to preserve my vision at night. If I only owned one lamp this wouldn't be it, but as my back-up it does the trick.

Princeton Tec Apex on left - Petzel Tikka Plus 2 on right.
Super reliable piece of gear....
Familiarity:

I've put it through the wringer
2 deployments to Iraq, 50 business trips, now my 10 year old uses it for everything and its still going.

This thing has seen all different climates and uses. I have used it on two deployments to Iraq and I was a night crew pilot so the light lived around my neck and was in constant use (not while flying), also used aboard the family sailboat and now my 10 year old has appropriated it for his ski backpack, I bought myself a new one.

It has resisted sweat, talcum like dust, repeated impacts and shocks, near misses by RPGs and aerial rockets and hours and hours of vibration.

Battery life is great and varying brightness settings are a must have.

Buy it!
Never leave at home
Familiarity:

I've put it through the wringer
The one piece of gear you should never leave at the house. This light weight little headlamp is seriously powerful. Bright enough for trail running and possibly some slow road/mt biking. The battery life is great and still bright after many hours of use. A great stocking stuffer for the holidays!
ol faithful
Familiarity:

I've put it through the wringer
excellent lamp, batteries lasted a looong time. couldn't be happier with a headlamp.
Solid headlamp
Familiarity:

I've used it several times
Great headlamp with a lot of different settings. In it's maximum light mode it puts out plenty of light for night hikes. The red light is perfect for hanging around the campsite and making sure that you don't blind your fellow campers or ruin anyone's night vision. Batteries last a long time and I like that it indicates when the batteries are starting to run low. No complaints!
Packs small....great for ski touring and ski mountaineering.
Much improved over the original TIKKA headlamp series. Plenty of light and red lamp option to save the night vision. Superb!
Solid!
Gender:

Female

Familiarity:

I've put it through the wringer
I love this headlamp. I am currently on round two (i gave my first a real beating.. and left it in the rain for... a few.. days. my bad). But even wearing it out in rainy weather is totally fine! It's a solid piece with awesome settings, in your tent, out at night, or reading. LOVE IT. a campion headlamp. I highly suggest it.
Very happy with the product, comfortable and very bright, worked well when setting out on a hike after work and being forced to hike 4 miles to the campsite in the pitch black. More manlier color options would be appreciated...
I used it on a backpacking trip and my buddy had one he bought for $10 at Wal-Mart and it was twice as bright. Needless to say he led the night hike. Other than that it is comfortable and the red light comes in handy so you don't blind your friends.
It's a headband with a light
Does pretty much what you would expect, whens it dark it lets you see where you are going. the red light option is pretty cool but I haven't used it much. it's comfortable to wear for extended periods. Ideal for car camping and short night hikes.
I just bought this after losing my Tikka Plus, and it is way better. At first I thought the red light would be a waste, but it was great when my wife wanted to sleep but I wanted to read in the tent, since I could read and not keep her awake with a bright white light. Lamp has great adjustment and stayed on for 8 hours straight in sub zero temperatures on a recent big hike. Can't beat that for the price.