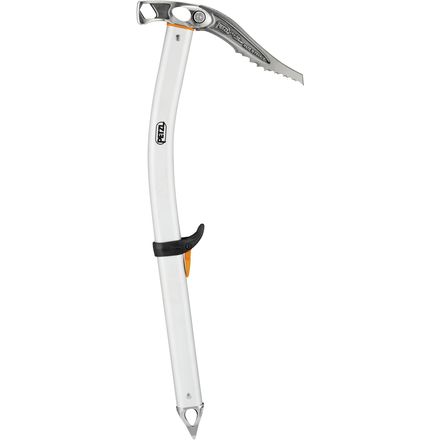 Colors

Detail Images

Community Images
Description
Take a swing at the vertical world with the Sum-Tec.
An enterprising hybrid of a classical mountaineering ice axe and a more aggressive ice axe, the Petzl Sum-Tec helps you tackle icy adventures with technical proficiency.
Available in adze or hammer versions depending on your focus on ice cleaning or piton placement
Can be used in climbing or piolet canne mode
TrigRest features manual adjustment system to accommodate multiple hand grip options
Stainless steel spike grips on rock as well as ice
Oval holes in head and spike allow for a carabiner
Versatile alpine axe
Familiarity:

I've used it once or twice and have initial impressions
I own a grivel airtech, and a longer BD raven for glacier travel. I have the 52cm hammer version.

I brought this with me on a scramble that turned into a bit of mixed snow and rock. The curve and pick were excellent for aggressive front-pointing up steeper snow slopes. The T-rated shaft felt much sturdier when picking my way through the moraine. There was no glacier crossing, so I can't comment on that, but it does seem a bit short for flatter terrain.

The axe was very comfortable in my hand, much better ergonomics than the grivel. I would recommend this axe for technical climbing on steeper grades where you might encounter the occasional snow slope.

I did not get to test the self-arresting.

Also, I actually removed the trig-rest thing knowing that I would barely use it as a tool to 'save weight' but I'll stick it back on for later trips, I certainly swung this around like an icetool much more than I thought I would!
I was thinking of getting the 43 CM hammer to supplement my ice axe for piolet traction on the occasional steeper icy sections of snow climbs. It looks like most of the BD and Petzl ice tools are 50 CM, so just curious what people think of the usability of this at 43CM. Has anyone used this size?
John, Im going to double check with our warehouse to ensure it is truly a 43cm axe, as stated in an answer below Petzl doesnt list it on their site as a 43cm so lets double check.



Really depends on how tall you are. The shorter the axe the less effective it becomes on lesser angled terrain in Piolet mode. If its steep, the shorter axe is a lot easier to use actually.



Feel free to hit me up at bporreca@backcountry.com or 801-736-6398.
Thanks guys. I am going to mark-off 43 CM on my other axe and give it a few swings to see what I think. I usually carry a 52 CM which I grab in the middle to swing so 43 is probably more than enough. I agree, this would only be coming out for use as a 2nd axe in climbing traction, so I don't need the extra length for cane. Probably nice to save the weight and be more compact.
Amazing mountain tool
Familiarity:

I've put it through the wringer
This is just about the most versatile tool I've ever used. It's a nice lightweight skimo weapon, and an all around mountain axe, and an ice climbing tool in a pinch. The hammer is great for welding nuts into cracks or checking old pitons when you've got to bail off something in a hurry.
Could you please confirm whether the hammer option size of 43 cm is correct? The Petzl website says the hammer is available only in 52 cm, adze in 52 cm and 59 cm.
I've seen the 43cm hammer version in shops before, so I can confirm it's existence, but not that backcountry has it in stock...
So for a versatile size, measure the distance between the tip of your middle finger while at your side and the malleolus of your ankle. This will provide the most versatile size for you.



If you intend to be on steeper terrain mostly, then you can use a shorter axe, if you are going to be on more moderate flatter terrain then a longer axe will suit you better.



You can call or email me directly. 801-736-6398, or bporreca@backcountry.com
On top of France. (and maybe Italy...)
Not sure. The drop-off on the Italian side of Blanc's summit ridge was a bit vertiginous and I was trying to get as close as possible without getting TOO close...



This is a GREAT ice ax.

I've had a few.

I think I'm all done trying out ice axes.

Probably...



The TrigRest is awesome and burlier than I thought it would be.

I got janky on a picket-bashing on the Breithorn and came down right on the plastic shank...thought I'd be reviewing the replacement TrigRest...but all it did was nick it up a bit.

The radius of the curve in the shaft is a good mix of harsh vs. mellow. You can climb AI2 and still self-arrest.

The spike thing on the end sort of fits onto/into the shaft a bit weirdly. There's about a millimeter of...off-kilter...ness.

It's sort of driving me crazy, but when my salt shaker is not in the EXACT proper location and orientation, it sort of drives me crazy.

I'm gonna file it off when I get around to filing the pick.



Speaking of pick, it's B rated. Shaft is T.

You can swap it out, but according to the Petzl cartoons in the Ice Ax Accessories PDF on their site, you can't swap it for, say, a Cascade Nomic U21100 T rated pick, but if you need a T rated pick you probably need a Petzl Nomic et al...



5 stars.
The Sum'Tec Adze resting in camp at 10k feet on the SouthEast Ridge of Mount Tom near Bishop, CA in the Sierra Nevada.

Great ax.

Love at first swing.

I'm 5'6" and this is a 52cm. Might be the perfect size ratio for an all around do-it-all ice ax.

I bought the hammer as well, and one thing to note;

Both versions of this ax have a spike, not just the adze.

I'm not sure if my hammer version is old or new, but it has a spike, not a sawed-off bevel like the one in the photo on Backcountry.

If I remember, I'll come back and post a photo of them side-by-side.