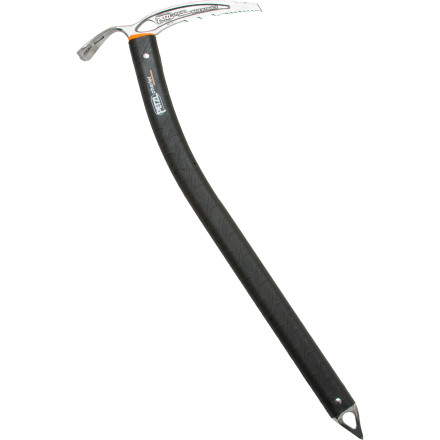 Detail Images
Description
An ice axe that's warm and comfortable? Yes.
The Petzl Summit Mountaineering Axe has a rubber-coated aluminum shaft to improve your grip and insulate your hands on the way to the top. A hot-forged steel head ensures plenty of durability so as to handle the abuse of life in the mountains; you won't need to re-sharpen it every time you head out for some peak bagging. Petzl also curved the upper shaft for improved clearance on steep terrain so you can take it on technical routes instead of only walk-ups.
Rubber-coated aluminum shaft provides extra grip and warmth
Steel head takes serious abuse
Curved upper shaft provides excellent clearance on technical terrain
Aggressive pick works in both hard neve and easy ice
Share your thoughts
What do you think of the
Petzl
Summit Mountaineering Axe
? Share a...
Unanswered Question
What's the weight on 59cm? On official site it weighs 13.4oz or 380g, much lighter than the 19oz weight listed here.
Best Answer
So for a versatile size, measure the distance between the tip of your middle finger while at your side and the malleolus of your ankle. This will provide the most versatile size for you.

If you intend to be on steeper terrain mostly, then you can use a shorter axe, if you are going to be on more moderate flatter terrain then a longer axe will suit you better.

You can call or email me directly. 801-736-6398, or bporreca@backcountry.com
Great Ice Axe in the Right Application
I've owned several ice axes over the years and this is the best yet. A great combination of carrying comfort and performance. It swings well, works great in self-arrest, and can handle moderate technical challenges. It isn't the lightest axe out there, so if you're using it for moderate glacier and snow climbs (the trade routes on mountains such as Rainier and Baker come to mind) I'd suggest something more like the Black Diamond Raven Pro. For an all-around axe that can leave off where your technical ice tools take over, the Petzl Summit is hard to beat.
getting this ax for my son, but don't know...
getting this ax for my son, but don't know what size i should get.
he is 6 ft tall
The general rule of thumb is to measure the distance between the tip of his finger while its hanging at his side and the ground and then go with the size that is closest without going over the measurement. But it depends on what he's using it for. General mountaineering, I'd probably go with the 66. If he's using it with skis or a snowboard, I'd go shorter, with the 59.
Its all preference, i think, of the person. it also depends on the climbing done. Steeper=shorter, not so steep=longer. knanier seems to have the right idea
I used it to climb and ride the Wintun glacier on Mt. Shasta last month. It is a bomber axe; it's light and small enough so that you don't notice the added weight on long hauls, making it ideal to take out with you in the spring when conditions can dramatically change, or when you don't know how the snow will be. This is why I took it with me to Mt. Dana a few weeks ago, and I am glad that I did. Buy this axe!
does this ice axe come with a leash?
does this ice axe come with a leash?
Love this axe, it is great almost always. It has enough weight to actually swing and stick and chop steps as needed, and the rubberized grip means you can change hand positions and grab up pretty high on it with out it slipping. The only draw back of course then is the added weight from the rubberized shaft, but I would say its worth it.
looking at purchasing one of these, and...
looking at purchasing one of these, and been doing a bit of research, one user i found through google had problems with rust occuring on the head, does this still occur or is the rust preventable?
That sounds like user error. You shouldn't have a problem with rust if you properly dry and then store your equipment after returning home.
I just got this axe and used it once. Already noticing some rust. I don't have a dedicated room in my house with a de-humidifier solely for this axe, but I did hang it up after using it. Not sure what else you're supposed to do for an axe. Haven't had this problem with other axes. Rust spots are pretty minor and it was a rainy climb, but literally have used it one time.