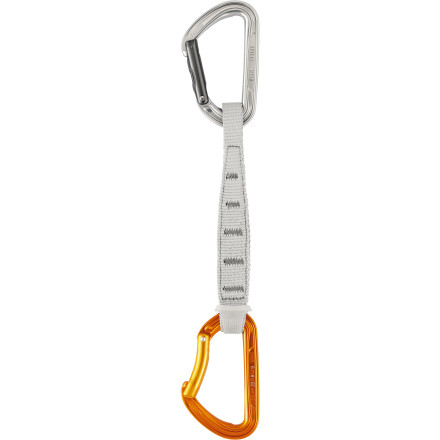 Colors

Detail Images

Community Images
Description
See the difference that keylock gates make by racking up for your next climb with the Petzl Spirit Express Quickdraw.
The Petzl Spirit Express Quickdraw uses notchless keylock gates on both carabiners to make clipping both the bolt and the rope incredibly easy and fast. The bent-gate, rope-end carabiner has a large 20mm opening to allow fast clips from desperate stances. The keylock gates on the Petzl Express Quickdraw also make it a cinch to clean your overhanging project after you send.
Awesome sport draws, great feel, solid
Familiarity:

I've put it through the wringer
These are perfect for their intended use: sport. Too heavy for alpine, much trad or much long multipitch. They feel great, you just wanna keep playing with the biners and fondling them. Nice and beefy, wide dog bone if you need to grab it. Cant recommend it enough.
Great Sport Draws
Familiarity:

I've put it through the wringer
Got these about 6 months ago and of all my quickdraws for sport, these are my favorite. The carabiners are quick and very positive and the keylock nose keeps them from snagging when cleaning a route. They just have a real positive feel when clipping them to a bolt or the rope. Also the dogbone is great for grabbing, if you need to.

These are a bit heavier than some other quickdraws out there and I don't reach for these as much if I am doing a long trad route. Those ounces can quickly add up quickly. But for sport, you can't do much better than the Petzl Spirit Express. Grab some for yourself and you will see and feel the quality of these draws.
Sturdy Strong Quickdraws
Familiarity:

I've put it through the wringer
If you want a quick draw with a thick, strong dogbone, this is it. It gives you an extra sense of protection.
for the 5 dollar credit. When do I receive the code. If I order a set now can I then order a second set with the code right away.
Mark so there isnt a code per say. You place the order, then you receive the credit in your account once it ships. Ill send you an email with a different option to make things look cleaner if you'd like.



Feel free to hit me up at bporreca@backcountry.com or 801-736-6398.
This question applies to these and and the djinns. is the 5 dollars in credits for each individual draw or is it for only onedraw
It's a $5 credit per quickdraw. Should you get a full set, you'll be getting a $5 credit for each.
A confidence inspiring draw
Familiarity:

I've used it once or twice and have initial impressions
A confidence inspiring quickdraw for the budding sport climber. I've been trying my friends' quickdraws and settled on the Spirit express. It's easy to clip, has an extremely solid and smooth feel, and are plenty large enough to grip easily. They're expensive, so I'm slowly building out my rack with 'em.
Im wondering when will you be getting more of 12cm quickdraw? I wish to buy 8 of them.
Hey Seung!



We'll be getting some more of these in a week or two. I'll do my best to let you know when they're in stock!



Ben

brabinowitz@backcountry.com

801-746-7564
These draws, speak for themselves. Perfect quickdraw in every aspect. The price is a little high, but after you put one in your hands you will understand why and will not regret your purchase.
PETZL - Spirit Express Quickdraw
PETZL - Commitment to Quality
Best draws
Familiarity:

I've put it through the wringer
I love these draws. Very light for a draw with a dogbone. Worth the price. My new fav draw.
They do the job
Familiarity:

I've put it through the wringer
Without a doubt these draws feel great. Smooth opening, love the feel and the sound. Still, they're a bit heavy compared to wired draws but man do they feel good!
What can I say?
Familiarity:

I've used it several times
Honestly, what can be said about the Spirits that hasn't already been said? They are a beautifully made quickdraw. I am curious to see how the new ones hold up over time compared to the older models; with the new construction/less metal. I did notice residual grease at gate pivot, but nothing to worry about. It looks like the new tension bar is a plastic instead of metal. The great things is with weight savings these draws can go nearly anywhere now. I'll be curious to see how the new Djinn draws stack up against the Spirits with the revamp.
When do you expect to get more 17cm draws...
When do you expect to get more 17cm draws in?
Hey Eric,



Thanks for your question.



We have multiple purchase orders of new inventory that are on their way and should be on sale within the next week or two. I am sorry I cannot give you an exact date but I would just bookmark this page and check every so often.
Never a better sport-draw
Familiarity:

I've put it through the wringer
The Petzl Spirit draws are definitely my favorite sport-draw out there right now. The Spirit Express draws are the latest iteration of the legendary Spirit draws, which have long been an industry standard in sport climbing. The curved bottom rope-carabiner combined with the ultra-stiff dog bone makes for extremely easy clipped, especially compared to straight carabiners or flimsy dogbones. The stiff dog bone also keeps the draw in place on windy days so you don?t have to try and clip a moving target when your pumped. The thick dog bones are also really durable, and inspire confidence when the draws begin to age.
Rolls Royce Of Draws
Familiarity:

I've put it through the wringer
They speak for themselves. Best draws on the market. I've been using them exclusively since the early nineties, and I have no intention of changing.
Great draw!
Familiarity:

I've used it several times
By far the stiffest draw I have used. Its great for many uses.
This was my first set of quickdraws to buy, but I also have a few BD HoodWires. I went half and half 12cm and 17cm of these draws. Purchased mainly due to overwhelmingly positive reviews on BC and everywhere else. The nylon dogbone is VERY sturdy. These definitely don't rotate much under the weight of the rope or when trying to clove hitch as my BD HoodWire and their dyneema dogbones do. Picture demonstrates holding the 12cm quickdraw horizontally (straight out of the packaging, they might not be this rigid after considerable use).

Clipping is easy and the snappiness of the gates give a sense of high quality craftsmanship. Confidence inspiring .
Quick and Efficient
Familiarity:

I've put it through the wringer
This draw is a must have for any serious sport climber. Clipping on this draw is incredibly easy when sending a tough route. Not only is the clipping easy, but the durability of this draw is seemingly lifelong. I always make sure to have these with me when climbing hard sport routes.