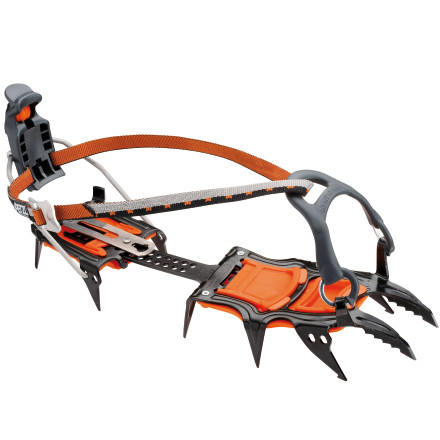 Detail Images

Community Images
Description
One crampon to rule them all.
Petzl designed the Sarken Crampon for those who crave versatility when heading into variable, mixed terrain. This 12-point crampon features T-shaped front points for easy penetration in hard ice, and structural reinforcements on both sides of the frame to create a stable platform. The four rear teeth give you stability while descending down icy slopes, and lateral points give you grip while traversing. The Sarken's linking bar can be set for flexible or semi-rigid to adapt to different environments and boot flexibilities. Boots larger than size 46 require the large linking bar (sold separately).
Hooded front points for better shear resistance in steep snow
A variety of attachment options provide the ideal fit to your boots
Versatile design ideal for mountaineering and alpine climbing
Hey! Can the two front teeth of the sarken crampons be converted to a more aggressive tooth set up like what's found on the lynx? Thanks for your help!
Hi Paul!

Thanks for reaching out to us, great question! These crampons are not modular nor specifically modifiable like the Lynx. What application would you be using crampons for? Traditional Mountaineering? Ice climbing?

Need more info/beta? Want help getting geared up for your next adventure? Feel free to reach out to me directly @ nreed@backcountry.com
PETZL - Commitment to Quality
How well would these work with the Mammut Nordwand boot?
These will work great with the Nordwand boot as the Nordwand boot is step in compatible. If you have any questions or would like to get an order going please contact me at the info below



Dan Gates

Expert Gearhead

Office: 800-409-4502 ext. 4491

dgates@backcountry.com




Will these work with Scarpa T1 Tele boots?
Derek,



For the Scarpa T1's, you'd want a step-in crampon since you'll run into interferance at the toe.



The major problem with combinding tele boots with crampons is front pointing. It'll be possible to get a step-in crampon onto your tele boots, boot the length of the duck bill will cause issues front pointing.



What type of terrain are you looking to do?



Here is a link showing a picture with what it'll look like with the duck bill sticking so far out as compared to the front points:



http://www.supertopo.com/climbers-forum/2376877/Tele-boots-and-crampons



Jared D.

Expert Gearhead

800.409.4502 ext 4055

jdowns@backcountry.com
Great crampons
Familiarity:

I've put it through the wringer
I've used a pair of these for the past 7 years of ice climbing about 30 days/yr. Each year I file them down and their end might be coming to a close. They climb everything really well from WI1 scrambling to WI5 and have never had any problems as well as mild mountaineering found in New England. They fit great in Kayland Apex XT, Sportiva Nepal and Koflach boots that I have. Though an issue with all the Petzl crampons is their tiny buckle which is almost impossible to use with gloves on when you're cold and tired at the end of the day. Over time their front tip point becomes quite rounded and no matter how much I file, can't seem to get that pointy at the tip. That may be an issue with all crampon points.
Unanswered Question
Has anybody paired those crampons with La Sportiva Spantiks and what's the fit like?
Underrated
Familiarity:

I've used it several times
Alright I'll be honest, I only own a pair of BD cyborgs. But I've used these a couple times and have strong enough opinions to write about! First, I think the purely vertical frontpoints are overrated most of the time. The ice isn't always SO cold that you need it. In plastic sticky ice, I always wish I had something with more hood, like this. And it works great in the alpine too! I would really recommend this crampon to people who are on the fence about it being a hybrid, because it has excellent performance! The next crampon I buy, I might just go back to this one. One bummer though; you can't replace the frontpoint. So if you DO throw some mixed climbing in there, your crampons life is gonna be a lot shorter. That's the only reason I knocked it a 4
Unanswered Question
Are these the Sarken V2 updated version...
Are these the Sarken V2 updated version or the older style ones?
Will these fit the Deeluxe Spark XV boot?...
Will these fit the Deeluxe Spark XV boot?

both my BD sabretooth and cyborgs do not..
Best Answer
Reid,

The fit of the crampon is highly dependent on the size of your snowboard boot. What isn't fitting? I assume you mean the toe or heel of the boot is too wide to fit the crampon's strap on attachments. If the length is the issue, you can always add a long center bar accessory, since all crampons come with the shorter standard center bar. Check it out: http://www.backcountry.com/black-diamond-long-center-bars?ti=UExQIENhdDo6MTozOmJjc0NhdDgxMTEwMDEzMg



Alternatively, I'd recommend Grivel crampons for wider snowboard boots, they tend to have the better fit. Check out the Grivel G12: http://www.backcountry.com/grivel-g12-new-classic-crampon?ti=U2VhcmNoIFJlc3VsdHM6Z3JpdmVsIGNyYW1wb246MTo1OmdyaXZlbCBjcmFtcG9u
The length and width are ok, its the height of the heel welt, its .5cm lower than my mountaineering boots. The heel bail and micro adjuster are just short of getting a good clip.

Without taking the boot to a gear shop (I live in the mountains so thats not easy) I'm just trying to get as much info as I can.

The Petzl spurlock system sounds like its a better fit for boots with a low heel welt.
will these fit over ski boots?
will these fit over ski boots?
For use with ski boots I would get the Leverwire variant for maximum security.
Does Petzl make a replacement front point...
Does Petzl make a replacement front point piece for this crampon? I have not been able to find this part on petzl's website - curious if anyone has had experience with this.



After 2+ seasons of ice climbing every weekend the front points are in need of replacement.
B,

These front points are not replaceable. Black Diamond Cyborg and Grivel G14 crampons do have replaceable front points though. You can also sharpen your crampon points by hand with a flat bastard file or carefully take them to a bench grinder.



Check out how to sharpen your crampons: http://vimeo.com/51644205
Will the Sarken Leverlock work with Scarpa...
Will the Sarken Leverlock work with Scarpa Triolet boots?
Unanswered Question
Hi, i am new in ice. I bougth this crampon,...
Hi, i am new in ice. I bougth this crampon, and i want to use then in the flexible mode but i don't realize how to do it. My boots are number 45 and i have to use the last holes of the linking bar.
Thanks