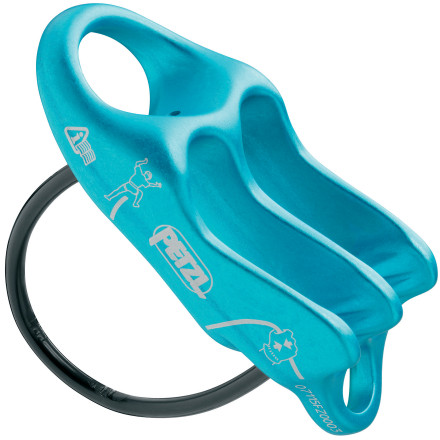 Community Images
If you're tired of digging through a pile of belay devices to match the rope choice and type of climbing you're doing today, then get the Petzl Reverso 3 to do it all. Whether you're running a fat single while projecting a sport route or taking thin twin lines into the alpine, the Reverso 3 provides a solid catch with deep V-shaped notches. Petzl also designed this belay device to lock automatically when you're belaying a second from the anchor so you can multitask at the 12th pitch hanging belay without putting your partner at risk, and the Reverso's quick-release loop lets you release tension on a fallen climber without needing a PhD in Physics.
love this device
Familiarity:

I've put it through the wringer
I bought a reverso 3 as a first device and as a beginner without having an idea how to use it, but after climbing for a year using it both inside and outside Im glad i went for this, it definitely does the trick have caught many falls with this.
Great Belay Device!
Gender:

Male

Familiarity:

I've used it several times
The Petzl Reverso 3 is one of the best belay devices out there. I get plenty of braking friction but it is still smooth all of the way through. I haven't gotten a chance to use the autoblock on it, but I'm sure it works just like the one on the Reverso 4. Still not as light as its younger brother , the reverso 4, but packs just as much function.
I just don't like rappelling with it. My preference, that's it. It's the bees knees for belaying though.
loved the color. bought it for a good friend, and have used it a lot myself. Its light, versatile, and tough. it belieghs nice from the top and bottom. i am a BD fan more, just because its what i use, but this is a second favorite.
Winter Ascent of Andromeda Strain
Canadian Rockies Classic!

Petzl Reverso's being used with great success!

For more: www.stephenkoch.com
Being Belayed With a Reverso on Classic Andromeda Strain
Canadian Rockies, Winter Free Ascent.

The Reverso 3 Rocks! To be able to belay the second hands free off the anchor is the way to go! Just make sure your anchors are bomber! Take a pee, eat, drink, shoot photos...do it all while keeping the second safe!

Photo Copyright: Stephen Koch Collection

For more on this climb: http://www.youtube.com/watch?v=O6pTYH_CNq8
The device performs exactly like it is advertised. I wish there were a bit more attached in the way of instructions, but I was able to find a great tutorial online explain all of the different aspects of the device. What more can be said as far as a belay device? It belays like a champ!
Great Device, a PhD in physics still helps for releasing a fallen climber!
Overall, this is my favorite belay device due to its performance and its versatility. The only caveat I would add is that, while the quick release loop makes it easier to release a fallen climber -- especially if you use it as an attachment point for a cord running through your master point, it can still be difficult, especially if the terrain is steep, and/or the climber is heavy. With a 275 lb guy I found that I had to set up a runner going through the master point, back down to my harness so that I effectively had a 2 to 1 pulley to unlock the device.
An excellent video explaining the uses of this wonderfully versatile belay device.
This is a great very versatile belay device. works smoothly in guide mode and just as well off the harness. Doesn't jam on repels and has a sweet color selection. What else could you want from a belay device.
I bought this specifically for multi pitch climbs so I could belay from up top with the device hooked to the anchor and I would be independent of that system. I like petzl a lot and I read up on my stuff before I bought this. I was pretty disappointed when I found that it took more work pulling the rope through the device than I used climbing. My partner also tried and ran into the same problem. I have since used the ATC guide and it feeds much nicer. I'm going to keep it, but not use it the way I wanted.
Finally got to use this down in Red Rocks, NV this last weekend in guide mode. It worked well and I would have been confident to have it lock up to catch a fall for the top roper. Belaying a lead is smooth this with device. I've always used a Gri Gri or Black Diamond's ATC but this is a very worth addition. I am replacing my ATC with this.
The reverso3 was my first autolocking belay device, and I haven't turned back ever since. I'm on my 2nd one in 2 years, but only because I dropped mine off the top of huge face. Good thing I had my spare hanging on my 'spare parts' biner. The reverso3 combines the best features of every atc I've ever owned. Smooth rope feed, high friction, autolocking, lightweight, and a flexible cable that lets the belay device move smoothly when your chimneying or otherwise getting uncomfortable on the climb.
Reverso Instructional Video
Very functional belay device. Its very close to the blackdimond ATC Guide. the rear loop is horizantal on the reverso instead of vertical as on the ATC . The one thing I like about this that the guide doesnt have is that the cabel portion is very solid, it wont bend and wont get loose of the years. loose cabel can become annyoing because it gets wedeged in the belay whilr reppelling and or belaying. Very very good belay device absolutly love it
Won this thing as a prize in a magazine, love the features and its durable as hell!When you rappel though don't use the grooves, no bueno, but other than that its like the multi tool of belay devices!
Why I chose this over the BD ATC guide.
Lighter.
Not really into it for rappelling
I like this way better than a standard ATC for belaying, but for rappelling I noticed that the grooves tend to keep the rope from smoothly flowing through. So rappelling for me feels like a mixture of always pushing the rope through to rap off with jerky brakes, though likely has to do with the rope thickness.