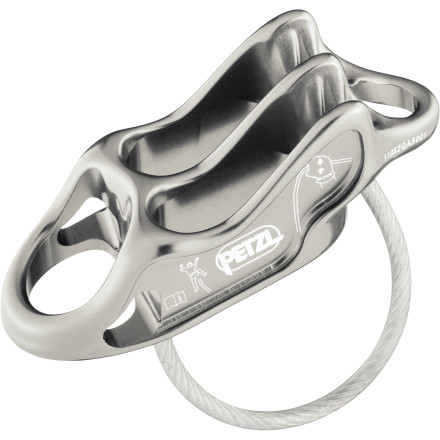 Videos

Community Images
Description
Meet the new standard.
Not only does the Petzl Reverso 4 Belay and Rappel Device give you serious stopping power when you're holding massive whippers, but it also functions as an auto-locking device when you're belaying the following climber directly off the anchor. This allows you to re-rack, tie your shoes, sip some water, and take a few photos without risking your climbing partner's life. Belaying two followers at once? No problem. Rappelling 15 pitches? The deep grooves give you plenty of control. Petzl also added a secondary clip-in point to help you release a locked rope if you need to lower a follower who has fallen.

Can be used to belay the leader or one or two following climbers; can be used for rappelling
Functions as a self-locking device when belaying off the anchor
Trimmed-down design shaves weight well below the previous versions
Deep V-notches add plenty of friction and increase control for long rappels
Secondary clip-in point to help in releasing a locked rope
Works on single ropes down to 8.9mm
Effective braking on half and twin ropes of 7.5mm or more
Guide mode.
Familiarity:

I've put it through the wringer
Most of the climbing I have used the Reverso for is big multi-pitch routes. The guide mode is the absolute best! Hands free mode is very convenient. It is very lite so you do not notice that little bit of extra weight. It is very durable even for its thin design. The down fall to guide mode is that it is hard to feel if your climber is climbing or not. Over all a must on any trad rack.
My first new style Belay device
Familiarity:

I've used it several times
I really liked it after old-fashioned 8-shape belays. Strong and reliable
Does it work well with one mammut twilight 7.7 half rope in one slot? Note that I dont put 2 ropes in two slots in the classic double setup.
Best Answer
Ming,



On double ropes this belay device can take ropes as small as 7.5mm in diameter.



Shoot me an email anytime you have questions!



Jared D.

Expert Gearhead

801.736.4336

jdowns@backcountry.com
Sweet device
Familiarity:

I've put it through the wringer
I purchased the reverso 4 so that I could take my climbing to new heights, literally. With the reverso you can belay up to two ropes from the top of a route very easily, it allows you to venture up multi pitch climbs with confidence. I climb on a 10.2mm rope and found that it did have a little trouble feeding easily but nothing you couldn't deal with if you're experienced. Repelling on this device is awesome! I love how lightweight it is, Petzl nailed the design on this one!
Awesome Device
Familiarity:

I've put it through the wringer
I absolutely love this belay. It feeds rope really really well. I normally climb on a 9.8 rope and it feeds awesome. Not to slow, but not to fast. Its just right. I normally take this guy to the climbing gym and it feeds relatively well with the thicker gym ropes. I have no complaints!
Very light and work well.
Thin ropes only unless you want a very jerky ride or wear your arm out on a belay pulling rope thru.
This would have been a great 5 star device if they labeled it correctly (9.8mm max).
If you are looking for a versatile option look elsewhere.
You Won't Drop Your Mom
Familiarity:

I've put it through the wringer
I am a huge fan of the reverso. It is really easy to use and accommodates a large range of rope widths, even my fairly wide 10.1
I regularly climb with my three teenage kids and have enough confidence in this piece of gear to have them belay me. Because it is so basic it gives users a solid understanding of what is happening as well as creates accountability. For this reason I choose this over my Grigri when climbing with my kids or anyone that is learning.
If you have questions about this climbing piece or any of our climbing gear feel free to contact me!
M-F 8-4 MST Office: 801.736.4347
I check email regularly: ledlund@backcountry.com
PETZL - Commitment to Quality
Great Device, Needs Specification Change
Familiarity:

I've put it through the wringer
I was initially deciding to upgrade my Belay Device to this or a Blackdiamond ATC Guide, and went with this. I have been very pleased for the most part. However, the device works much smoother with ropes closer to 10 mm diameter. Anytime I'm using a rope closer to the 11 mm end of I get substantially more resistance. If you're using thicker ropes 10-11 mm I would look for a different multi-pitch belay device.
Favorite belay device
Familiarity:

I've put it through the wringer
The reverso is my favorite belay device. It's strong, light, easy to use, and shows almost no wear after quite a bit of usage.
Smooth belay and rappel
Familiarity:

I've put it through the wringer
I love my reverso. It's light and handles smoothly. Setting up autolocking belays for multipitch have never been easier. Definitely recommend if you're looking for belay / rappel device.
Great Belay Device!
Familiarity:

I've put it through the wringer
I used to only bring the Petzl Reverso out when climbing a multi pitch, but there's too man weird instances where a lead top belay is needed. It's permanently on my harness now.

Lightweight, smooth belay while bringing up one or two seconds, made in the UK, bright color, great friction for rappels, and easy to follow visual aid.

The Petzl Reverso 4 is my favorite belay device by far!
Gets it done.
Familiarity:

I've used it several times
Great all around belay device that does it all. I haven't had the chance to use it in guide mode yet but I'm sure it's pretty sweet!
Lightweight and functional
This is my go-to belay device. I've used in the gym, on multi-pitch climbs, sport climbing, canyoneering ... everywhere.



Guide mode is the most amazing thing on multi-pitch climbs. And the lightweight is always a plus.



I find that using it is very comparable to the Black Diamond ATC Guide (which is also awesome, just a little bit heavier).



You won't go wrong with this belay device.
The World's Worst Belayer
Belaying with a PETZL Reverso
Great device
Familiarity:

I've put it through the wringer
This is a very good belay device. You have the ability to use this as an auto-locking device on multi-pitch climbs due to the extra hole, and it is a very smooth belay. It lowers better than an ATC in my opinion, but has a harder time with larger diameter ropes. This is a good belay device for ropes that are around 10.2 mm and lower. It is a very light device, with pretty thin walls, so it gets rather hot on fast repels and lowering. Definitely worth the money though.