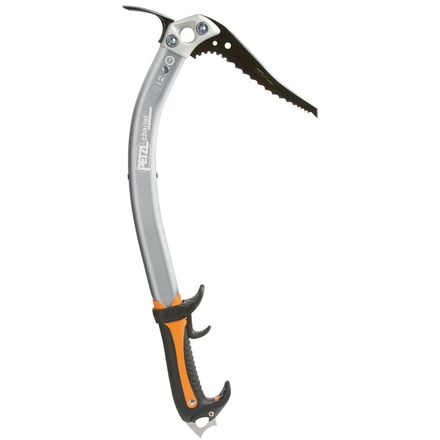 Colors

Detail Images

Community Images
Description
Lighter, faster, better.
Petzl gave the Quark Ice Tool a complete overhaul to make it one of the most versatile choices for taking on steep ice and alpine terrain. While the Quark has been a staple in the ice game for years, things can always be better. Petzl added a redesigned pick that can be used with a head weight for better penetration in bulletproof Alaskan blue or without a weight when you want to shave grams. This tool can still be used with a leash, but Petzl designed it with leashless use in mind and added an adjustable trigger for increased swing precision and an upper grip to let you match on steep ice. The new spike design easily accepts a tether, so you don't risk dropping your tool from 4,000 feet up some alpine wall. The Quark can be used with a hammer, adze, or no attachment at all. Either way, it's still much lighter than the previous version.
Adjustable upper pommel lets you match on steep terrain
Removable pick weight for extra penetration on hard ice
Curved upper shaft provides extra clearance on technical ground
Low-profile head accepts either a hammer or an adze
PETZL - Ice Climbing Basics
PETZL - Quark, Nomic, Ergo
Tip Bounce
Familiarity:

I've used it once or twice and have initial impressions
Firstly I'm not much of a climber, however I have used an array of tools over the past season for ski mountaineering and these were my 2nd to least favorite out of (Cassin X-All, Grivel Quantum Tech, BD Viper, and BD Venom)



The interchangeability of these axes combined with how light they are make for a fantastic tool. Between a choice of clips, leashes, and weights you can customize these to make them just they way you like them. I personally liked how lightweight they were, with one caveat - how well they stick on harder ice. If you are climbing harder ice I would definitely recommend the weights and I did not get a chance to use these tools with weights. On the hardest ice the tips didn't seem to want to grab they way the BD Viper or Cassin X-All's did.



In the softer ice and steep snow these excelled and I really liked the pinky rest for quick ascents on hard snow.
Light
Familiarity:

I've put it through the wringer
Very lightweight with a balanced swing. In fact, I like the swing much more than the BD's models. The trigger rest really helps with that final flick.



I LOVE the adjustable pinky rest for steep snow climbing, so you can have your hand halfway up the tool. This thing is so versatile with all of the removable parts. I am worried about the durability of the plastic trigger rest though. Good thing it's pretty cheap to replace, and I think that the benefits of it outweigh the possibility of it breaking. Overall, this is the most versatile alpine tool on the market.
Great all around tool
Familiarity:

I've put it through the wringer
I had the old Quarks for 5 years and they were my go to for all of my alpine adventures. The only things i would ever change on the old ones was to add a hole on the spike to fit a carabiner and a smaller adze. Both were solved with the new one and then some. The lighter weight is a plus however I do prefer a little extra weight on the top of tool for my swinging style. I just added some weights and that was solved. I use these tools for all of my Alpine climbing and most of my mountaineering as I prefer a shorter axe. The picks get the job done and take a little getting used to from the old quarks which used the cascade pick. These are a little less durable and require more sharpening, but nothing that would deter me from buying. I have not had any problems or concerns with the picks breaking, like BD picks. I have only ever seen people break BD picks. Nothing against them just what I have seen. I like the new angle of shaft as it allows for easier throws and sticks better on steeper ice. Be prepared however for the pommel to break. My friend broke both pommels in on a super cold outing to Hyalite Canyon that can't be blamed on his technique (He is AMGA cert Alpine guide) rather the plastic and -10F temps. In the end it comes down to personal preference when choosing an axe in terms of feel and throw. However these are at the top in terms of features, weight and overall reliability. I would call these tools the best do it all tool and are the best one quiver tools on the market. I am giving 4 stars only because of pommel problems, not that i use mine because I use my Nomics for technical climbs where a pommel is handy. But if its your one tool quiver it could be an issue/annoyance for some.
Best. Tools. Available.
Familiarity:

I've put it through the wringer
Enough said.
This may be a dumb question, but when...
This may be a dumb question, but when purchasing ice tools do they come in pairs or is the price set for a single tool?
Best Answer
I'm 99% sure they're sold individually. Some people like matching tools, some people want different lengths or different heads on the back (hammer and adze), and so on.
Angus is right, these are sold individually.
Thank you Petzl
Familiarity:

I've put it through the wringer
I've been ice climbing for years now and the only tools I ever owned personally were Petzl Quarks; started with the older style and then bought these as soon as they came out. My husband has gone through several pairs (still has 3 sets currently) but I have stuck with the Quarks. They are an all-around tool with good weight distribution and a comfortable handle to use with thicker gloves. One issue arose with these however, I broke the trigger off one of the tools the first week I used them! Regardless of that, they are probably the only model of tool I will ever use and they have served well for ice, alpine, and mixed climbing.
Do you have the head weights available...
Do you have the head weights available somewhere?
Here are the weights:



Hammer = 58g

Adze = 69g

Pick = 129g
Fits my hand really well and feels a little bit beefier than the BD Viper.
Great tool--one nitpick
Familiarity:

I've put it through the wringer
I've been climbing on the Petzl Quarks since they were released, and I gotta say--I really love them. I've wrapped the entire shaft down to the handle in 3M Waterproof Electrical tape, and they've been fantastic--on anything from mixed routes to long alpine days, they're my go-to tool...my wife likes them so much that she's trying to sell her Nomics to get herself a pair. They're that good.



With the petzl picks, I would strongly recommend detuning the nasty hooked beak they come with, as it tends to stick a ton. Additionally, I've found that the trigger grip--while super nice for not pumping out on steep ice--tends to make your pointer finger stick out in such a way that you end up whacking it a lot on WI5- or steeper--especially bulging, crenelated ice.



That notwithstanding, the Quark is hands-down the best all around tool on the market. Just watch your finger!
perfect alpine tool
Familiarity:

I've put it through the wringer
petzl did it right. last season I used these tools on mixed routes, ice climbs and alpine ridges. its light enough to take on any alpine route. It climbs vertical ice like crazy, yet is still totally plunge-able. It can be hard to get a good stick with the hammer or adze off when the ice is super hard, but as soon as you put the hammer on it sticks like crazy! pull the hammer off and you have a light and precise tool for mixed climbing. 5 stars for a great all around tool
Versatile and solid
Familiarity:

I've put it through the wringer
I have used these tools on steep water ice, mixed cragging, dry tooling, and long mountain routes. They perform well everywhere, and the modular options are always interesting as you can suit the tool to any task. They are light yet very durable, despite many scratches, i never fear to torque them at strange angles. I have borrowed friends' tools only to take mine back for their perfect swing. They excel at classical alpine climbing with a healthy mix of snow plunging, moderate ice, and scrappy mixed.



-a few drawbacks: They are not well suited to steep water ice, there is not enough curve in the shaft and not enough weight in the head. the 'massolettes' improved this department slightly but in the future I will consider a more adapted tool.



-The attatchments are not particularly functional. I have not had to chop a ledge with my adze, but I imagine it would be ridiculous. I always dread pounding a pin with the petite hammer, it it not very effective.



-The trigrest seems like a good idea, but as a matter of personal preference I hate having a trigger on a tool. It is uncomfortable and as it wears out it will begin to slip. I have no need to adjust the position of my grip during a climb. I removed mine in favor of standard secondary griprest.



*for matching, cheap athletic tape improves the feel alot, twist the tape to make ergonomic finger ridges underneath the main layer.



-Poor fist/knuckle protection when swinging over bulges, again a steep ice problem.



But all in all these have been perfect alpine tools and I could not be more happy with them.
Used these on glacier ice and waterfall ice and found them super versatile. Great weight to size ratio and they last well season after season. Great deal.