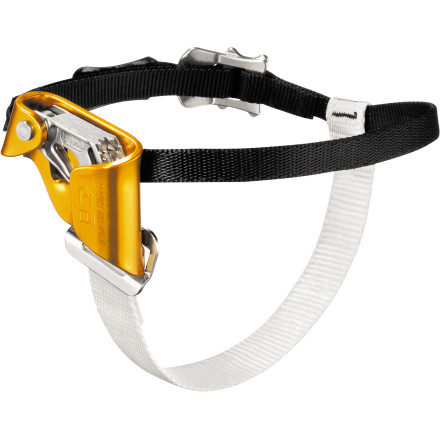 Community Images
Designed to be used with a basic handled ascender or the Petzl Croll chest ascender, the Petzl Pantin Foot Ascender improves efficiency and minimizes fatigue while you ascend fixed lines by allowing you to maintain a vertical body position. The cam is designed to allow the rope to pass through the device even in the first few feet of climbing.

Self-cleaning slot allows the cam to perform on frozen and dirty ropes
Cam is designed to allow the rope to pass through the device even in the first few meters
Stainless steel cam is resistant to corrosion
Cam releases from the rope with a backwards movement of the foot
Foot strap is made from Dyneema for strength and abrasion resistance
DoubleBack Buckle on the foot strap allows you to quickly adjust and secure the strap
Available in a right-foot or left-foot version
Works well for rope access work
Familiarity:

I've used it several times
I was introduced to the Pantin in a different context than the other reviewers and my opinion reflects that. I understand their frustrations with it but for my purposes the foot ascender is a nice bonus to the standard gear used in rope access work, which are a chest ascender (Petzl Croll) and handled ascender/foot loop. I work as a rope access technician on wind turbines and we use 11mm low stretch ropes (6-10% stretch).



I borrowed the Pantin from my coworker and used it for about 20 days before the job ended. My initial impression was that it had a learning curve just like any other piece of gear but once mastered, it could serve as a very useful tool.



Primarily for me, the Pantin makes jugging up ropes more efficient, quicker, and less tiring. It allows my right foot to be used independently of my left and makes ascending more natural because I can then use both legs equally. Installing the Pantin on a rope is difficult at first, but after a dozen times I was able to do it without touching the rope with my hand most of the time. It was most useful for climbing, obviously, but also for minor repositioning while working and negotiating the nose cone where we transition back off ropes. To convert these to uses outside turbine work, I imagine that it would help for topping out a cliff or repositioning while rescuing or something.



The cons of the Pantin have been well documented by the other reviewers. I agree that it occasionally disconnects from the rope, but for me it didn't do so to the extent experienced by the others. Another downside is that the rear strap had a tendency to ride above the top of my boot and dig into my heel if it was even a little too loose. It was an easy fix off of ropes but annoying while on them. The third and largest downside is that the Pantin is too expensive for its purpose and for that reason I gave it 3 stars not 4.



Bottom line: Cool piece of gear for rope access but expensive and unnecessary for recreational use.
Frustrating...
Familiarity:

I've used it several times
I bought a Pantin a number of years ago. The idea seemed great on paper and the marketing spiel sure sounded good. Unfortunately, in my experience, it doesn't live up to expectations.



On a positive note, it's light for what it is and fits well on a boot. The problem is that it doesn't want to stay on rope at all. Maybe my technique wasn't as perfect as required, but it was quite common for it to disengage, leading to frustrating climbing.



At the end of the day, I much prefer using the dual loops of my homegrown frog rig. I should have put the money towards beer instead.
Love The Thought
Familiarity:

I've used it once or twice and have initial impressions
Was excited for a solution to using my old prusik loops when I saw the foot ascender. Grabbed a hold of it today and put it through some crevasse training.



It was easy to get on while standing on the ground and a no brainer, but just as the previous review stated the down rope needs to be weighted or the rope can escape. I was saddened by this and thought maybe it was the diameter of rope we were using (11 mm) so tried out my standard glacier rope (8 mm) and still had the same problem.



Trying to strap this on while dangling was a real pain so for now I'll stick to the old prusik loops that I know and trust.



Not for mountaineering, but may be handy for the tree climber who wants tie on a case of suds on the down rope side to help keep the rope in place.


Good idea short of perfect
Familiarity:

I've used it once or twice and have initial impressions
I tried out this right foot Petzl ascender during crevasse rescue training on Rainier a few weeks ago. Great idea, however reuires that you have a load down rope of the ascender or it will raise the slack when moving your leg up and simply pop off the rope. this happened twice when i finally made use of my Petzl handled ascender in combo with a foot prusik. Also, its unlikely that you could easily strap this on to your foot while attempting to make your way out. Recommend that petzel work with boot companies to create a foot ascender clip on the inside of the preffered boot (L/R) for a quick and easy connect. that I would buy. Safe climbing