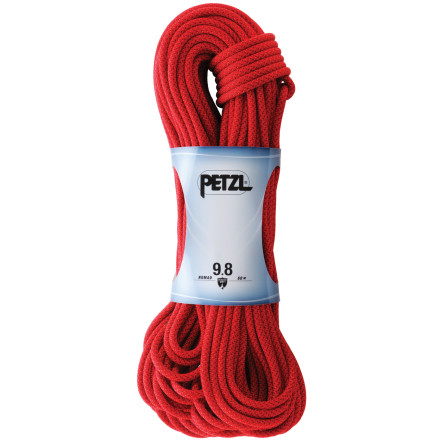 Videos

Community Images
The Petzl Nomad 9.8mm Dry Climbing Rope is a lightweight workhorse for everything from an overhanging sport project to a massive alpine objective. At 9.8mm, this smooth-handling cord bridges the gap between next-gen skinny ropes and old school fatties. It's durable, thick sheath holds up to repeated abuse from gritty southern sandstone or alpine granite, and the Duratec dry treatment coats both the sheath and the core for long-lasting protection from wetness and freezing.
Anyone use a Mammut Smart belay device...
Anyone use a Mammut Smart belay device with this rope? I'm curious if 9.8 is thin enough to make the assisted brake not very assisted.
That's largely going to depend on which version you have. I assume you have the black option if which is made for ropes 8.9 - 10.5 mm thick but if you have the silver variant it is made for thinner ropes of 7.5 - 9.5 mm thick.
I've used it with the Smart Alpine. Good to go.
Rope Romance
Familiarity:

I've put it through the wringer
If I could marry a rope, this would be the one. It's light, reliable, and flakes out beautifully every time - I've never had to put up with knots or any other sort of bad behavior. It's slides though my ATC with great ease and never catches on patina. I've been with the red 70 for a year+ now and we couldn't be happier.



Every romance does have its troubles. My only problem with this baby is that the mid line marker fades rapidly. As time has progressed, I've have more and more trouble spotting it.
Smooth rope
Familiarity:

I've put it through the wringer
I've used this rope very regularly for about 7 months now and am still pleased with the performance. It's been on sport, trad, multipitch, granite, limestone, and sandstone and it still has a smooth feed and clip. I couldn't have asked for more in this rope. My only complaint would be the price, but that seems to be a consistent complaint with just about anything. Great rope, big sends, comfy whips, and a smooth feed.
i really love this rope. my experience with petzl ropes is that they have great durability. also, in the current market of super skinny ropes, it's important to note that there's not much point in getting them right now. i have a skinnier 70m for when the area dictates it. but for most of us, taking whippers and doing some top ropping, it makes more sense to have a little beefier rope. sure, it's a little heavier, but those extra 300 grams aren't gonna be the reason you didn't send.
How well does the Nomad work with a Gri...
How well does the Nomad work with a Gri Gri2??
Best Answer
Since it is on the thinner side I would say you need to be vigilant about proper GriGri technique for the first few times out until the rope breaks in a bit. Overall it works great but as with any thin rope, extra caution is needed when it is brand new.
I've used the Nomad for a few years with both the original GriGri and the sequel, and it works great. I've found it to be more flexible than most ropes, so it navigates the tighter turns of the GriGri 2 really well. It's certainly nowhere near too thin for the 2 (actually on the thick side for what the 2 is intended for), though it is a little slippery in the original.
i've got a gri gri 1 and 2, works great in both. no issues with feeding or braking.
Not the best 9.8
Familiarity:

I've put it through the wringer
This is a good rope because of it's diameter and dry treatment, but I think that the Sterling velocity is a better choice. The velocity has a stiffer hand and is more durable. Climbed on this rope for 2.5 years, but converted to Sterling because of the durability. For the record, this is a durable rope, but I think that there are other options that are better.
Durable
Familiarity:

I've put it through the wringer
Some people have questioned this ropes durability, but from my experience I was able to use this rope consistently for almost 4 years before I had any concerns. I have worked as a climbing instructor and check my ropes religiously, and never had any concerns in those 4 years. Even now it shows no serious signs of deterioration, however based solely on age I decided to retire it. If you take care of this rope, it will take care of you.
Petzl Nomad 9.8mm Climbing Rope
How would you go about cleaning this rope?...
How would you go about cleaning this rope? Would you use a the beal rope brush and water?
Yes that is a good option. If it is really dirty you cna use some rope wash from Nikwax. Then I would air dry in open shade.
Best Answer
I'd definitely go with the rope wash; brushing takes FOREVER. You would not believe how long 200 feet is when you're scrubbing all of it. And aluminum oxide will stain the bathtub pretty badly. Nikwax Rope Wash works phenomenally well, followed by drying in the shade (I hang mine over the shower bar. Just tie the rope in a daisy chain as demonstrated here (http://goo.gl/pKm38) and run it through the washing machine on gentle - even a top-loader will work fine - and you're good as new.
most ropes recommend a front loader. the other option is to fill up a bath tub with warm water and add the rope wash. then agitate it on your own (be the washing maching). then fill your tub with cold water and agitate. repeat that until no more dirt or cleaning solution comes out of the rope, then hang it up to dry. don't hang in direct sunlight. if you make a habit of leaving your rope in the sun, it can weaken over time and it's already getting enough wear.
Great rope, didn't last long
Gender:

Male

Familiarity:

I've put it through the wringer
As others have stated, this is a supple rope that goes through a grigri nicely and is easy to manage. Right out of the box it doesn't feel stiff at all, no break in time. It does pick up dirt very easily though. I loved this rope, but I've only had it 11 months and now have to get a new one. There's a small tear in the sheath and the core is now exposed. Was this from rope drag over some rough rock? Admittedly, I've climbed several routes repeatedly where this might have caused the issue, but the rest of the rope is still in good shape. Since the tear is only in one small spot, it leads me to believe it was one single event that caused the tear, not repeated abuse. Hmmm, not sure what to think. It's a great rope and this could be just a fluke thing. This will be my third rope, so I think I'll purchase a different brand this time just to try something different for comparison. Still love Petzl products and this rope is pretty sweet.
I've had this rope for the past 2-3 seasons and have been climbing on it fairly regularly. The rope now has a small amount of grime from running through my belay devices and quick draws, but shows no real wear and tear. Sheath still nice and smooth with no abrasions. Maybe it still needs to be climbed on more, but I could not get it to feed smoothly from my GriGri 2. I have no issues with it in my ATC though.



Since it's just my girlfriend and I primarily climbing on this rope, it does not get used much as a top rope.

Great rope all in all.
I've used several of these ropes, and it is definitely a solid choice. The only qualms I have with it is that it is on the heavier side of ropes I've used recently (Sterling Nano), and it picks up a ton of dirt. You MUST use a tarp with this rope or you'll be forced to wash it. Overall, a solid choice.
This rope is awesome. It's so easy to handle and feeds like a pale yellow edible fatty substance made by churning cream and used as a spread or in cooking. I've had mine for a couple months now and it still looks brand new. STOKED!
This rope is great. I've used it in Rifle, Eldo Canyon, Moab and everywhere in between. The way they coil it in the factory makes it ready to use the first time. 3 months of heavy climbing on it and still going strong.
Hi, This is my second nomad rope. The first one had markers at 25ft from the end which this one doesn't, but its not big deal. The rope handles great and is just the perfect diameter. So far I have climbed around 50 pitches (in new england) in it and shows no real of signs of wear and tear. Happy with it.
soft out of the package, the durability seems great, and lightweight. the Duratec dry treatment seems to be keep ing the rope clean and dry.
Just got this rope and have been climbing a half dozen days on it and it is awesome! Stoked on the durability so far and the large marking on the center is helpful too. I will let you know more once I work it in!