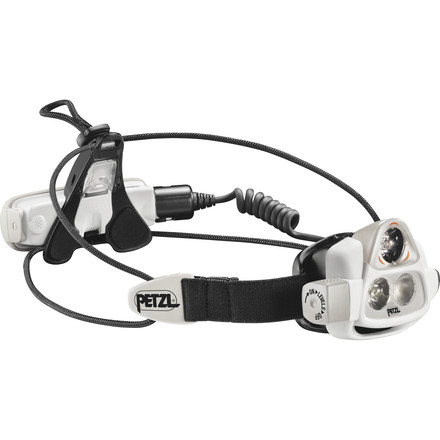 Colors

Videos

Community Images
Description
The biggest thing in headlamps since the headlamp.
Petzl's Nao Headlamp uses Reactive lighting to adjust in brightness to give you an ideal amount of light when you're climbing, running, or caving. Not only does Reactive Lighting adjust in brightness, the Nao's top sensor also adjusts the LED lights' beam spread, whether you need a focused beam when you're navigating a map or want a wider beam while exploring the great outdoors. Reactive Lighting also helps retain power, thereby providing a surprisingly high burn time. You can switch this innovative Reactive Lighting mode to Petzl's standard Constant Lighting when you want to go back to basics.

The Nao sports a rechargeable lithium battery (included) located at the back of the headband, and you can replace the lithium battery with two AAA batteries (not included) on trips without access to USB ports. Petzl added a top strap to the adjustable headband in order to provide more stability while trail running. The Nao also features water-resistant housing and a lock function so you don't have a dead battery when you pull it out of your backpack. Get Petzl's optional belt kit if you'd like to style the battery near your trousers.
Reactive Lighting
Constant Lighting
Rechargeable lithium battery with USB cable
Optional AAA battery backup
Adjustable headband with top strap
Water-resistant housing
Lock function
Optional belt kit
Lives up to expectation
Familiarity:

I've put it through the wringer
I bought this headlamp with a small dose of scepticism that it could really be worth the hype and moolah ($). Fair to say it is worth it. The fit is good, balancing nicely on the head with relatively even weight distribution and plastic that conforms snugly to the contours of the head (well mine at least). I found it to work perfectly over a lightweight beanie and compatible with both my climbing and cycling helmets.

As for the lighting... fantastic. Plenty of power for all activities and I found the reactive lighting feature to be prompt and proportional to my needs. I haven't really pushed the battery efficiency aspect but has certainly not been an issue

The only down side with this style of headlamp is that it doesn't fit well with helmets that have a central strap keeper at the rear, as its right where the bulk of the battery housing sits.
Best headlamp I've ever owned.
Familiarity:

I've put it through the wringer
I picked up the Nao back in the spring and since then have brought it with me on every skiing, biking, climbing, and hiking trip since and it has never let me down. Not only is it incredibly bright, but it lights up a very wide path so skiing and biking down in the dark are easy. I've even used it to light up an entire pitch for climbing at night. The battery life is awesome, easily lasting full weekend trips in reactive mode. I find the reactive lighting to be very straight forward, easy to use and it definitely prolongs the battery life. You can adjust between reactive and constant modes and different settings in each mode quickly. A super cool feature is that you can completely customize the settings and modes when recharging on your computer. Another feature I really like is being able to lock the light on or off so it doesn't die in your pack. The straps easily adjusts onto all of my helmets and is still comfortable just on my head. I feel like the battery pack actually balances out the light so it feels more comfortable when moving around a lot. It's not the lightest headlamp out there, but for the incredible performance and ease of use I'm willing to carry the extra weight with me wherever I go. Here's a shot of us testing a pit before enjoying full speed pow turns back to our tent in the Tetons.
How is this headlamp to wear without a hat or helmet? The straps appear to be rather thin and narrow, very different from other headlamps. When mounting on my ski-mo helmet this isn't necessarily an issue, but I will frequently not wear a helmet.
Borrowed it for a run in the woods outside of Stockholm, Sweden, last year. Worked great without a hat or a helmet. Reactive setting was fantastic in the darkness. Beam grew longer when I looked forward and spread out when I looked on the ground below. Buying it.
Who needs the sun?
Familiarity:

I've used it several times
Bottom line: buy this head lamp and you wont regret it.

When I was looking for a new headlamp I of course wanted the brightest thing on the market so that I could impress all of my friends. When I came across the Nao, I was hesitant because of the size of the battery pack. But with the help of the top strap it sits virtually motionless on my head. the weight was a slight concern but after I get moving on any run I forget that it's there.
I originally bought this light for the Tushar 93K. I'm not a very fast trail runner so I knew I would be finishing the last 8 miles of that race in the dark. Since one of my fears is to be on the trail alone in the middle of the night I wanted to have something bright enough to make it seem like the sun was running on my section of the trail. The Nao is the headlamp every night runner needs! It's super bright. And it fits great to your head. The reactive lighting is great. I look at my watch to keep track of when to eat and I loved that it dimmed the light for me so that I didn't completely blind myself with the glare. (575 lumen is a lot in your face) the only issue I have with the reactive lighting is when I'm running too close to the person In front of me. It almost went into a strobe effect but that is when you can just turn the reactive lighting off and run on. You can also plug your battery in to your computer and program it so that it can be the most/least efficient with its life. Petzl is doing all the right things with this head lamp. If you want a piece of the sun attached to your head; buy this head lamp.
can you turn off "reactive mode"
Juniper,

I don't know if you got the answer to your question.

The Nao has four selection that is in reactive mode. If you hold the switch for a two seconds it will go into a non-reactive mode, then it will act like a normal head lamp. (Still bright and can be program using the Petzl web site.)
PETZL Headlamps - A Tale of Quality
Best Headlamp I've owned
Familiarity:

I've put it through the wringer
I love my Petzl Nao 2 Headlamp. I use it on my night trail runs, night bicycle rides, or just working in the garage when I needed additional light. It has four programmable modes that you can customize using Petzl's free downloadable application/software. Battery power last long especially when you're in maximum autonomy reactive mode. Very bright in constant mode. Uses dual power source - stock lithium battery or 2 AAA batteries. Lithium battery is replaceable when it's time to replace it. Rugged design - I accidentally dropped mine about four times on concrete when I was doing bunny hops and it's still good. Waterproof - I ran with it when it was raining and it worked great.
Bring on more night running!
Familiarity:

I've put it through the wringer
Many of my friends had this light , and the one I was using looked ridiculously dim next to theirs. Now that I have this, I'll never go back. I love how much more relaxed I can run at night. It's weighted perfectly to balance on my head, doesn't dig in any spots, and it's super cool that the battery is rechargeable so that I don't go through a million batteries.
Cool Headlamp
Familiarity:

I've used it several times
I have used the Nao a few times including a Rainier climb. The adaptive lighting technology worked as advertised. I felt like the battery held up pretty well, though according to the LEDs it seems like you may want to carry a spare battery or backup headlamp, mine was ding faster than I'd expect it to.
PERFORMANCE series headlamps