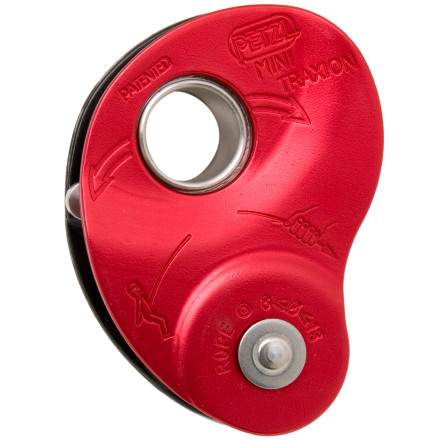 Detail Images
You can use the Petzl Mini Traxion Pulley for hauling on a multi-pitch climb, as a standard pulley, or for ascending a fixed rope thanks to its unique locking design. The cam on the Mini Traxion Pulley allows you to pull rope through smoothly but prevents the rope from sliding in the opposite direction. It can also be locked open when you need a free pulley. Bring the Mini Traxion on a long trad route to haul your pack, or use it for crevasse rescue on your next mountaineering trip.
This 5.8-ounce self-locking pulley is ideal for both hauling and top-rope solo climbing
Aggressive teeth work even on icy, wet, or snowy ropes
Note: Do not use with D or Offset-D carabiners
Hi Matt,

I'm not showing an ETA for this on our end, but that doesn't mean that we won't be getting more in the near future. Keep checking back regularly.
the one
Familiarity:

I've used it several times
they say it is not the best pulley for big walls, but we took it anyway as it is cheaper and smaller that the others. it ended up working just fine.

we hauled loads of 70 pounds easely with no other thing than this.

it is also great because it is small enough to use it as a crevasse rescue pulley
These pulley is very efficient, and can be used in many situations, i always carry it on the mountain, its light and its a solid pice of gear. i will love to get the new micro traxion just because of the size and the weihgt. but these one is just great
Petzl Mini Traxion Review
How much different is this than the micro...
How much different is this than the micro traxion? I've actually heard the micro to be a bit safer if it breaks: From Petzl.com "> MINI TRAXION: bent side plates and axle. The device is no longer usable, the climber must use another ascender, or descender, to escape.
> MICRO TRAXION: bent moving side plate and axle. The device might be usable for the escape, but must be retired immediately afterward."-http://www.petzl.com/us/outdoor/product-experience/self-belay-solo-climbing/introduction-us
The Petzl Mini Traxion serves better as an emergency device in situations like crevasse rescue, though it is not as durable (though approx 20% more efficient) as the the Mini Traxion. They both have similar work load capabilities and the Micro Traxion is nearly half the weight. I prefer to use the Micro Traxion while TR soloing and as a hauling progress-capture on walls, though the Micro Traxion's weight has allowed me to bring while guiding on mountain expeditions to severely cracked up locations in Alaska.



I can NOT recommend using either of these devices if you are experiencing product failure.
I use two of these for toprope soloing, and I use one for hauling base rigs up towers. I also use a single one for small haulbags (1 or 2 day ascent) on walls. Can't really imagine being without the mini traxion at this point. Maybe some day it will be a tiny bit lighter, but it's a really compact, well-engineered unit.
Hey, I was wondering does this work well...
Hey, I was wondering does this work well with a beal rando 8 mm rope, coz its on the thin part of what it is designed for, have one for glacier skitouring in the alps, but would like to downsize on my rope.
Thanks!
Best Answer
8 mm will work, 8.2 mm would work a little more reliably.
Any suggestions for an alternative rope for making two, 30mm ones? In this category?
This is such a versatile piece of equipment and it is not bulky. It works very well with the Petzl Attache biner (PTZ0204).
Great For Top Rope Soloing
I use one of these as part of my solo top roping system, and it works very well. Feeds smoothly and with little effort, and catches positively when weighted. I've never done any hauling with it, but I imagine it would work pretty well for anything under 50 pounds or so. Of course, like any "toothed" cam device, this can remove the sheath from your rope in short order if you subject it to heavy dynamic loading, so (like any rock climbing equipment), proper training and a sufficiently redundant system are mandatory prerequisites of use. Over all, a very well built and versatile piece of gear.
You can use this thing in a lot of ways WITH the PROPER training. Ideally, you would NOT do heavy hauling with it, the main pulley is too small and you will lose too much of your pulling power with this system. But a small day pack, crevasse rescue or as a fixed line soloist (again PROPER training) it is an amazing little unit.
Good for hauling medium-wieght gear
I've had one of these for about 7 years. When you need to haul gear, its nice to have the lock-out feature, so that you can use it as a simple pulley OR a hauling pulley, so that you don't end up carrying 2 pulleys or worse, a pulley and an ascender to catch. I haven't had trouble with it catching, but I've used it mainly for hauling lots of midwieght (30-50 lbs) bags on a fixed line, or something like scuba tanks that are heavier than you'd want to manhandle. I guess the only thing I'd like is if the lockout handle was metal instead of plastic, but I'd say that about all new Petzl cam devices.
what we been using to haul a small bag up on these OW and Chimney routes at Red Rocks, i.e. Epinephrine and Lady Wilson's Cleavage....with a Black Diamond Guide and double ropes, I rig both the 2nd and the bag at the same time. The 2nd is still within reach obviously if he/she needs to help the pig through a tight squeeze....does not take much elbow grease to haul a desert sized bag up...in fact, can bring both up at the same time, just like two climbers...this pulley catches and holds...thus why you need it if you are going with my method...real light weight and works like a charm.