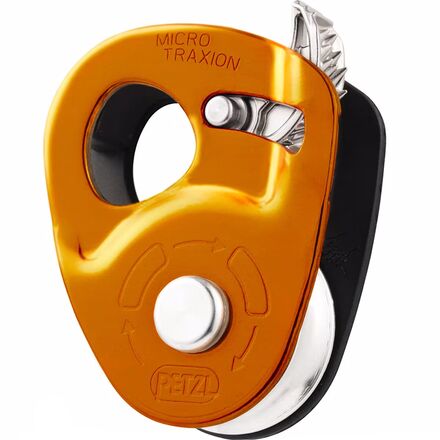 Community Images
It's best to be prepared for any vertical situation, whether you're towing gear or coordinating a rescue. The Petzl Micro Traxion Pulley demonstrates a commitment to reliability and low weight, both handy qualities in the vertical world.
Integrated progress capture device keeps you from losing what you've gained
Upper button allows cam to be locked
Aluminum sheave mounted on sealed ball bearings provides optimal efficiency and energy conservation
Rope clamp designed to grip even on frozen or muddy ropes
A well built, light, strong and versatile little piece. I plan to bring it along for glacier crossings and crevasse rescue and then repurpose it for some aid climbing and big walls in the spring. I've only been able to do practice systems so far with it but I am already impressed.
Self-Belay Device
Familiarity:

I've used it once or twice and have initial impressions
I was hesitant to pick up a piece of metal that was so expensive, but I'm really pretty happy I did. My primary reason for buying this piece was to use it as a backup fall prevention device in my solo toprope set up, and in this regard it works fabulously. It slides up the rope incredibly smoothly and locks instantly on the way down. It does make me a little nervous that the teeth can be disengaged, but I always make sure before I start a route that I'm good to go, and it's only a backup anyways, so I still feel safe. I've never needed the backup yet (thank goodness) but I have full confidence that it will be there for me if I ever need it.

The other reason I bought this is because I like MULTIFUNCTIONAL gear. There are many other scenarios where I could use this piece, and as someone who has an interest in mountaineering and canyoneering, I'm sure that one day this piece will accompany me on another trip for another reason. It's expensive, but it's good.
Has anyone used the Micro Traxion on a 7.8mm rope? Been having a hard time figuring out an effective progress capture on the 7.8, as a prussik cord thin enough to be effective jams into the pulley and causes all sorts of fun. Thanks!
I have, it is not ideal, as it is only designed for ropes as small as 8mm. It teeth will catch on a 7.8, but I would not recommend using it as a primary safety device on a rope that thin.
No Equivalent
Familiarity:

I've used it once or twice and have initial impressions
I got this as an emergency piece for canyoneering; and as such, I hope this review remains theoretical.

This thing really kills it when it comes to ascending a rope. It is so smooth. Also having a progress capture pully will really help if I ever get into a rescue scenario. being able to set up a progress capture 3:1 pulley system could save valuable time.

This is light and easy to keep on your harness for when shit gets real.
What rope sizes does this work for?
Dave,



The Micro Traxion works with rope diameters from 8-11mm.
Light!
Familiarity:

I've used it once or twice and have initial impressions
I use this for a crevice rescue kit. Small easy to use. Possible traction opening, but seems a back up break would be a good safety.
Petzl Micro Pulley
Gender:

Female

Familiarity:

I've put it through the wringer
Very Small, Very Light!! This is a great little pulley super smooth action. The cam has wonderful teeth for a solid engagement for locking the rope. The cam also has a lock for disengaging the cam all together, so one can use it as a standard pulley. Using 9.6 on this pulley, zero issues.
Incredibly small
Familiarity:

I've used it once or twice and have initial impressions
I got this to test as a possible replacement for a Petzl Ascension as a primary ascender in top rope soloing. When I first received this I was awed at how tiny it is. Pictured below is the Micro Traxion next to an Attache carabiner. It feels bomber too.



While I don't have much experience with it yet, I can note immediately the issue that has come up with some of these pulleys being used in soloing. Like the Mini Traxion it can be locked in the cam open position, preventing it from acting as an ascender. The way it is oriented when soloing makes it very likely the locking lever will bump your harness. As such I think this can't really replace my Ascension as a primary ascender when soloing. It would be safer to use in the chest harness position rather than attached to the belay loop. On the other hand, compared to the Mini it is much more obvious when it is locked open as the cam sticks prominently out of the casing when opened.
Never leaves my harness
Familiarity:

I've put it through the wringer
I have used this a ton, setting up slack lines and Highlines, rope soloing, backup while jugging, hauling and rescue. It's such a killer piece a gear and so small and light that it earned a permanent place on my harness if I'm doing anything other than single pitch. For its size it's extremely efficient and super easy to use.
Wow, what a difference!
Familiarity:

I've used it once or twice and have initial impressions
Had the pleasure of training with this piece over the weekend. This little guy makes setting up crevasse rescue much easier. Hauled like a champ in a drop c system.
soooo useful
Familiarity:

I've used it several times
This is a great update on a classic piece. Makes setting up crevasse-rescue much easier, as well as any number of other uses. Being able to release the clamp in the middle of a closed system comes in handy too.



Used this recently with an 8.1 Beal rope and it worked perfectly. Highly recommend this little guy.
What type of rope and size do I get. I...
What type of rope and size do I get. I want to use the pulley to pull my bike up 2 flights in a brownstone building.
Best Answer
You'll need to get a fairly thin rope (<11mm) and you don't want it to stretch, so I'd recommend something in this category (http://www.backcountry.com/static-ropes). If those are too long/expensive for you, you can go to a hardware or marine store and ask them to cut a custom length of static braided nylon, but I'd bring the pulley to make sure that it'll run smoothly.
Easy TR solo setup
Gender:

Male

Familiarity:

I've used it several times
I use Micro Traxion (lower piece) + Trango Cinch on a chest harness as my TR solo setup. Light and easy to setup, glides well, easy to take out before rappelling (do not overweight the rope, full quart water bottle is enough).
great for hauling
Gender:

Female

Familiarity:

I've put it through the wringer
I'm a huge fan of the mini traxion, so I got this basically the day it came out. Unbelievably light and small, and hauls really well. I have tried to use it for solo climbing on a fixed rope, which is something I do with the mini-traxions, but it does not slide up the rope nearly as well as the minis, so I won't be using it for that.
Light, smooth and efficient
This thing rocks! So light you barely notice it is there. I use it mostly for hauling light packs while climbing hard multipitch routes, but have also used it as a soloist/ascender (!!!!WARNING!!!! get proper training for this!!!!!!!!). Very well built, smooth, hauls like a dream even on my thin 6mm static tag line. If you want to save your arms for hauling packs, this is your solution. This would also be a sick addition to a glacier travel kit for crevasse rescue.