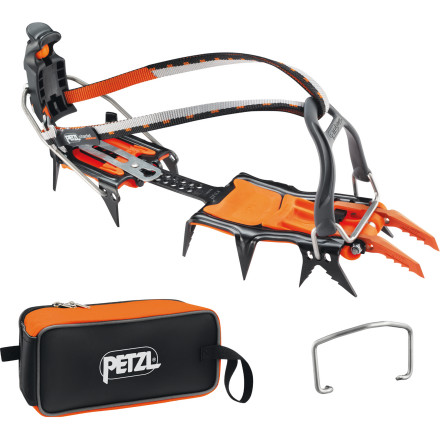 Colors

Videos

Community Images
Description
Grab your Petzl Lynx LL Crampons and head out into winter.
The Petzl Lynx LL Crampon with Fakir Crampon Bag won't cook or pack your trip for you, but these versatile spikes will do just about everything else. Interchangeable front bindings integrate with regular boots as well as those without toe welts, and a stainless steel toe bail holds your foot fast. To complement this intuitive design, Petzl made the heel bail height-adjustable to incorporate the largest range of footwear possible.
Anti-balling plates help prevent dangerous buildup of snow and ice
Marked bars allow for easy and quick crampon adjustment
Optional L linking bar increases compatible range of boot sizes
Share your thoughts
What do you think of the
Petzl
Lynx LL Crampon with Fakir Crampon Bag
? Share a...
Incredible versatility
Familiarity:

I've put it through the wringer
I generally like to climb with mono points, but that is not always the ideal setup for me, so short of owning a quiver of crampons, the Lynx is the ticket.

Even if your plan is to almost always climb in mono format, there are several reasons to consider the Lynx vs other options: the Lynx front points are modular, so when it's time to replace those, one does not have to replace the whole front of the crampon (like with the Darts); also compared to the Darts, the extra couple down points on the Lynx can be very helpful when on moderate terrain.

Learning how to change formats on the crampons does take some getting used to, but the beauty is that it can be done with minimal tools.

Photo: Leading the first pitch of Skylight, Camp Bird Road, Ouray, CO.
Will these crampons fit a size 46 La Sportiva Cube boot? Reading the reviews is it right that there is a long version? or is it a case of simply getting an extention bar?
Yep John, I think so :) I have the Nepal Cube boots, they are size 44 & have tested the Lynx crampons on them & they worked awesome :)

Good luck :)
PETZL - Commitment to Quality
Cream of the Crop
Familiarity:

I've used it several times
These Crampons are spectacular. The Anti-balling plates on the bottom of the crampon are a really wonderful feature for mountaineering. really keeps the snow out and the crampons doing their Job. They are super easy to adjust. I have a size 38.5 La Sportiva Nepal EVO GTX Mountaineering Boot and my husband has the men's version in 41.5. Both fit perfect, and the step in adjustable straps are easy to work with as well. The front spikes are great for ice climbing and the multiple adjustments is really convenient, however it is a little tough to change them around. These are hella sharp, i suggest you do not brush past them with your bare feet... it may cause bleeding.
Unanswered Question
This is more of a FYI on sizing. Just got these, haven't used them yet. But I have 11.5 (46 EU I think) US mens boots, Kayland M11+ (which run smaller). According to Petzl my boot is too big (45 EU is max for the Lynx) and you need the longer link bar, extra 30 bucks. A few hrs ago I fitted them up, didn't use the long link (ordered it in case), I was still I think 5 holes from the end. So if your boot size in on the edge, you ~may~ not need the long bar.
First Crampons
Familiarity:

I've used it several times
These are the first and only set of crampons I've ever owned. So far I love them. The main advantage I see with them over the ones my partners use is the ability to go from mono point to dual point within a matter of ten minutes. This is nice when you wanna get the most outta your gear whether it be vertical ice routes to steep alpine ascents. It's also an added benefit to be able to use them with or without crampon compatible boots. Embrace the versatility! I'd def recommend these to anyone!
Perfect crampons
Familiarity:

I've put it through the wringer
Awesome crampons, use them on La Sportiva Nepal Evo on technical ice and snow routes.
Best Answer
These would work with a ski boot. You may want to switch out the front binding for an even better connection.
I have used them with Sportiva Spectre ski boots, but those are designed to take crampons...not sure how they would work with more Alpine style boots, but I bet they would.
Surely these are 2lbs as a pair, not...
Surely these are 2lbs as a pair, not each?
Hey KDN,

You are correct about those weights it is for the pair. I will be sure to get one of our content guys to fix that.


Awesome modular crampon
Familiarity:

I've used it several times
The Lynx crampon suits every occasion, and does it well. I personally use them primarily in the monopoint, toe-welt configuration, but I love that I can change to non-welt dual configuration for my summer boots. The whole process for both pons takes about 5 minutes. The BD Cyborg you have to permanently hack-saw the thing to switch to monopoint (seriously!). I don't understand how this could be called modular since its essentially a permanent alteration. In the monopoint, toe-welt configuration, the Lynx are also lighter than the Stingers. These crampons are expensive, but when you consider that you're essentially getting 2 or 3 top-end pons for the price its a steal. These paired with the Nomics pretty much cover all your bases.
The lynx does it all. And then some.
Familiarity:

I've used it several times
For years, I've been looking for a crampon that'll do it all: spring mountaineering in a newmatic boot, vertical ice, and mixed climbing. The Lynx is able to do all of that--and it does it exceptionally well.

Maybe if you've got money burning a giant hole in your pocket, you can afford to buy enough crampons to use for each style of climbing, or maybe a pair for each day of the week...but if you're like me, and need one crampon that is versatile enough to use for a variety of activities, the Lynx is the ticket.

I really like these crampons. Looking forward to this upcoming season on them.
Ordered the Lynx crampon and they seem sweet. Problem is I have a size 12 boot and the regulars only go up to 11.5. Argh!!! The website says "one size" so I thought I'd be okay. Don't make the same mistake I did. I called in and learned there's actually a "long" version. Make sure to ask for that. Just figured this out and unfortunately taking off tonight for my Denali expedition, without my crampons. In scramble mode now -- this totally sucks.
The most versatile crampon, mono or twin, will fit on any boot!
Used these for the first time this winter and they worked great. There and so many configurations that this crampon can convert to there is no way to not like it. They are a little heavy and the bailing plates are a little stiff. This being said they still get the job done and that being that I don't really have a problem with them.
Easy adjustment, adaptability to most boot types, and front points that go in like butter and seem to stay put even on marginal ice. Seems like a winner....