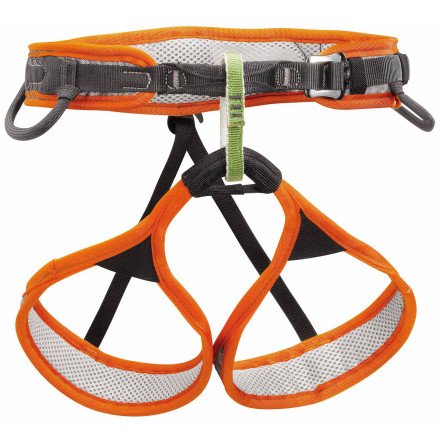 Detail Images

Community Images
Description
Less bulk, all the features.
The Petzl Men's Hirundos Harness gives you the lightweight, low-profile design you need to tackle the hardest routes. Petzl didn't stop there either. They used a perforated closed-cell foam to pad this minimalist harness without inhibiting breathability. You won't sweat like crazy during a summer projecting sesh. The Hirundos Harness has four gear loops to hold all your draws and two Caritool slots to give it the versatility to take it on cutting-edge bolted mixed climbs in the winter.
Perforated waist belt to allow total breathability
Caritool slots for winter use
Quick-adjust buckle is automatically doubled back, so you can't forget
Share your thoughts
What do you think of the
Petzl
Hirundos Harness - Men's
? Share a...
I dig it.
Familiarity:

I've used it several times
This harness is extremely light and well made. I've used it for sport single and multi-pitch climbs. The comfort factor is the only area it is slightly lacking in and not bad enough to bother me all that much. Overall it's my favorite harness that I own.
Check out this nifty Petzl product vid with helpful hints on good belay practice. See the Hirundos Harness in action on the world's worst belayer. Don't be that guy!
Nice for sport!
Familiarity:

I've put it through the wringer
So I've enjoyed this harness quite a bit for sport or gym climbing. It's comfy for the most part and very breathable for those sweaty hot days. For the long term it can get a little uncomfortable.

Also I don't exactly have tiny thighs but not huge either and after about 18 months owning it the elastic on the legs are starting to stretch and ware.

Overall though, a great harness for sport. Wouldn't use for trad. Get the adjustable leg strap version if your legs are anywhere close to larger than normal.
love it
Familiarity:

I've put it through the wringer
This harness has worked really well for me - I'm a girl (about 5'5, 105lb), and this is the most comfortable harness I've ever climbed in. I really only climb sport, but I've done plenty of swinging and hanging on overhung routes, and this harness, despite the fact that it's so light, is more comfortable for me than a much more padded harness I used at first. It also makes me way less sweaty, which is nice.
Pretty good harness. Fits a bit strange
Familiarity:

I've put it through the wringer
I had this harness for a couple of years. It worked great in the sport climbing crags of NW Arkansas. It's light, easy to adjust, and the gear loops had great positioning.
Unfortunately, when I moved out west and began doing multi-pitch routes, I noticed that the Hirundos didn't really stay comfy after a few minutes of belaying from an anchor.
So, if you're looking for a speed harness for short sport climbing routes than this will great. But look elsewhere if you need something with multi-pitch comfort.
Initial use is very positive
Familiarity:

I've used it several times
Got this when after getting into bouldering and now some top roping and eventually lead. Used it several times, very easy to get on and off. legs are comfortable but not too tight. I am pretty flexible and it is not constrictive while climbing or resting for the next climb.
Hi, I have a 32" waist and about 21-22"...
Hi, I have a 32" waist and about 21-22" legs. Should I size larger and get the L, or could I go with the M and still have enough room at the waist to tighten it. Thanks!
you should get a large. if you really have a 32" waist and get the medium, you could drink some extra water, wear a jacket because it's cold, and possibly not fit in your harness.
The Hirundos harness from Petzl is one of my all-time favorite harnesses (perhaps tied with it's older brother, the Sama). This featherweight, sport harness is the way to go if you're looking to shave some ounces off of your gear. Because of it's low profile design, I hardly notice I'm even wearing a harness when I'm climbing. It's the least intrusive harness I've ever worn.

The only real con I can see is the comfort. It's not uncomfortable, but it's not quite as padded as the Sama. If I'm projecting a route and expect to be hanging for a while, I'll reach for the Sama. If I'm ready for the redpoint, it's the Hirundos all the way.
I am 5'2" and 105lbs. and a 24" natural waist and the xs fits me really well. If you are wearing a heavy rack and smaller than this, it might be too big for you and you'll have to go with the luna or the selena.
I can fit a double rack on the gear loops of this harness and it has a place for your ice clippers as well to go during the winter.
Not the most comfortable harness for long belay sessions or as a big wall harness. It cuts into my lower ribs quite a bit after a long route. All in all, a must for the alpine and trad women!
Or just for the climber who likes lightweight and comfortable... still.. worth the watch!
how about for 2-3 pitch climbs? looking...
how about for 2-3 pitch climbs? looking for a trad climbing harness that is lightwieght.
Pretty rad harness, but only good for trad if you rack on a gear sling.
On The Classic Andromeda Strain in Winter
I love this harness for alpine climbing! Light and simple with enough loops and comfort.
Photo Copyright: Stephen Koch Collection
For more: http://www.youtube.com/watch?v=FQEXGYgrs3A&NR=1
Got one of these after being sick of the over-hyped arc'teryx harnesses, that have always 'roped' out and rolled up on me. So far I have used this harness on 20 pitch alpine rock climbs, single pitch trad and super steep sport and I love it. Super comfy, you barely notice it is there. Despite the thin nature and slight padding, comfort is not an issue. I am a slim 6'2" tall, 180lbs, and wear a medium. 33" waist but the medium is cranked down pretty far, however it is tight on my legs, but slowly stretching. The only other slight dislike is the second set of gear loops are a bit too far back, and the front ones just a tad small - for sport climbing this is not an issue, but trad multi-pitch I find it a little hard to see the back gear loops. Not disappointed in this harness at all, super psyched on it!
First off, I knew this harness was lightweight when I ordered it, but I had no idea it was that light. It also packs down pretty small, which is great for stuffing in my pack. Very little padding on the harness, but it's not really needed. It's well made, well designed and looks cool.

Sizing: I have average size legs and the leg loops fit great. They'd be fine even if my legs were a little bigger. I have a 35" waist and bought the Large size. The 37" limit is accurate. I'd prefer to have a little bigger size, as the gear loops are back a little far on the left side because of the waist adjustment, but it's manageable.
I use this harness in the alpine and on water ice. 2 well postioned ice clipper slots and just enough padding but not a bunch of fluff. Small and compact but comfortable. I know it is a super light sport climbing harness but it works perfectly all winter for me.