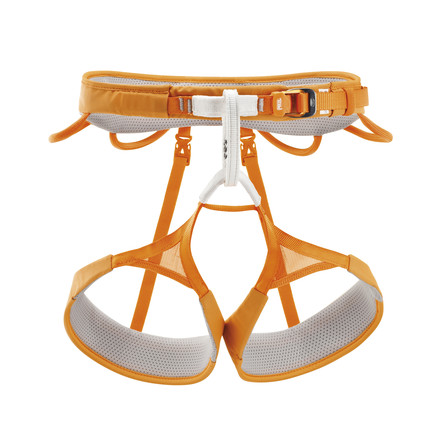 Colors

Detail Images

Videos
Description
From sport projects to alpine ascents.
Petzl's high-performance Hirundos Harness serves you best on hard climbs and in the alpine. FuseFrame technology uses thermo-formed foam to give you an incredibly slim, superlight, and surprisingly comfortable ride. Like the waist, Petzl's DoubleBack HD buckle comes in a slim style to minimize bulk. Elastic leg loops with flexible attachments allow full mobility for stemming, heel hooking, and high stepping.
Because the Hirundos is Petzl's high-end harness, Petzl reinforced the tie-in loops for long-lasting durability. This harness has two rigid side gear loops and two flexible rear gear loops that collapse when paired with a backpack. CariTool ice tool holders and a rear loop for a haul rope ready you with plenty of gear on the longest alpine routes.

FuseFrame design
DoubleBack HD buckle
Elastic leg loops with flexible attachments
Reinforced tie-in loops
Two rigid side gear loops
Two flexible rear gear loops
CariTool ice tool holders
Rear loop for haul rope
Awesome...almost!
Familiarity:

I've put it through the wringer
Such a great harness! Love the location of the gear loops and the materials used to make them. The harness is very minimalist yet very comfortable to hang in (in comparison to other brands lightweight stuff). The leg loops sit just right and give plenty of easy movement regardless of the choice of pants / shorts.



Only thing I would like to change is the fact that the rear loop in the back be a little wider. It is quite hard to reach around back and grab my knife/prusik/ or whatever I may have hanging there and then clip it back on.
Have used this both sport and trad climbing and have been very happy with it. I used the older model for many years and while I was sad to see it go I think this harness makes a good replacement. Placement and size of the gear loops seem up to task for any sport climb or tradition climb. The harness is light and comfortable and elastic in the leg loops give it a wide rage of fit. The buckle feeds smoothly and tucks out of the way nicely. Overall it is a great harness!
You will love it till the end of time
Familiarity:

I've put it through the wringer
As a competitive youth sport climber in Colorado I know what it's like to be weighed down with a clunky, heavy harness that constantly rubs and irritates your body on hard moves. I also understand that having a harness that is lightweight can be very uncomfortable while hanging. So one day I decided to ditch my old clunky, worn-out harness for this bad boy. I went in totally blind because of the lack of user reviewing on this product but let me just say that this is the most comfortable lightweight harness I have ever worn. I can walk around in it all day and forget it's even on and it's not half bad hanging around in it on your project indoor and out.



Now this harness has some pretty rad features, fitted leg loops, fuse frame design, two different types of gear loops, that all help with comfort and versatility. This harness also won't restrict your movement like so many others do which being a competitive sport climber makes this harness 100x better! I have taken this on some multi-pitch routes near me (not very many because of the rain) and praise the climbing gods because there was no extreme discomfort!



Little rundown,

Pros: Lightweight, breathable, really comfortable, awesome front gear loops, super chill fitted leg loops, rad harness for hard climbs with funky high step moves, and a sweet buckle.



Cons: First couple times hanging in this harness can be a little uncomfortable, rear gear loops can be hard to access, and after catching a big whooper the belay loop will twist thus making it awkward to lower yourself.



If you are searching for a light weight, super comfortable, breathable, totally rad climbing harness you will love forever, go buy this harness and climb so hard your fingers fall off.

Devyn Lynch
Best Lightweight Harness Out There
Familiarity:

I've put it through the wringer
I have used this harness for a variety of climbing related activities including trad climbing, sport climbing and ski mountaineering. It is designed as a sport and alpine climbing harness and it is in these disciplines that the harness excels. While it works as a trad climbing harness, I have found that the rear gear loops are rather small and a little difficult to reach, especially with a backpack on.

Another great feature I have noticed while climbing is the stretchy and lightweight material that makes up the corner of the leg-loops. This feature promotes lots of movement and allows for unrestricted high-stepping. I also like that the stretchy straps on the back of the harness are held together with two small detachable buckles as opposed to the awkward clip system that the older Hirundos model used. I have found the harness comfortable on multi-pitch climbs with a handful of hanging belays and I haven't noticed any extreme discomfort while falling or hang-dogging routes. But at 280 g I wouldn't recommend this to be your big wall harness.

If you are looking for a lightweight harness for sport or alpine climbing that is comfortable and breathable, this is the harness for you.
PETZL - Commitment to Quality
Light and comfortable. Good for gym/crag
Familiarity:

I've used it once or twice and have initial impressions
I have only initial impressions on this harness. Climbed about dozen routes using it and took about half a dozen falls (including two long whippers), gave some belay and caught about half a dozen falls (including one really long whipper).

First, it is really comfortable when taking falls. Even hard catches are OK. It seems that slim belt could not be comfortable, but this impression is surprisingly wrong - this harness feels very good when taking or arresting falls.

Second, it is light. It is ultralight. And it provides a good ventilation.

Buckle is easy to operate. Basically I do not like step in harness design, although for sport harness it is OK. Still don't like an idea of "alpine" step-in harness - it is almost impossible to put it on and off while wearing crampons. Not a World class problem for sure.

Front gear loops are roomy enough for half a dozen draws. It is possible to hang there 8 or even 10 QDs but it will be not that convenient. Rear gear loops are for misc items only, nobody wants to reach it for gear been pumped. There is a haul loop and this is the only good thing about it - it is tiny and hard to clip, anyway it is better to have a haul loop (even that small and inconvenient), so it is a good thing.

One definitely do not want to take a long hanging belay wearing this harness, it will turn to a painful miserable day.

Overall it is a pretty good gym and sport cragging harness. Not that sure it is really good for alpine even been that light.