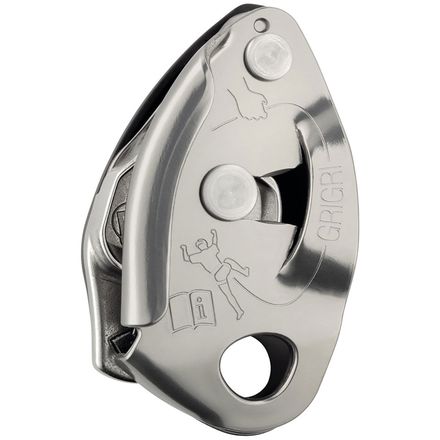 Colors

Videos

Community Images
Description
Smaller + lighter + simpler = better.
Petzl took the most-used assisted-braking belay device on the planet, made it 25% smaller and 20% lighter, gave it a wider functional range, and called it the Grigri 2. Unlike the previous model, the Grigri 2 works on ropes clear down to 8.9mm because, let's face it, we've all used the last model well outside its recommended specs. In addition, the new release system uses a graduated cam, which gives you better control while lowering your climber. Since Petzl knows that you'll be using this belay device for a decade or more, it made the cam out of burly stainless steel for a seriously long life.

Durable stainless steel cam and friction plates stand up to years of use
Easy-to-read diagrams on the aluminum side plates help you make sure you're set up correctly
Assisted braking system helps check your partner's fall when he skips one clip and botches the next
Brake handle gives you excellent control for lowering
Designed to accommodate rope diameters between 8.9 and 11 millimeters; ideal rope diameters are between 9.4 to 10.3 millimeters
Yes.
Familiarity:

I've put it through the wringer
Worth every penny. I bought the grigri2 for lead belaying, and although there is a bit of a learning curve, it's completely worth it to master the skill. A friend took a big whip while sport climbing and met his belayer in the air, kicking her in the head and knocking her out. The grigri's assisted braking system locked, preventing both climber and belayer from decking - awesome. If I wasn't a believer before, I am now!

PSA - make sure your belayer knows how to use a grigri - It's not as idiot-proof as some people tend to think and you CAN still drop a climber!
Amaze-Balls
Familiarity:

I've put it through the wringer
I've had mine for 3+ years and honestly I'm a little scared to belay without it.
Is there a left-handed version?
Jeffrey,



For the Grigri2 it is make in one orientation. It'd intended to be used the same way whether you're a lefty or a righty.



Shoot me an email anytime you have questions!



Jared D.

Expert Gearhead

801.736.4336

jdowns@backcountry.com
AMAZING!
Familiarity:

I've put it through the wringer
This is a incredible belay device. I have used it on about 75% of all of the climbing I have done inside and out. The auto blocking mechanism is great. Unfortunately I have had it in some grit such as sand but even in the grim it is still working great. No complaints at all
The Gri. Legendary.
Familiarity:

I've put it through the wringer
Your buddy wants to send. As we all do.

But it takes sessions. Sessions ins the gym - pull hard on plastic, pull hard on rock, and finally the clip of the anchor.

In between is the GriGri. Safe and Sound, session after session.

I've used it to catch 20 ft whippers, i've used it to single rap off of lines to snap photos of my buddies trying hard, to try harder -

Why does everyone have one? Because.

Agree? A-gri, gri.
Simple and reliable. Exactly what you want with climbing gear.
Safety first!
Familiarity:

I gave it as a gift but have feedback to share
This is a great auto-locking belay device. It is easy to learn how to
use, and once you get the hang of it, it becomes second-nature. I
especially like the auto-locking system as it adds an important safety feature for falls. Petzl makes a great product.
The Device So Nice They Named It Twice?
Familiarity:

I've put it through the wringer
When I started climbing I saw a ton of Grigris around the gym, but I never really understood why people loved them. Truth be told, I bought one on a whim, but it has been one of my best impulse buys of all-time. Although I thought there was a steep learning curve when it came to lead belaying without the device locking up, I now have the know-how, and I love the extra confidence my Grigri provides when I use it.
Market standard for assisted belay
Familiarity:

I've put it through the wringer
I don't always use an assisted belay device...but when I do I use a Grigri2. There's a reason why "assisted belay device" sounds so foreign and hard to say: most people just generically refer to them as "grigris." I generally stick with an ATC guide as my default belay device for a variety of reasons (easier to lead belay, can belay two seconds or second on twin/half ropes, can do double rope rappels), but the Grigri2 does have an important place in my kit. It certainly adds an extra layer of security when belaying, especially if the belayer is less experienced (or outweighed). It can also be used as for various rope soloing setups (don't try that at home, kids).
Perfect Wedding Present
Familiarity:

I gave it as a gift but have feedback to share
I gave this to my sister on the eve of her wedding, as her and the now hubby, are getting into climbing and are slowly adding the items they need to their harnesses.

So far they love this! Much easier for them to use in the gym compared to the ATC they had previously.
Does the turquoise grigri you guys offer look like the dark blue one in the "Petzl grigri 2 belay device" video? or is it really a light shade like the one in the picture?
It looks just like the color in the picture.
Good, but expensive and heavy
Familiarity:

I've put it through the wringer
I got this for two reasons:
1) I wanted another belay device, other than my ATC, to use for when I don't exactly have full faith in my belayer. In this regard, it works great. I love the locking feature and it gives me extra piece of mind. I only really do toprope, and it works really well for that. I think it would take some extra getting used to to use for lead climbing, as feeding out rope on a grigri seems like it would feel weird.

2) The other reason I got this (after reading lots of people's advice) was to use as a primary fall prevention device for my solo self belay rig. I use it on top of a Petzl microtraxion so that when I fall, or if I get to the top of a route, I can simply disengage the microtraxion and rap down the route. For this use it also works very well, but sometimes requires a bit of pulling to get the rope through at the bottom of a route. At the top, the weight of the rope helps out and it feeds no problem.

Overall, it's a very multifunctional piece of gear, but it is expensive and it does weight more than some other devices, but it's still very good.
Even Cats Can Use It!
Familiarity:

I've put it through the wringer
This belay device is so puuurrrrrfect! I am not kitten you. It is so claw-some I am considering getting a second one meow!



But for real, I love this thing. I have used it with a lot of different diameter ropes from 9.2mm to 11mm and from soft to ruff sheaths, and it works great with all. It feels a little different going between ropes and with different sizes but doesn't take long to get use to.



Con:$$$ The only con for me when I first went to pick up the gri gri for my sport rack I was a little shocked at the price, going from a tube style at $18 to this at $99.95. But now after using it for 2 years I would not bat an eyelash at that price, well worth the $$$



Cats might always land on their feet but people don't.


Great device
Familiarity:

I've put it through the wringer
I love my Gri Gri; however it will always take a back seat to my ATC. This is a great belay device for sure, but my ATC guide is just more versatile. for that reason the ATC is my preferred device. I generally use the Gri Gri in the gym when I know my climber will be struggling and need to hang for a while; it's a life saver for those situations. With regards to lowering/feeding, it's nice and smooth when using my rope that's well taken care of but it can be a right pain in the ass when using stiff gym ropes. I fully endorse this as a second belay device but would recommend an ATC/equivalent as a first device without hesitation.
A must for sport climbing
Familiarity:

I've used it several times
A great device that adds extra safety to an ATC. My climbing partner is pretty heavy and I like not having to worry about what my hands are doing when catching him. I can focus on the actual catch. My 9.5 rope feeds great through it. I came from belying left handed and once I made the switch and got used to it, its been super easy.
Overall a great product must have
Must Have
Familiarity:

I've used it several times
This is a great device to have just for safety purposes. I've noticed it does tend to slip slightly when brand new, but gets better hold with use.
Once you try it, you have to get it
Familiarity:

I've used it several times
Once you try it you just have to get your own. I got it as I started multi-pitch climbing routes since it doubles down as a auto-locking top-belay device and as an ascender used in conjunction with a prusik knot and foot loop for instance.

My 9.5mm rope runs smoothly in it and I also love it for normal belays when I know the climber will want to rest a lot or to lend to inexperienced belayers. I know that it can also be used for lead belaying but I don't feel comfortable doing that yet. Another small caveat is that taking a lot can take more energy than on a normal ATC but nothing too serious.
It's the benchmark... Nuff said!
Familiarity:

I've put it through the wringer
I don't have to try to sell you on the Grigri... it is the belay device which all brake assisted devices are compared to. It is my go to device for all lead climbing.
Great Grigri!
Familiarity:

I've put it through the wringer
I have a 9.5-millimeter rope, and this Grigri works perfectly with it. There is a bit of a learning curve—at least there was for me—when it comes to lead belaying with it, but it's nothing too complicated. Petzl makes high-quality products, and this device is no exception.