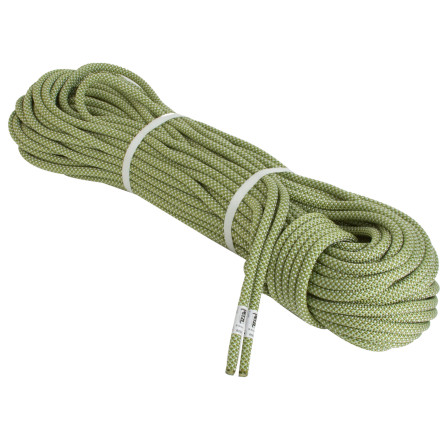 Detail Images

Videos

Community Images
No one likes to climb with more weight than necessary, and Petzl built the Fuse 9.4mm Dry Climbing Rope for those who want the low weight without sacrificing durability. Thanks to a Duratec dry treatment, this Petzl rope stays bone dry on dripping wet ice climbs and has a reduced sheath friction for better longevity on the rock. Sport climbers, trad climbers, and ice climbers alike find this rope to be a great performer at 56 g/m. Plus, Petzl added a center mark to help you set up rappels quicker and make them safer.
Good general purpose rope!
Familiarity:

I've used it once or twice and have initial impressions
I've only had this rope for a short month. The rope feels soft and easy to tie. I'll have to update this later with durability, but it handles well with an ATC or Grigri, easy feed and secure grip for catching.
Excellent rope!
Familiarity:

I've put it through the wringer
I've used this rope ice climbing and climbing in the sand dunes of the Red River Gorge, and it has been fantastic. It's a tough rope that can withstand sand, sharp iron edges, -20 degree temps, and huge whippers. If you want a rope that you can take anywhere, look no further.
Thanks Petzl
Familiarity:

I've used it several times
Nothin' better than a dry treated rope that's rated to 6 falls at 9.4mm. So far I've only used it for sport climbing this winter with not issues thus far. It's supple and lightweight and so far the sheath has held up incredibly well. Can't wait to see how it holds up for alpining.
Is it possible to safely wash this rope?
Is it possible to safely wash this rope?
Best Answer
Here are some general rope care maintenance pointers:



After use in a salty environment (seaside), rinse with fresh water.



Wash ropes in lukewarm soapy water, then rinse thoroughly with fresh tap water.



You can wash your rope in a washing machine. Choose the 30 degrees C delicate synthetic setting, without spin cycle (never use a machine with a center agitator).



Use only household face and body soap. All other cleaning products, for example solvents, stain removers, degreasers,

etc. are too strong and are incompatible with nylon.



Do not use a high pressure water sprayer.
Supple and safe
Familiarity:

I've put it through the wringer


I really like the feel of this rope, soft and supple n the hand. Great water treatment for ski mountaineering and alpine routes. Light enough to carry 5000 feet up so we could use two 60m ropes to rappel into this line, first descent awaiting.
Get your money's worth
Gender:

Male

Familiarity:

I've put it through the wringer
This rope is BURLY. i know that's not what you're supposed to say about a 9.4 rope, but you could almost use this as a youth group top rope rig! just don't hog the good climbs. The trade off is that it can get pretty kinky at times. when it does, just run it through the anchors after you lower and it's great until the next time it kninks up. i got around two seasons out of it. all my friends were blown away too. that being said, we all still buy whatever is on sale when we need a new rope.
Petzl Fuse 9.4mm Single Rope
great all-around rope
Gender:

Male

Familiarity:

I've put it through the wringer
really great rope. i have the 70m one and it works best in alpine or multipitch climbs because it is really lightweight and easy to handle, the mark in the middle has not wonr out and i had this rope for three years of intense use.

rasonably durable, but there are some more durable in the market.

never had an issue with it. would strongly recomend someone to buy it
Thin rope that bites belay devices. This rope catches better than a 9.8 edelrid I have, fends off dirt better too. I am happy I went with this over the nomad.
Like in the review below, this is right on with the weight, size, and performance. First rope purchase for myself and have loved it so far.
Weight/Size/Performance ratio is spot on
A very versatile cord. The thickness is just right to take it into the alpine; not too skinny and frail to not take a beating, but burly enough to last. It will not stand up to repeated whippers and abuse like a 9.8 will, but that is inherent in choosing a rope this size. No skinny cord will last to long life abuse like a fatter cord no matter what. I do like the feel of this rope as well, handles very nicely. Overall I would say this rope has treated me quite nicely, in both the 60m and 70m lengths, you can not go wrong choosing this cord.
Spectacular rope. Incredible dynamic stretch and super lightweight. The rope is tough, durable and ideal for just about all the climbing you can throw at it. And its super lightweight making it useful for a mountaineering trip where budget doesn't support the purchase of twins/half ropes.

I've set up top ropes, sport climbs, drug the rope across the country (literally from Mass to Idaho)and had a lot of great climbs with it. I expect a lot more before I retire it. I even used it to teach the lady friend to lead (pictured).

Get this rope for satisfactory sport climbs, trad climbs whether you're doing a five minute or five mile approach.
I've been using this rope for about 2 seasons on rock and one in the winter. It has held up pretty well. I like the size for all around climbing, it is skinny enough that its not too heavy, feeds through belay devices well, and doesn't feel like a ball and chain holding you down on lead.

The dry treatment was pretty well shot by the end of the first full season. The ropes durability is OK but not great, I have not been impressed with the durability of petzl ropes in general. I will end up retiring this rope with about 100 days of leading on it and a couple of falls.

I think there are better ropes for the money.