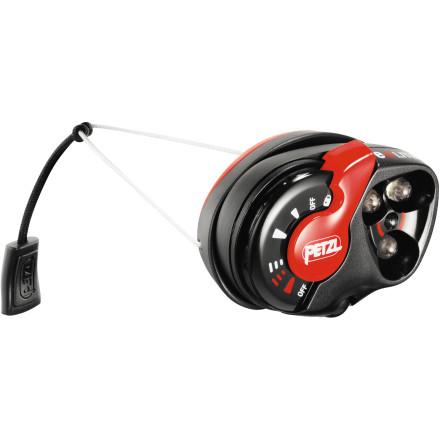 Colors

Videos

Community Images
You never know when an emergency situation will arise, so keep your Petzl e+Lite Emergency Headlamp handy in your pack, on your ski jacket, or in your car. Capable of delivering performance even in tough conditions, this tiny and compact light offers multiple light settings and intuitive survival features to help you get back to safety.
Ultra light at only 27 grams, and less than five centimeters in length
Retractable zip cord makes it easy to stow the lamp in a pocket or emergency kit
Can be stored with batteries for up to ten years, meaning you can count on it even after it's lived in the car for a while
Bright white lighting allows visibility up to nearly 30 meters, while red LED lets you be seen in the dark even from a distance
Locking on/off switch prevents accidental operation
Resists extreme temperatures from -30 degrees Celsius to 60 degrees Celsius
Waterproof in one meter of water for up to 30 minutes
Very Cool Light
Familiarity:

I've used it several times
This is a cool little headlamp. Super lightweight, I love the zip cord, you can use it on your wrist or head. Only worry would be losing it since it is so low profile.
Best Emergency Lamp Ever
Familiarity:

I've put it through the wringer
Undeniably one of the most useful pieces of kit I own. Compact, light, practical to use, energy efficient and cheap for it's utility... hard to say a bad about it. One of the first things I pack to go anywhere, to do anything, when there is a remote chance I might get caught in the dark.
Own 3 Of These
Familiarity:

I've put it through the wringer
I have 3 of these, one in my pack, one in the truck, one in my edc bag they are just awesome you will not regret buying this
Perfect light weight headlamp
I've spent months at a time backpacking, and have learned that making due with as little as possible greatly improves the experience. This is the lightest weight headlamp I've seen, and will be perfect for my primary light in my pack. Although it's not the brightest light on the market, I was impressed with the output - more than enough by my standards. It has settings that allow you to maximize the battery life if you only need minimal light. I haven't worn it for a long period of time yet, but the strap is quite comfortable and I don't anticipate it getting uncomfortable with time. I'm excited about this light and look forward to putting it to the test on a. Trail.
The best backup headlamp around
Familiarity:

I've put it through the wringer
This compact and lightweight headlamp is perfect for stashing in the glove compartment, first aid kit, tool box, or wherever you think you might need it.

Weighing in at 1.1 ounces, the Petzl E-lite offers 26 lumens which has a max beam distance of about 30 meters. The light is substantial enough to hike in the dark with, and has bailed some of my forgetful friends out when their headlamps didn't make it to their packs. Don't let that fool you, this shouldn't be your trail running headlamp, this is meant to serve as a emergency light. Where the light really shines however is in close proximity, the permanent home for my E-lite is in my first aid kit.

The E-lite runs on a 3v lithium ion battery and has a projected battery life of 55 hours running on high. Thats quite substantial when compared to other headlamps in this class. (check out the Black Diamond Ion and the Petzl Tikkina for the closest comparable options). The E-lite is waterproof up to 1 meter for 30 minutes, just in case you drop your back up headlamp in the lake as well.

The headlamp itself is two pieces connected by a ball and socket, allowing the light portion of the headlamp to rotate 360 degrees, which is a great feature for customizing where the light is pointing without needing to move your head (I use that feature when changing oil and breaks on the car). The E-lite uses a retractable string instead of a headband to save space and weight. At first glance, the string looks like it would be fragile and uncomfortable, but on the contrary has turned out to be both durable and unnoticeable when worn on the head.

Bottom line: The perfect headlamp in its particular niche, emergency application. Toss it in whatever drawer, kit, or compartment you see fit and at some point down the road, it will save the day.
PETZL Headlamps - A Tale of Quality
Really Cool!
Familiarity:

I've used it once or twice and have initial impressions
Had the chance to play with this little guy tonight at Petzl, and thought it was the coolest thing! A must-have for anyone going outside, in case of an emergency. Was really impressed with how much light 26 lumens actually is - especially after using the higher-powered headlamps. Light is definitely sufficient to make your way back to the car, or set up camp in an unexpected situation. Will be putting one of these in my chalk bag for those long approaches.


Love it!
Familiarity:

I've used it several times
This is a great option for someone who thinks a headlamp is a waste of space but knows deep down that going out in the wilderness without one is a terrible plan. It takes up hardly any space and I love that it has red LED options. Bought it to replace my old go-to that broke and I'm happy I did. Seems to be durable so far.
Great Backup Light
Familiarity:

I've used it several times
This sits in my pack at all times as a just-in-case headlamp. It's waterproof which is definitely a plus for heavy rain scenarios and it's ultra small so until you need it you wont even notice it's there. As far as utilizing this as your main headlamp I would say go with something slightly larger/brighter such as the black diamond spot or the the black diamond revolt. However, if you are going ultralight and you don't do to much hiking in the dark you could probably get away with just bringing this. Overall I would say it's a quality product and I would definitely recommend it to others.
Perfect balance of weight & brightness
Familiarity:

I've put it through the wringer
My previous lamp of choice for backpacking was the Petzl Zipka and still love it. However, I am gravitating more and more towards the ultra lightweight backpacking philosophy (without being crazy). This thing is CRAZY small, but puts out a decent amount of light. I've never understood people that need spotlights when camping, especially backpacking. This thing is more than adequate. If I expected to do a fair amount of actual hiking in the dark, I might consider a different lamp, but even this one would be serviceable. And although I don't bring backup batteries on week long trips, the CR2032 lithium batteries are very light/compact (I use the flashlight on my iPhone as my backup with solar recharge...so some would say even having a headlamp is redundant). Used for a week backpacking in the Absaroka-Beartooths. 30-90 minutes every night...no noticeable decrease in output. You really have to see this thing to appreciate how small/light it is. Most wouldn't use as a primary light and it's not meant for such, but for me it fits the bill perfectly.
Fantastic light
Gender:

Male

Familiarity:

I've put it through the wringer
Yes it says "emergency light but its so much more. I have used this as my primary light backpacking and it is truly amazing for its size. It gives you more than enough light to hike or just around camp at night. I always carry a second set of batteries but it must have lasted at least a good 10 hours so far on the first. Its so small a light that its hard to put your trust in it as your only light but so far it has not given me any reason to doubt it. Plus I have been backpacking with others so if this light fails its not the only light source. Yes, more light is always nice, you just have to decide where you want to carry the extra weight. One note, I see there is a new version with a kind of string looking head band. I have not used this and do not know how well it works. I have the version with the slightly wider headband.
Woah, this thing is tiny
Gender:

Male

Familiarity:

I've used it once or twice and have initial impressions
This thing is about as ultralight as a true headlamp can get. Very worth it if you're shaving ounces but still want to see in the dark.
, ☃bcs_badge_alumni_label☃
Weightless and Bright
Familiarity:

I gave it as a gift but have feedback to share
I gave this to my brother-in-law for Christmas. He is a runner and runs a lot at night after work. He has said that it is so weightless you don't even know it's there but it stays in place while running. He usually wears it over a hat which helps keep it from moving around on his head. Its multiple light options help to see and be seen at night.
E+Lite Headlamp
Gender:

Male

Familiarity:

I've put it through the wringer
Pretty bright considering the size. Can be used in a dark hut/tent or early morning skintrack. Not my primary headlamp but its a good backup that lives in my pack with my multitool and some handwarmers.
Let their be light
Gender:

Male

Familiarity:

I've used it several times
I purchased this light as something that can always just live in my pack as I've arrived at many a trailhead only to realize I forgot my lamp. Never again.



Despite it being touted as an emergency light I use it for dawn patrols as it provides enough light to get up a skin track and to futz with my gear until the glowing orb in the sky appears again.
Adequate
Gender:

Male

Familiarity:

I've used it several times
Brightness is really underwhelming, but it's your backup... and for the weight it's pretty good.



SAND - I was traveling with my e lite without the case and sand/grit has caused the on/off switch to almost completely lock up. This seems like a huge failure for back up gear. It is not a rugged product out of the case. With cold / weak hands and grit in the light it would be difficult/impossible to operate. Be warned.


seems like a good product...
I will never get the full use out of this because I dropped it near/in the fire the first trip I took it on. It tumbled out of a case, and I regret not storing it somewhere more secure, but it was in the fire for one seconds and the little string thing is gone now. Nice settings as far as the lights go (bright, low, blinking), and it's pretty bright for it's size and weight. Nice enough that I'm planning an (at home)repair. Seems durable enough, but don't bring it near the fire! ><