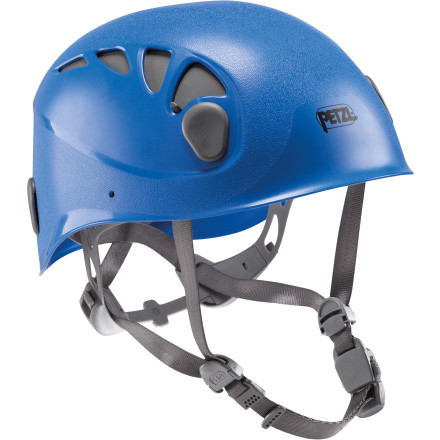 Colors

Community Images
Description
The go-anywhere, climb-anything helmet.
Petzl designed its Elios Climbing Helmet with versatility in mind so you can stay safe whether you're rock or ice climbing, mountaineering, caving, canyoneering, or hitting up a via ferrata. Its lightweight ABS shell meets all the standard certifications for climbing. The expanded polystyrene liner is breathable and prevents the helmet from moving around on your dome while you climb, and the comfortable PE foam absorbs the moisture off your head so you stay dry. You can adjust the headband and chin strap for an ideal fit across your noggin. Petzl integrated shutters over the vents so you can close them when you climb in colder temps. And this helmet is compatible with Petzl's headlamps and the Vizion eye shield (sold separately) so you can be ready for whatever route comes your way.

ABS shell
Expanded polystyrene liner with PE foam
Adjustable headband and chin strap
Sliding shutters over vents
Compatible with headlamp and Vizion eye shield (sold separately)
The OG Climbing Helmet
Familiarity:

I've put it through the wringer
This is the helmet to bring it all back to the basics.

Super light, room for a hat or beanie beneath - super low profile while wearing it - makes it easy to adjust with the system in the back. Keep that noggin safe!!!

Caption - buddy crimping and pimpin on a already forgotten route "Kinabalu" Bell's Canyon UT
Wrong sizing, poor fitting
Gender:

Male

Familiarity:

I've used it several times
I mesured my head and for the size chart i was a 1. This is totally wrong, size 1 is for kinds, not even for women. I had to replace the helmet for a 2 size which was ok.
As regards the fit i must say i've use it several times and i still haven't found the perfect fit. I'm thinking in buying a new helmet to replace the elios.
I guess there surely are better options for a similar amount of money.

Finally i bought the edelrid shield helmet, very similar helmet but with an excellent fitting, good foam pads which makes the helmet really comfortable. The straps are also a great value. After trying this helmet i've changed my previous 3 star qualification, the fitting problem is really an issue when protecting your head is the goal to achieve.
Solid helmet
Gender:

Male

Familiarity:

I've used it once or twice and have initial impressions
Easy to use and comfortable. The vents are nice as well.
Good helmet, be aware of sizing changes
Familiarity:

I've put it through the wringer
This is the second Petzl Elios I've purchased, and it's a good helmet if it fits you. I have a previous version of the Elios that I love but it won't last forever. After I bought this helmet I found out that Petzl has changed the design with a new strap and a new liner. The changes to the foam liner and the padding on the straps makes this new helmet fit differently (smaller) than the old one, even in the same Size 1. I wouldn't be able to wear a hat under this helmet, while I can with the old one. I ended up giving this helmet to my sister and it fits her well. Also, depending where your ears are on your head the straps can be uncomfortable. Fit is very individual, so I prefer trying helmets on in person before buying. The picture below is of my crag baby trying on the Elios, waiting for his turn to climb! He'll have to wait a few more years.
Work horse / gets the job done
Familiarity:

I've put it through the wringer
I've taken this helmet all over the place and really have no complaints about it. It's not the lightest or the the coolest looking helmet out there, but it is beefy and fits my head well. Fortunately I've never really put the protection aspect of it to the test, but I'm glad to have it.



Photo: shameless selfie somewhere on the Ham n Eggs route, Mooses Tooth, AK. The hood of my Atom LT fits over this helmet really nicely.
New model is not as good
Familiarity:

I returned this product before using it
Petzl has just updated the Elios and I must say, it's not as good. Here's a rundown of the changes I noticed:

1. Circumference Adjustment. - Petzl has done away with the adjustment wheel system on the back, and instead there seems to be a double click system that you'd find on a 10 dollar walmart bike helmet. Maybe this is in the name of weight savings but it has a number of drawbacks: First, it's not as easy to adjust if you're sharing a helmet. Second, it's easy to get it asymmetrical and then it doesn't sit right. Not impressed with this change.

2. Straps-- Most noticeably, the straps just don't sit flat. It's remarkably uncomfortable. They've also changed how the front and back straps join to the chin strap-- with the old model, the strap folds over at the bend and makes a generous, wide angle through the bracket. With the new model, the straps move parallel through the adjustment bracket, then bend to make the angle. And when straps bend, they don't sit flat. Also, no matter how I adjusted it, I couldn't get the straps to sit flat against my head without touching my ears. Couldn't get it comfortable even after finicking with it for a while.

So unfortunately this one's going back. I'm going to see if I can find the old model somewhere else, or look into the half-dome.
medida correcta
Gender:

Male

Familiarity:

I've used it once or twice and have initial impressions
Estaba dudoso en la medida de este casco, compre Petzl Elios 2, y la medida es excelente, puedes usar sin gorro que ajusta correctamente, para usar con gorra de frío se la medida se ajusta lo con facilidad. saludos desde Quito - Ecuador
Solid Helmet
Familiarity:

I've put it through the wringer
I picked up the Elios as my first climbing helmet. While I haven't tried out any others, I can say that it's secure, lightweight , it breathes and is comfortable. If you're looking to pick one up, I can definitely recommend it.
Safety for your melon.
Familiarity:

I've put it through the wringer
I've had mine a few years now and it's still working well. The white color is fading slightly, but I threw a few stickers on it from my favorite climbing companies and it's lively again.



;o)



I have dreadlocks and so it's always been hard finding a helmet that fits well. The one size fits all system is great, though I use a small beanie underneath (especially while winter climbing), and it helps keep the helmet perfectly snug.



I really appreciate the headlamp tags as well. A headlamp can easily strap on top and due to this feature it stays in place without impeding movement whatsoever.



It's lightweight and as far as helmets are concerned, I find this relatively fashionable. I think Petzl could use some cooler colors, but otherwise its a fantastic piece of gear.



(Pitch 1-South Bubble M.D.I.)
Has kept my noggin' safe
Familiarity:

I've put it through the wringer
I fortunately haven't taken any falls to the head, but this helmet has kept my cranium safe from many rocks!
Old Reliable Saves, Time For New One
I've had my Petzl Vertex for a few years and recently became very thankful for it. After a free climb on Utah's Pfeifferhorn I was scrambling up a ridge line when a goat kicked loose some rocks above and one hit me directly on the top of helmet. It's time for a replacement and will be picking this one up.



Scooter
Great Entry-Level Helmet
Familiarity:

I've put it through the wringer
I have really enjoyed this helmet so far. I was worried about the fit initially because my head is 56cm which is the max of the size 1 but only slightly into the size 2. I went with the size 2 because I wanted to be able to use this during winter months with hats etc. It turned out the be the perfect choice.



The helmet is very light and durable. The additional padding on the inside makes it super comfy and I hardly ever know I am wearing it.



If you are looking for a helmet that doesn't break the bank but still provides you with ample protection for any outdoor climb, I would suggest this to anyone.
Conehead-like
Familiarity:

I've used it several times
We've rented the helmet on several occasions, but decided to take the plunge and purchase our own. The 2014 model is shaped rather oddly...conehead-like. It sits kind of high. I'd suggest measuring head size. This is going back.
This helmet is great it is light and comfortable. It easily adjusts and you can make it bigger if you need to wear a hat under it. I like the opening and closing vents, they come in handy in the winter. This is an all around great helmet for the price range.
Decent helmet
Familiarity:

I've put it through the wringer
Good helmet, although it pinches the back of my head and I usually have a headache by p3 of any long multipitch route. Make sure your helmet fits just right and not too tight.
nice helmet
Familiarity:

I've put it through the wringer
in my opinion helmets are like baseball umpires, when they're good, you don't really notice them and everything runs smoothly. but when they're bad, it affects the you alot. this helmet is good because it is comfy, light, and easy to adjust, I usually forget that its on my noggin and just climb without noticing it.