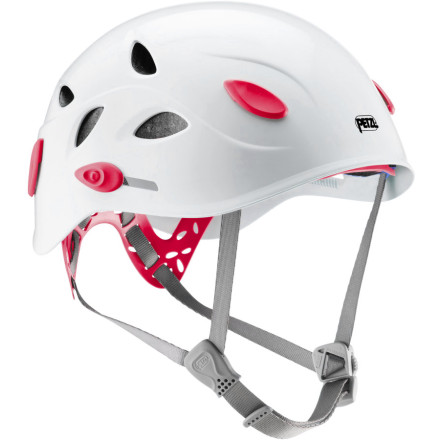 Colors

Videos

Community Images
Description
A durable and comfortable helmet for women.
Petzl designed its Elia Climbing Helmet specifically for women so you can send safely and comfortably. Its lightweight ABS shell meets some of the most rigorous certifications for climbing so you know you don't have some cheap piece of plastic protecting your head. The expanded polystyrene liner is breathable and sticks to your head so the helmet doesn't move around, and the PE foam absorbs shock from rockfall. This helmet's innovative Omega headband gives you an ideal fit without getting in your hair's way even if you have it up in a ponytail. And you can attach any of Petzl's headlamps to this helmet for when you end up rappelling off the route after the sunset.

Women-specific design
ABS shell
Expanded polystyrene liner with PE foam
Omega headband
Adjustable chin strap
Headlamp compatible
Like it...but pink?
Familiarity:

I've used it several times
The Elia is a well-rounded helmet for a great price. The ponytail cutout is bomber, but could use a few improvements. Overall - awesome ladies'-specific helmet.

FIT / STYLE
The Elia has a lower profile than many other climbing helmets and doesn't sit quite so high on my head. It's 2-way adjustable straps help the helmet fit snugly to your noggin and the ponytail cutout is awesome. My biggest complaint is that the adjustments, located on each side of your head above your ears, are not convenient and take two hands to adjust (compared to BD Half Dome's one-handed adjustment). I've also noticed that the helmet seems to loosen throughout the day and never sits quite right on my head. These flaws are likely due to the ponytail cutout - a great feature that could use a little improvement.

PERFORMANCE
Lightweight, breathable, durable. The headlamp clips are extremely easy to pop your headlamp into and hold it where it's supposed to be. The ponytail cutout fits perfectly with a little practice and is a great feature for a ladies' helmet. The Elia has more coverage than similar hard-plastic helmets, but again, the ponytail cutout is a point of weakness as it leaves a crucial part of your head exposed. Be mindful of the unprotected area of your skull if you experience any rockfall!

OTHER IMPROVEMENTS
C'mon Petzl, can we please have a ladies' helmet that is NOT pink?
I dig it!
Familiarity:

I've put it through the wringer
This helmet has all the features you'd expect from a climbing helmet. Adjustable chin strap and headband, removable padding, ventilation, head lamp buckles, and ability to protect you from rocks plummeting at your head.

What sets this helmet apart though is the adjustable ponytail accommodating headband. Having long hair and being a huge advocate for the pony tail I really appreciate a helmet that protects my head aaaaand lets me keep my hair out of my face / off my neck ... trust that sweaty neck hair is the worst.

Additionally I really like the headlamp buckle things. It keeps the headlamp securely in place and I don't have to worry about it sliding off in any direction.

I'l give the helmet 4 instead of 5 stars though because sometimes it's a bit wobbly on your head. Not dangerously sow, but sometimes I find it shifts even when I have the headband adjusted to my head.

All in all and awesome helmet and I'd recommend it for all your climbing needs! Also the white serves as an excellent canvas for some helmet shwag.
Awesome gift!
Familiarity:

I gave it as a gift but have feedback to share
I got one of these as a gift for a friend of mine, and she really likes it. I ordered her the white option, and she thinks that it looks great and fits well. She hasn't taken any blows with it on yet (luckily), but she thinks the helmet would protect her in rock fall or a lead fall.
Excelente
Familiarity:

I've used it once or twice and have initial impressions
Casco de ultima tecnología, mediad perfecta, compre la medida 2, se ajusta perfectamente y con un gorro aun mejor.
Glad I got it in blue...!
Familiarity:

I've put it through the wringer
I'm glad I got this helmet whatever year they offered it in white/blue (2013 or 2014? not too long ago), since pink isn't really my thing. Probably a reaction to all the shrink-it-and-pink-it versions of men's gear that some companies try to call "women's" gear. For this helmet though, I haven't found that to be the case.



Vanity aside this is a pretty great helmet. I choose to wear helmets for all outdoor climbing, whether it's trad, sport, TR or ice. It's lightweight and adjustable, so easy to bring along, climb in (with or without a beanie and/or hood underneath it for cooler days or ice), and loan out to various newer climbers who might not yet have helmets of their own. It's not too hot in the summer and has a padded forehead for comfort and to act as a de facto sweat band. Headlamps stay on securely and don't budge.



I see the other reviewer who had coverage issues with the ponytail cutout. I hadn't considered that as a safety issue - though I'll give it some thought now - and I've always liked the cutout for my always-there ponytail. It allows me to keep my hair off my neck and climb more comfortably in the helmet (if a helmet isn't comfortable, the temptation to climb without it is greater!) when the weather's hot or humid.



I give this helmet 4 stars instead of 5 because I have trouble keeping it straight on my noggin...it always seems to tilt just a little bit left or right. The chin strap has clips that adjust where the strap comes together under each ear (that's not an easy-to-understand-sentence, sorry, but basically it means you can adjust the chin strap from either side), so it can take a little tweaking to make sure it's level.



The helmet stays in place and has protected me from falling objects (ice, rocks, the occasional spider), as well as from whacking my head into overhangs or other super-graceful moves. This one's a keeper, I'll be wearing it as long as it's in good enough shape to do the job!
Short strap causes buckles to hit ears
Gender:

Female

Familiarity:

I've put it through the wringer
I have last year's model (white helmet with blue-green accents). The design is the same as this one, it's just the straps for this one is slightly longer but my friends have this year's model and they still have the problem. It's just not as bad as mine. Despite adjusting the straps and those strap sliding things that also hook to the buckles as well as the two side adjusters on the outside, it doesn't help me lengthen the strap a little in order to get those buckles off my ears. By the end of every climbing day, my earlobes are chafed red and raw! To make matters worse, that cutout in the back for your ponytail was a great idea only if you have a lot of hair making your ponytail a thick one which is sort of a substitute for protecting your head back there. Otherwise, you're SOL. I slipped while rock scrambling and hit my head back onto this rock wall. That exact area was vulnerable and I hit my head. It wasn't a big hit or anything. I luckily was able to hold onto something nearby to soften my fall but it still gave me a headache. Imagine if I hadn't been able to prevent a heavier fall. I would have been out cold.

So overall it protects your head but only in the circumstances I mentioned - ponytail included. AND what is up with the straps?
PETZL - Commitment to Quality
"Head" of the Pack
Gender:

Female

Familiarity:

I've put it through the wringer
Add this to your gear pile! Petzl has made great helmets for so many years now. I have owned previous models and I have to say, I love this helmet. Super light, comfy, stays in place, vents and padding where they should be and overall great style. Sits with a lower profile, which I like. Protect your Noggin. Happy Climbing!
Pretty in Pink
Familiarity:

I've used it once or twice and have initial impressions
I'm not going to lie, I initially chose this helmet because it comes in pink (white and pink), because it matches most of my other climbing gear. It took a while for me to get the size right with the straps but now that I have it just right I love it! I'm really happy that its incredibly adjustable so in the winter I can wear a hat, or two, underneath and still stay safe! I also love that the ponytail cutout is there, rocking a side pony while climbing totally stinks!
Ponytail cutout in the back is bad idea
Familiarity:

I've put it through the wringer
I used to have this helmet. I loved it until mountaineering this weekend when I experienced a rockfall. The helmet caught most of the impact, but the rock bashed my head as well -right in the cutout in the back for a ponytail. I will be using full coverage back from now on. The helmet saved my life for sure, but had I had full back coverage, I wouldn't have a gash in my head right now.
Petzl Elia Climbing Helmet
Very Satisfied
Familiarity:

I've used it once or twice and have initial impressions
Trying to find a comfortable climbing helmet was a pain. I ordered the Half Dome Helmet and El Cap Climbing Helmet and disliked both of them regarding fit, comfort, and there ability to maintain placement on my head while climbing and belaying. ThePetzl Elia Climbing Helmet - Women's was AMAZING. I'm completely satisfied with all details of this helmet. It stays in place and conforms to my head and hair. Highly recommend. Wish it came in more color options, besides pink...
Stays in place
Familiarity:

I've used it once or twice and have initial impressions
I recently went on a climb in Big Cottonwood Canyon, and got to use my new pretty pink Elias. The first thing I noticed was how well it sat on my head. Not only did it stay in place, but I barely even noticed it. It allowed me to have my hair pulled back without getting in the way and the brim is just enough to help block out the sun, but still allow you to see. It's super easy to adjust once you figure it out (I recommend reading the instructions). Overall, so far so good and I look forward to years of use.