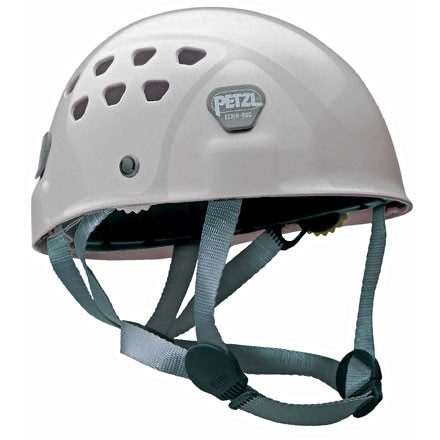 Community Images
The Petzl Ecrin Roc Helmet has been a staple of rock climbers and mountaineers for years because of its extreme adjustability and durability. Good luck finding a tougher helmet.
Extremely durable hard-shell design for years of use and abuse
Dual adjustment system to handle any head size or shape
Headlamp clips for night use
Ventilation to keep you from overheating in the middle of the day
finally broke a piece on it after putting it through a sever life of abuse. It works and fits like a dream come true. Favorite helmet so far. tough as nails.
Saved my dome the first time I put it on
The first day that I was wearing the Ecrin Roc, I pulled a loose hex that would have split my forehead open, but I was saved by the ROc!@@! This helmet wears like a helmet, but protects like a hardhat. The two adjustment wheels are functional and easily operated with light gloves. I give it four stars because the rear webbing retainer creates a slight pressure point when snugged down, and I feel like the clearance between the suspension system and the shell could be reduced without sacrificing protection. All in all, a great helmet.
I've always used my friend's when we go out climbing and now I finally got my own! It's the only helmet I've ever used while climbing and it does a great job on ice and rock!
We use these at our camp. The webbing and...
We use these at our camp. The webbing and straps are pretty dirty after a summer's worth of use. Is there a way to clean them, or should I just soak the whole helmet?
Thanks
Hey JSB, I just dismantle my helmet and remove the webbing and wash them n the washing machine...
I like the Ecrin Roc. It's keeps your head cool, safe and makes you look like you know what your doing. My biggest complaint with it would be the foam pads, they sometimes shift ever so slightly. Also the weight is higher than most of its foam counterparts. However, it blows everything out of the water when looking at the protection it gives you. Also, its adjust-ability is great. It works for sport climbing in the hottest of summer as well as ice climbing with a bean and a hood on. I would recommend the Ecrin Roc but only to those who need a helmet for multiple uses. For simple sport climbing there are other buckets that will do the trick at a lower cost. Good luck!!
If I'm belaying somebody on toprope, this is on my head. Super durable and should last a long time. The cross straps inside are comfortable too. For leading, I prefer the foam helmets that are not as heavy and protect the back of the head better (the Ecrin sits high), so I don't always have the Ecrin with me depending on the climbs of the day. For days when I'm just toproping though, why put wear and tear on the foam helmet (one major bump to the foam and it's retired). The Ecrin is solid and will far outlast any other helmet I'll ever own.
Got this after I tried the Black Diamond Half Dome and didn't find it vary comfortable. I use it mostly for canyoneering, but also a bit of climbing and mountaineering. What I really like about the helmet is the webbing straps on the inside so that your head is resting against the webbing (not foam), with a gap of air between the webbing and the shell of the helmet. For me, this means every time you bump your head on something, it hurts a lot less (so I imagine the helmet would be great for caving).
I like this helmet. It is comfy and very adjustable. The straps sit in the right place naturally (as opposed to the BD Half Dome)and clip in and out very easily. Only downside would be that it sits pretty high on your head, but fashion is a secondary consideration for me. Nothing has hit me in the head yet so I can't comment on safety.
The Petzl Ecrin Roc Helmet is comfortable, adjustable to fit your head size, headlamp attachments, absorbs impacts well, and importantly meets UIAA standards. My friends and I love it from caving, climbing, mountaineering, canyoning.
Hey all, Where can I find replacement...
Hey all,

Where can I find replacement foam inserts?

Please and thank you!
Hey Hunter,

Please contact Petzl directly.
I bought this helmet because I was wanting to get into caving. I had just bought a Black Diamond Half Dome and was very disappointed. The half dome was uncomfortable and the chin strap was barely long enough for me. I sent the half dome back. It was way overpriced for what you get, which is an expensive and flimsy bicycle helmet. I ordered and received this Ecrin Roc and WOW. $40 extra bones, but it was well worth it. Some gripe that this helmet is heavier than the current bike helmets out there, but I didn't feel the diffence. As a matter of fact, this helmet is nice, , light but strong, comfortable and WAY better than all those $59 helmets out there. Spend a few extra bucks and get yourself a real helmet. You won't regret this buy!