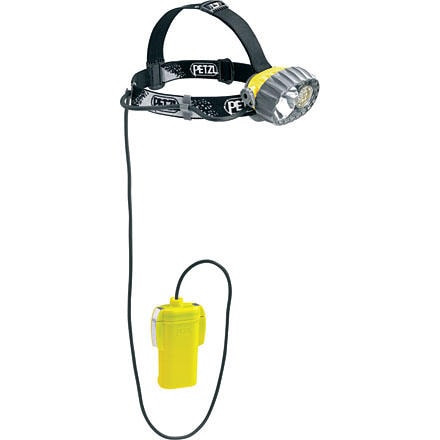 The Petzl Duobelt LED 14 Headlamp's belt-mounted battery case makes it a great choice for cold-weather use while the combination of one halogen and 14 LED bulbs provide top-notch lighting. Whether you need bright light for close use, like setting up your tent, or long-distance use, like skiing at night, this incredible Petzl headlamp provides all you need. You can wear the battery pack inside your warm clothing to increase batter life in frigid winter conditions. Whether you decide to climb in the Alps or ski in your own range, the Duobelt LED 14 Headlamp helps you see your objectives clearly.
Share your thoughts
What do you think of the
Petzl
Duobelt LED 14 Headlamp
? Share a...
I finally replaced my old and sturdy headlamp with a flashy new LED/halogen headlamp, and so far I am very satisfied. 14 LEDs lit gives you enough light to bicycle in rough terrain in the middle of the night. If needed you can switch to halogen for that extra distance, but the 14 LEDs usually is more than enough. Around the camp, 5 LEDs is more than enough. I also like this model since it allows you to carry the batteries under your clothes so it holds out in cold weather too. It fits nice on my head, just wish it was a little more adjustable on the front piece. Yeah I know I can just turn my head, but sometimes it nice to be able to fix it at certain angles.