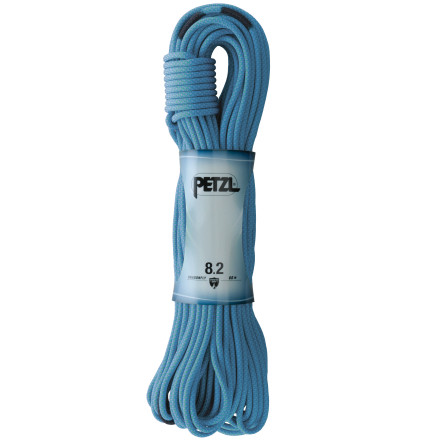 Community Images
Petzl made the Dragonfly 8.2mm Half Rope with 36% of the material in the sheath to give it the durability to handle demanding ice and alpine climbs or wandering rock routes. This Petzl rope also uses single-pick construction to create a tight sheath that holds out dirt and grime to protect the core. Using two Dragonfly 8.2mm Climbing Ropes together in double-rope technique reduces rope drag and provides a redundant system to improve your margin of safety. Petzl added a dry treatment to both the sheath and core to keep this rope from getting wet in the harsh mountain environment. *Sold individually.
Unanswered Question
Would this make a good lead-capable (in a pinch) tag line for rappelling long trad routes? It weighs about the same as the sterling 8mm static tag line.
Light ropes
Familiarity:

I've put it through the wringer
I grabbed these before heading to red rocks for some long trad awesomeness. They did well in the desert, and I used them all season climbing ice and mountaineering. The two ropes together weight about as much as a 70 meter rope but you can split the weight with your partner, or get super light and only take one. I have not had any problems with the ropes blowing up. But they are really "fuzzy". And they got that way quick. They tangle something aweful too. The water treatment eventually wore off and they would get wet, but they never balled snow. I don't regret buying them, but when they wear out I will replace them with some mammut doubles.
I have only used this rope a few times canyoneering. The sheath gets chewed up very easily, exposing the core. My Bluewater rope is 10 times tougher (but unfortunately the Bluewater does not come in a 70m length). I would not recommend this rope for anything where it will rub on rock.
These ropes are bad. The very first time I used them the sheath tore exposing the core of the ropes. This was from normal wear and tear - no falls or sharp edges. I sent the damaged ropes back to Petzl for warranty and they could not offer me anything; not even covering the shipping cost for the return. I now learned that other people have had similar problems with Petzl ropes, so I recommend you avoid Petzl ropes altogether.
What's In My Pack for Ice Climbing by Stephen Koch
All the stuff I bring for a day of climbing...explained. Enjoy!

www.stephenkoch.com
wouild thuis serve wel as a ski mountaineering...
wouild thuis serve wel as a ski mountaineering rope?
you might be better off getting a Beal Rando rope. it is skinnier and only 30m long. that way you dont have to carry a ton of rope that you probably wont need. you will also save a big chunk of change
To help facilitate descents, the middle of each Petzl cord is marked with a black bar. Even with this marking, it's sometimes a good idea to tie a knot at the end of the rope as an additional safety measure.
Got these several months ago for a trip to Red Rocks, and have since been selling all my climbing buddies on the magic of doubles. As has been said here, they're light (duh), handle great, and inspire confidence. These are my first set of doubles, and they've converted me into a believer.
These are great ropes- supple and smooth and they don't tangle. If you do long wandering trad routes, half (double) ropes are the way to go. Belaying takes a bit more skill since you'll be clipping on only one rope at a time. For me the double rope system feels really safe and convenient on multi-pitch trad routes. On shorter routes I still use just a single.
Ice/alpine climber's 1st choice
The Petzl Dragonfly is a light weight half-rope that excels on long ice / mixed routes and alpine peaks where weight savings is critical and frozen ropes are not an option. The tightly woven, single-pick sheath coupled with dry treatment on both sheath and core create a rope that is exceptionally good at shedding water. Even after long days of ice climbing in wet conditions the ropes fared well. The ropes have proven durable while ice climbing, but I have climbed little rock with them. My inclination for rock-specific climbing is to go with a thicker, more durable rope(s). The Petzl Dragonfly's are my first choice when wanting the ability to rappel a full rope length while counting every ounce.
I bought a set of these ropes. Within 10 uses over the course of 4 months, the sheath came completely off of the core. We noticed that every time we rappelled, our ATC's would have copious amounts of sheath built up on them. The blue rope is completely core shot and the orange rope has shown signs of serious wear, indicating that the sheath could fail at any time. I have talked to some gear shops that indicate they have heard of similar problems with Petzl ropes. We have some Metolius half lines (7.8mm) with about 3 seasons on them under similar use that currently are not showing any signs of wear.
These ropes are really light and run really smoothly. They are built rock solid and repel water very well. The colors are very vibrant and easy to see all the time. Great ropes.
Is it possible to use this rope as a single...
Is it possible to use this rope as a single in sport climbing?
Best Answer
No, NOT possible. It is an 8.2mm rope NOT rated to take individual falls, only rated to hold falls in conjunction with another rope.
Why not? If it is a half rope, you clip protection alternately right? So if you fall you are only caught by one strand. Unless you are at a high risk of the rope being cut on an edge why not use it as a single?
It is possible to use this rope as a single but not recommended. You can use your shoelaces if you choose...

I have, on occasion, used this rope as a single...not what it is intended for nor is it recommended. If you are doing shorter pitches (less than 30 meters) you can double it up...either tie into the middle or to both ends.
technically these ropes can handle a lead fall, which is why you clip them alternately. However, they are skinny and stretch quite a bit. It is not technically recommended but is possible. but why on earth would you ever go out to a sport situation and use only one of these ropes... what it comes down to is that its really unnecessary and not smart.
The only situations where I clip these ropes individually is when I'm on a wandering route and want to prevent rope drag and when I am on easy terrain where I am confident I will not fall. Most of the time I clip both of them to my protection just like you would with half ropes.
LIGHT, GREAT HANDLING AND DURABLE ROPE
A few months ago I used one of these ropes on the Black Ice Couloir. The climb was a bit "modern" with thin and mixed sections and the rope was perfect, offering security and weight savings so we could move fast. The Valhalla Traverse was really fun with a little new snow to keep it interesting and offer some footing over the frozen kitty litter type material that you have to cross get to the Black Ice. These ropes are light weight and have great handling. The butterfly coil, as an other reviewer already said, really works well, eliminating the need to coil and uncoil your new rope several times to get the kinks out before use. These ropes are showing noticeably less wear than a pair of Beal cords that I had a couple years ago with even fewer pitches on them. Orange and green happen to be a couple of my favorite colors too!