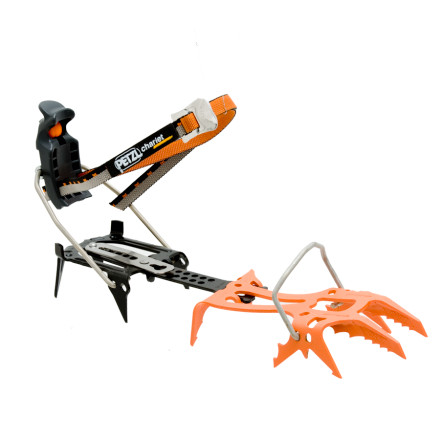 Detail Images

Community Images
Description
Evolve and adapt.
The Petzl Dartwin Crampon evolved from the highly popular Dart so as to provide precision steep ice performance with the increased sheer resistance of dual front points. Each vertical front point features a small hood for extra holding power on snow, so you won't have to compromise neve performance for security on the ice. These lightweight Petzl crampons make an ideal choice for both ice and alpine climbing.
Dual front point design for extra stability on steep ice
Minimalist design for ultra low weight
Tool-free adjustment for easy fitting
climbs like a king
Familiarity:

I've used it several times
These have become my go-to crampons for steep ice. I prefer them over the Cyborgs as they're lighter.



I had to modify them a bit to fit my Scarpa Rebel Pros (sz 42) because that boot has a narrow, lower profile toe. I ordered a pair of the BD "short" toe bails and they made a huge difference. In picture #1, the front boot has the BD short bail and the back boot has the stock Petzl bail. Notice how the front boot toe doesn't hang over the end of the crampon and will allow the secondary points to engage more.


Love em
Familiarity:

I've used it several times
First pair of dedicated ice climbers and super happy with these. great fit on my spantiks 45.5 with long bar.
I won't be using mine until the upcoming 2013-14 ice climbing season - but I must say I like the design, heave heard good things about them, like their adjustability and fit on my boots, etc. They really look well designed and I am confident these will rule on steep WI and Mixed routes this year!
How would you compare these with the Grivel...
How would you compare these with the Grivel G22s?

From what I am observing:

Dartwin = 2oz lighter for the pair

Dartwin = 2 mid points stick out, G22 2 mid points are in the center laterally. Not sure which is better.

Dartwin = no antibots (but you could probably make your own)

Dartwin = Need to purchase separate long bars for size 48 (me)

Dartwin = replace front part to replace front points. G22 not sure how to replace front points.



With antibots + long bars I wonder if the weight is now the same...



Which have longer front points?
OK thanks - have you used the dartwins? Do they climb steep stuff better than the G22s due to the more aggressively angled front points?

I'm actually not sure what an asymmetrical boot is practically speaking?

I have 3 boots I would use these with (all sportiva):

Nepal Evo (which you said work great)

Barunste (assuming work great as well)

Spitfire (AT ski boot)
Best Answer
The G-22 comes with 2 sets of center bars. Which one you will use will depend on your boots, the instructions will help with that. You would not need longer bars for your size, simply mount the bar one hole further back on the front half.

The G-22 front points are not as aggressively angled, and to replace front points, you will have to replace the entire front half.

By appearance, there is little difference in length of front points.

I couldn't say if the G-22 mid points work any better or worse, but I can say they do take a little getting used to, maybe 20 minutes for me.

Although the G-22 antibotts work well, snow gathers between the center bar and my boot.

A note about the G-22 front bail; it's designed for asymmetrical boots. They fit great on my la Sportiva Makalu, but need a little tinkering to get a good fit on my Koflach Arctis Expe.



Hope this helps!
PETZL Dart/Dartwin crampons
Winter Ascent of Andromeda Strain
Canadian Rockies Classic Alpine Climb that I free climbed with my buddy Jack Jefferies a few years ago. So much fun!

www.stephenkoch.com
Good technical crampon, but not a great all around crampon. Light weight but that weight comes at a cost with only 8 actual down points on moderate terrain. They will feel like roller skates on hard ice in French technique. Sabertooth does not and climbs equally well on steep terrain.

No bots for the front of the crampon so you'll want to be careful the kinds of conditions you take them out in. You can how ever add a bot to the back but it is not cheap. The front points wear quickly but thankfully the entire front piece can be replaced although at signifigant cost.

One of my favorite technical crampons but wouldn't own it as my ONLY crampon.
For the past 20 years I have been using my old Salewa Chouinard Rigids and Messner Stepins for alpine climbing. They have performed quite well especially given that most of the more "modern" crampons have been heavier and are not any more functional. I complemented these with an old pair of Footfangs for steep ice.This past winter I decided it was time modernize. After looking at most of the crampons currently on the market I decided on a pair of Darts for ice and Dartwins for alpine climbing. Several things drew me to these crampons. The simplistic yet functional aspects of their design. They are easy to adjust and easy to put on. They are also lighter and more compact than my old Salewas. I liked being able to take them off and put them in my pack rather than strap them on. Though put them in a bag lest you want to shred your pack on its contents.I also like the ability to swap out the front half when necessary while having options for the bail. For the Dartwins I have the traditional bail while for my Darts they have the side bail (which takes a bit of getting used to using).My first climb with Darts was on an ice climb here in Oootah that had not formed up completely for many many years. Then this summer I used the Dartwins on a week long trip to the Cascades where we got up Rainier, Adams, and Hood. They worked very nicely in a variety of conditions and terrain.So well that I might actually have to get rid of my old Salewas after all these years.