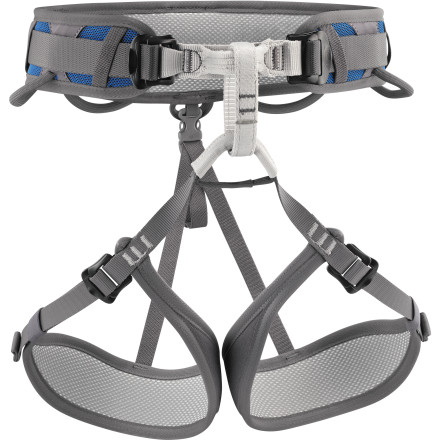 Colors
Description
The vertical world is your oyster.
Petzl designed its Men's Corax Harness with maximum versatility in mind so you can climb rock, ice, alpine, or via ferrata comfortably. Its Frame Construction Technology consists of high-strength polyester webbing for durability, soft mesh for ventilation and breathability, and closed-cell foam padding that eliminates any pressure points for comfort. DoubleBack buckles easily adjust and center the harness for an ideal fit, and the adjustable leg loops accommodate multiple layers for winter climbing as well as allow you to put the harness on even with mountaineering or ski boots on. You can unclip the back risers for drop-seat use on big walls. Petzl integrated two rigid gear loops at the front and left the loops at the back flexible so you can carry all the equipment without interfering with your backpack, and there are slots available for Petzl's Caritool (sold separately) for even more gear-storing possibilities.

Frame Construction Technology
Two DoubleBack buckles
Adjustable leg loops
Drop-seat buckle
Closed-cell foam padding
Two rigid gear loops in front, two flexible loops in back
Caritool tool holder slots
Good beginner harness.
Familiarity:

I've used it several times
I have this harness in a large and it fits very true to size. For a lite sport harness it is quite comfortable. I use this as my gym harness but it can also be used as a every day harness if you are going climbing outside. If you are using it as a multi-pitch harness and are sitting on anchors for long periods of time, I have found it gets painful to sit in. If you are just getting into climbing and want the best bang for you buck this is the way to go. The double cinch straps on the front does allow for a more snug sure fit as well. Very sturdy gear loops as well.
Universal
Familiarity:

I've used it several times
I bought this harness for indoor climbing, which I recently became addicted to. The harness is a great for the price. Comfortable hip belt and overall easy to adjust. I bought the size 1 and it fits perfect. I am 5'10'', ~160lbs, and wear 30-32 waisted jeans. I am a big fan of only having to pick from 1 of 2 sizes vs trying to pick a size from S, M, L, XL, etc. Highly recommend for the price range.
Very Wide and Comfortable Hip-Belt ! ! !
Familiarity:

I've used it several times
This harness is really well engineered and it shows. The hip-belt fits me right where I need it to and is easily more comfortable than the Black Diamond Focus, or Momentum. The front gear loops are well designed and slide/position gear to the front for easy racking. Unfortunately the rear harness loops do not, they are standard half-moon design.

The rope loops have ample space and are probably my favorite feature. You could be tied into 3 ropes and have 2 slings attached and still have room to maneuver more through them, and they're burly and thick!

Noteworthy: The Belay loop is thinner than most harnesses I've seen/used and the metal buckles and the nylon waist/leg straps are also thin. I don't think this impedes quality, but could show wear quicker .
PETZL - Commitment to Quality
This harness is great for the gym. Ive taken it sport climbing once and I would much prefer a fitted harness. I use it for gyming and its pretty great for that. Only problem is that this runs super small. I am a 31-31 waist and the size 1 has to be tightened down all the way and still has some major space in it. It still highly functional for what it is though and it fairly comfortable
Ol' Reliable
Familiarity:

I've put it through the wringer
I've been using this harness for close to 2 years now and it's still running strong. The dual adjustments on both sides lets you find the perfect fitting for your waist and means that even when you're carrying a bunch of trad gear, it'll never come loose. I've taken some fun whippers with this thing and the padding has saved me a back ache or two. Even after putting it through Tennessee, North Carolina and Kentucky it's still holding up nicely.
Best Harness I've owned
Familiarity:

I've put it through the wringer
I am 5'10" and 185lbs and ordered size 1. I've previously owned a Marmot and a Black Diamond harness. I am mostly a sport climber but do trad and occasional top rope. For sport it is the bomb! The harness is always centered because of the dual adjustments on each side of the front center. This alone makes this an amazing harness. If you layer up, your loops are still where they need to be. This also pays dividends for trad climbing. It allows the gear to stay centered, avoiding clumsy reaches for your fixed/active gear. The quality is top notch and it is pretty comfy if hanging.

I did find two drawbacks: 1. the rear gear loops are soft and flimsy, which make it difficult for sport when you want to clip a draw back onto your loop. 2. I have meaty legs and size 1 fits the waist nicely but a bit tight on the thighs (it does stretch a little after several wears).

My favorite harness so far.
Durable, Comfortable, Adjustable
Familiarity:

I've put it through the wringer
I have owned this harness for three years and have put in miles of climbing from the gym to single pitches at Red River Gorge and Indian Creek to multipitch routes in Potrero Chico, Squamish, and Moab to some big walls in Zion and Yosemite and this harness has fulfilled my needs through all of this. As a skinny guy with a 30 inch waist, the double waist belt adjustment buckles allowed me to position my gear so that I don't have to completely turn around to see what is on my back gear loops like other harnesses. Makes hanging belays tolerable. I intend on buying another one now that my first harness has reached its end. One note is that the speed buckles can eventually develop surface rust where the plates rub together, but not any significant cause for concern. This may have been fixed in later iterations of the Corax.
love it
Familiarity:

I've put it through the wringer
picked this up a few weeks back and absolutely love it. I have about a 31'' waste and I have to tighten it all the way but that's been the case with every harness. the padding is super comfortable and I don't mind hanging in it while at the gym. I would definitely suggest picking this one up.