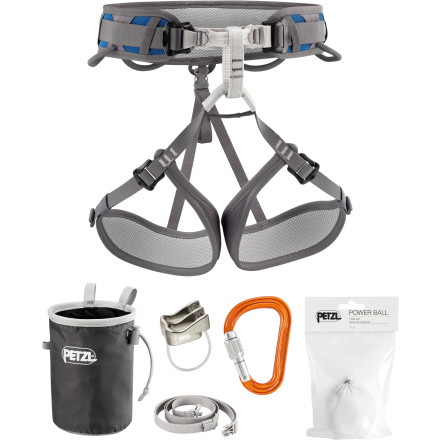 The Petzl Corax Climbing Kit has everything you need to start sending whether it's in a gym or outdoors. This kit includes the Corax harness, Verso belay device, Attache carabiner, Bandi chalkbag, and a Power Ball chalkball. Petzl designed its Men's Corax Harness with maximum versatility in mind so you can climb rock, ice, alpine, or via ferrata comfortably. Its Frame Construction Technology consists of high-strength polyester webbing for durability, soft mesh for ventilation and breathability, and closed-cell foam padding that eliminates any pressure points for comfort. DoubleBack buckles easily adjust and center the harness for an ideal fit, and the adjustable leg loops accommodate multiple layers for winter climbing as well as allow you to put the harness on even with mountaineering or ski boots on. You can unclip the back risers for drop-seat use on big walls. Petzl integrated two rigid gear loops at the front and left the loops at the back flexible so you can carry all the equipment without interfering with your backpack, and there are slots available for Petzl's Caritool (sold separately) for even more gear-storing possibilities.
Petzl's Verso belay-rappel device has asymmetrical grooved sidewalls that give you excellent friction while you learn how to belay and rappel properly. The Attache locking carabiner has a simple shape for versatility in the vertical world, and it has a red lock indicator that lets you know when it's completely locked and ready to belay. The Bandi chalk bag has a large, reinforced rim for an easy access, and its closure system only requires one hand so you can close it quickly and simply. And the Power Ball chalkball provides non-airborne chalk that's ideal for the gym.

Package includes:
Corax harness with Frame Construction Technology
Verso belay-rappel device with asymmetrical grooved sidewalls
Attache locking carabiner with red lock indicator
Bandi chalkbag with reinforced rim
Power Ball chalkball
Corax harness includes:
Two DoubleBack buckles
Adjustable leg loops
Drop seat buckle
Closed-cell foam padding
Two rigid gear loops in front, two flexible loops in back
Caritool tool holder slots
What do you think about this product?
Have questions about this product?
So size 2 is the bigger of the 2 sizes with Petzl. The waist loop is 29.5"- 41.3" leg loops are 22" - 27".



You can call or email me directly. 801-736-6398, or bporreca@backcountry.com