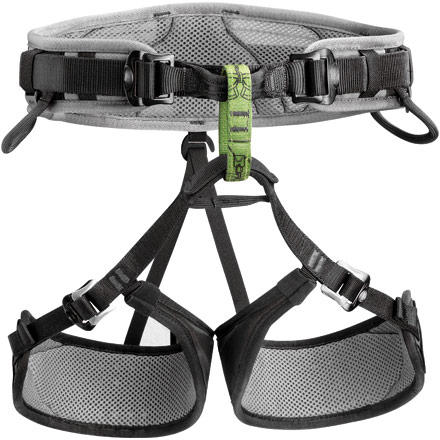 Colors
Description
For the big rigs.
As the most-padded and comfortable harness in Petzl's line, the Calidris works well for long multi-pitch trad and aid lines. Sliding DoubleBack buckles on the waist and legs can be adjusted easily to accommodate layers for cold days or keep you from going numb at a hanging belay. The Calidris' four gear loops hold a large rack of cams, stoppers, and hooks.
Extra-wide waist and leg loops for comfort at hanging belays
large rear gear loops to bring along plenty of gear
Double buckles on waist loops keep your belay loop centered
Super Comfortable
Familiarity:

I've used it once or twice and have initial impressions
I tried the Petzl Corax in their size 2 and it was too big in the waist and the thighs. They were out of the Corax in size one but they happen to have the Calidris on sale so I gave it a try. It's important to point out that I wear 34" waist in jeans and measured my upper thighs at 23". According to the size chart I should fit in the size 2. I had to tighten the straps on the size 2 all the way and it was still not tight enough. The size 1 fits nicely with room to tighten or loosen in the event I gain or lose a few pounds. I hung in this harness at home for about 15 minutes while watching tv. I was very comfortable. I tried the Petzl Adjama and the Camp Jasper but the fit was not right for me. I have used this twice at the gym and while climbing and belaying my wife and 5 year old daughter I hardly noticed that I had it on. I like the double adjustment on the waist belt compared with the single adjustment as the gear loops stay symmetrical from side to side. So far, very satisfied. I should probably have given a four star rating for the inaccuracy in sizing but I can't because it's so comfortable. I've read a large number of reviews and blogs regarding picking a harness, sizing, comfort and function. The most helpful recommendation was to try as many on as necessary until you find the one that fits comfortably and is comfortable to hang in.
Not as durable or comfortable as expecte
Familiarity:

I've put it through the wringer
This Harness was not worth the purchase for me. I think you're better off buying either a full on Wall harness that's going to be more comfortable, more durable and have more loops for gear - Or a much lighter and more affordable free climbing harness. I found this harness isn't ideal for either of the activities. My gear loop on the left side broke very unexpectedly within two years of purchasing it resulting in me losing a few hundred dollars worth of gear while.on a wall in Yosemite.
Super comfy
Familiarity:

I've put it through the wringer
Beefy and comfortable. Im a pretty bigger climber (215) and I love this harness. I have taken whippers on it and its no problem. It also breathes really well, I live in Vegas and climb in 100+ temps, no issue. Rear gear loops are really big. I love the dual buckles as well.
Strangely Sized
Familiarity:

I returned this product before using it
Maybe my body is just disproportionate, but when I tried on this harness I had to tighten the waist all the way down, but the leg loops were loosened all the way and still felt a little too snug. Never got to try it out on the wall.
Great Harness
Familiarity:

I gave it as a gift but have feedback to share
This is a great harness. I got it for my husband for Christmas, and he was thrilled. The straps are nice and sturdy, and it is extremily comfortable even when bearing all of one's weight. I actually liked his harness so much better than the one that I had ordered,` that I am returning mine and getting one of these for myself!
Great for Search and Rescue Operations
Familiarity:

I've used it several times
I purchased this harness 1. because I'm fairly built and smaller harnesses just didn't fit right in the legs and waist, and 2. because we're expected to be "hanging out for a while" during vertical litter operations. The wider waist and leg loop padding has been great. Plenty of tool loop space for everything you'd want to carry. Very comfortable, and fairly light weight - I like it.
comfy but sizing not optimal
Familiarity:

I've used it several times
this harness is very comfortable and has huge loops for a big rack.

What could be improved is the sizing: they should add one medium because if you are in the mid range using a size 2 you end up having the front loops all the way in the front with the gear in the way of your thighs at every move. Using the size is then good for the front loop place but with very little margin to expand the leg loops.
Comfy harness
Gender:

Male

Familiarity:

I've used it several times
Very comfortable harness. I am a 31" waist am have it tightened almost all the way. Not sure how they say a 26" waist will work with this harness.

Only grip is maybe b/c it's new the straps seem to loosen over time when climbing. I check it before each climb.

Legs are almost all the way loosened and I don't have monster quads, but larger than average from skiing/squats.
This is the harness I've been seaching for since Petzl introduced the sport climbing versions which I simply do too much 'hang time' for those. Ths is comfy, secure and has plenty of racking loops to carry everything but a cooler! If you're not a lightness freak and spend long periods on rock faces, this harness is for you! I love this thing!
Not just for aid climbing
This harness is seriously comfortable, surprisingly light weight, and has plenty of space for tons of gear. I would like the front gear loops to be a touch bigger, but the back ones are just plain massive, and the haul loop is big enough to hold your tag line, shoes, and belay gloves at the same time if you need the space elsewhere. Unlike most wall harnesses, this one is just small enough to be used for long free routes when hanging belays are involved.
Ive had trouble in my search for a harness lately. Tried out a number of harnesses before I landed on the Calidris. It's everything I was looking for. Super comfortable. I barely notice I'm wearing it! I'm also a big fan of adjustable legs.
uhhh there are two sizes.
yes, 2 sizes, size1=small/medium and size2=large/XLarge

I wear size 2 (I have 36 waist and fairly thick thighs)
I've completed a two-month, patient search for my next harness -- and it's the Calidris. I'm a 6' 165 lb guy, 33 waist, with 10 years of gym/sport/trad climbing (I max out around 12- on top rope) and I intend to continue doing all three. My first harness, overdue for retirement, was a Metolius, and I liked it. In addition to the Calidris, I tried on and hung around in the Corax, the CR3, the CR, Metolius Men's Safe Tech, and a bunch of BD harnesses. All of the BDs that I tried had adjustable leg loops, and all of these had unnecessary pressure points in the leg loops, a design flaw caused by the metal attachments connecting loop to waist and poor placement of stitching. Best looking harnesses, though, and I do care about the look. This appearance concern ultimately ruled out the Quartz CR3, which I deeply admire for some design innovations but looks like of offspring of a circus tent and a holstein cow. Note that my wife and my buddy think it looks just fine. However, I also have decided that I really like a double tightening system for waist-belts, as every time you wear this type of harness you dial in a perfectly symmetrical fit, custom to that day's clothing and physical condition. In this regard the smaller Corax is a very fine harness, but in close comparison with the Calidris, it lost. Why? -- Comfort and ventilation. The Calidris' leg loops are wicked comfy -- and without bulky, heavy padding. The Calidris allows air penetration of waist belt and leg loops, and I expect this prolongs the life span, as the harness does not soak up body salts. People comment on the weight of climbing harnesses, and in reviews you pick up the idea that a few ounces lighter is meaningful. This is a load, so to speak. There is no way that the difference between sending that route or taking a whipper is dependent on a matter of ounces, when all harness are attached to a human being measured in many pounds. What is meaningful in my experience is the way that minor harness discomforts in the gym become somewhat more pronounced hang-dogging on a sport climb, and became nasty searing demons of pain when strapped into long belay stances on a multi-pitch day. The Calidris is a really fine blend of everything I wanted -- impressive comfort, easy and symmetrical adjustment, simple and elegant appearance. For my size and frame, I hang in a very balanced position.
Does any one know how much haul loop...
Does any one know how much haul loop strenght does this one have? I couldnt find it on the petzl page!
When you're going to be in your harness for hours or days on end then this is the harness for you! Super wide padding on the legs and back, very adjustable loops, and tons of features. This is my main climbing harness. If you're looking for comfort look no further!
This is by no means an ultralight harness, but it is bomber, comfortable, adjustable, and convenient. I've been using mine for years, but I only came to appreciate the ability to center the harness after using a couple harnesses that didn't have the same feature.

On those harnesses, only three of the gear loops would be usable. After cinching the waist belt down, the other one would wind up directly below my spine, out of convenient reach.

This harness has been great for sport, trad, and ice climbing and has fit over everything needed for climbing in 0 degree temps without any problems.

There is no denying that the extra buckles and adjustability add to its weight, but the fit is great and the worry-free buckles are fantastic.
Petzl Calidris Harness Review
This harness is by far the best harness I've ever owned. I got this when I worked at a summer camp belaying teens all day. I figured the padding would work out great for spending 10 hours in it and it exceeded my expectations on all levels. I'm a bit rougher on my gear than most too and the harness looks as new as the day I bought it. I would highly recommend this to anyone. The only thing I would tell people to note is that you should be sure on what size you need. I'm a pretty big guy and have a 42 inch waist and I really have to cinch down the straps. If I lose any wait I'll have to get the smaller version. Just be careful to check sizing first.