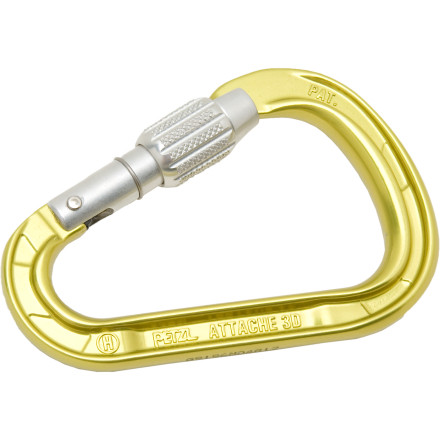 Detail Images
Petzl took the original mini-HMS carabiner, removed excess material, maximized the strength, and came up with the Attache 3D Screw-Lock Carabiner. The Attache weighs a modest 55g (37% lighter and 15% thinner) so your alpine rack doesn't feel like a ton of bricks, and the 3D shape retains this carabiner's versatility so you can take it from high peaks and big-wall climbs to sport routes. The keylock system and fluid gate design mean less catch on slings and webbing.
Best ultralight full size locker
Familiarity:

I've put it through the wringer
'nuff said. Pair it with a GriGri2 for a lightweight heavyweight combo.
my all time fave locker
Familiarity:

I've put it through the wringer
This thing is like a fine Italian sportscar.

- thoughtful machining on the screwlock sleeve makes unlocking it easier if it's locked up tight

- helpful red indicator when unlocked, which especially stands out against the yellow color of the body

- keylock nose, which I wish was standard on all biners

- feels super light weight
my fav. locker
Familiarity:

I've used it several times
super light, feels super solid, cool red indicator to let you know if you're not locked.
excellent but pricey
Familiarity:

I've used it several times
I love how resistant and light this biner is. It is very compact but spacious. It is very light and feels as if it will break, but trust me, it is resistant. Minus one star because it is way too pricey.
This carabiner is super light, lighter than most other lockers I have ever seen before. it has a very unique shape about it. I would mainly use it for anchors, not belaying. I like the fact that i can see whether it is locked or not based on the red coloring near the screwlock. Definitely not the strongest or burliest, but a Great carabiner.
Sport Route Perfection
Familiarity:

I've used it several times
After looking for locking carabiners that were both lightweight and fit through the chains on a sport route, the Petzl Attache 3D fit perfectly. The only problem I have found with this carabiner in particular is the screwgate mechanism to be slightly loose when locking and unlocking the carabiner. Overall, this carabiner works perfectly for finishing a route and having to anchor at the end.
Not terrible but not perfect...
Familiarity:

I've put it through the wringer
This thing has a tendency to unlock REALLY easily making it more dangerous than other lockers on the market. I prefer something with a tighter screw gate and this is rather expensive in the scheme of things. Also, it is on the bigger side making it clumsy at times.



I'll give it 3 stars because Petzl is one of my most favored companies but that's pretty much the only reason.
From an engineering standpoint, these things are sweet. I-beam stock, reduced weight on the gate and lock, and they look sweet. However, in practice, i find myself reaching for other biners for belay or all purpose use. For belay, it's not as smooth as a regular Attache, and doesn't feel as solid. I mean sure, it's strong enough, and I trust it, but there's something really comforting about the thick, round stock of an Attache on belay. There's a noticeably greater amount of rope drag over the I-beam cross section, and it's just not as fluid to use. If you're a serious weight weenie, maybe it's worth it, but I'd rather pay the weight penalty and have a smooth operating biner that feels beefier. It's durable though, and the gate and screw are ridiculously smooth.



Oh yeah, and it's quite a bit more expensive.
This thing is exactly like they say, super light, functional and stylish but WATCH the screw gate, it comes undone easily.
Is this the biner for you?
Think about what you will use this biner for. My other lockers are large (Petzl William) so I wanted some smaller, lighter ones for trad and sport.

Like: High quality, light weight, red stripe, easy to handle.

Don't like: The threads are too smooth (easy to flick open/close accidentally), Not round (adds too much friction when using with a belay device in "guide mode").

Overall, they are OK for my needs, but I don't love 'em. I wouldn't carry just these biners.
A few issues, but great otherwise
I've had two serious issues with this carabiner. First, it seems to try to get cross-loaded more often than other 'biners. That lead me to abandon its use as my belay 'biner. Second, the screw action is too smooth. I know that sounds crazy, and it feels great, but it unscrews if you breathe on it. I worry about the rope spinning it open. Other than those two not insignificant issues, it's a really great locker. I like the light weight, the smooth nose, and the "red is dead" stripe under the locking collar. I just wish it wasn't so prone to cross-loading because it's really minimized my use of it, which sucks for such an expensive 'biner.
Great locking biner!
Gender:

Female

Familiarity:

I've put it through the wringer
I love this biner because it's light and strong. If the biner is not locked, you can see a big red stripe, so it's safer than others without having to use an auto-locker. 'Red, you're dead! White, alright!' Climb on!
The (second) Best Belay Biner out There!
Gender:

Male

Familiarity:

I've put it through the wringer
Petzl always makes very high quality gear (ie the Diamond Freewire draws versus Petzl Spirits), and they haven't disappointed me with the Attache caribiners. This version is very "smart" because of the red line showing when the caribiner isn't locked. Also, when it is locked, the gate doesn't wiggle a bit. The low weight is also a plus. Overall, this biner deserves six stars, in my opinion.
Excellent lightweight belay biner with some caveats
This is a really innovative biner by Petzl. It gives us a really lightweight Munter-compatible locker with a nice smooth surface for the rope to run on a standard sport/toprope belay.

But it isn't perfect. It tends to turn around very easily, meaning you'll either crossroad it or run the rope through the skinny end, with lots of unwanted friction. This is easy to recognize and address as it happens. What's harder to address is the tendency for the biner to lay "sideways" against an alpine belay device while belaying up a second, creating a ton of friction, a lot of stress on your anchor, and a general PITA. Add in some rope drag from a wandering route, and you've got yourself a recipe for some very sore hands.

But overall this biner is a huge improvement. Lightweight is the only way to go.
Lightest carabiner I have used to date with all the function of the heavier versions. I like the red safety line in the locking device which makes for easy safety checks
I love the 3d as a mother biner on multipitch anchors. I find that the smooth/rounded bar stock on the original attache feeds better when belaying a second directly off the anchor. The 3d is a bit shifty and you have to be sure to lock the screwgate with authority, but for the awesome weight to size ratio, I'm more than willing to compromise.

Side note - I wouldn't recommend top roping off this carabiner as it will likely wear the alloy down more quickly than a heavier carabiner.
The good: Got this for my main belay to fit with smaller hole on GriGri. Instantly attractive, lightweight, feels great. Locking mechanism smooth like butter and never jams even after catching a hard fall. Really nice design.

The bad: Slippery little sucker sometimes likes to move around into cross-loaded position

The ugly: Screwgate is so smooth acting that simply a brushing motion of taking up rope for belay can unscrew it if you aren't careful! Have looked down numerous times to see my biner has become totally unlocked - not cool!

Solution: its great if you always remember to keep the gate on the opposite side of your belay hand.
Too bad you've gotta pay if you want quality. This is a pretty light biner, haven't had it snag yet, realllllly smooth locking system and overall just easy to use. I wish I would have more dollars to spend on them though.
Great looking biner. it wont always stay put when using it as a belay biner so now I use it on my PAS. easily fits into a bolt and the keylock nose keeps it snag-free. pricey though
Well, what is not to like? Lighter, just as safe and really sexy looking. Performs identically to other locking biners, so why not lighten up your load and replace all of the lockers in your kit with these. One small downer is the locking mechanism is REALLY slick meaning it unscrews quite easily so just look for the red paint and rescrew it as you need to.