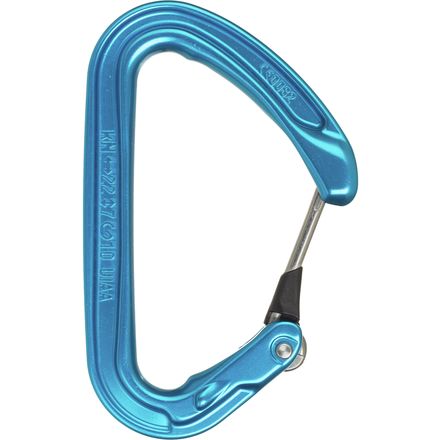 Detail Images
Best Carabiner on the Market
Familiarity:

I've put it through the wringer
Alright so if you are just sport climbing, this carabiner is probably overkill. That being said, these carabiners, although on the more expensive side, are worth every penny. As they say, you get what you pay for. The construction is incredible, with the straight keylock nose, you won't have trouble hooking or unhooking these carabiners, but the hole allows dirt, snow, and grime to be cleared away easily. They come in at 28 grams (21 grams lighter than the Petzl Spirit) so they feel light as a feather even when you are fully racked up with draws made with these bad boys. The MonoFil Keylock wiregate system makes clipping incredibly easy with a basic design that has the weight of a wiregate, without the chance of cords or hanging pieces getting caught in the gate itself.

Here are a few more technical details on the carabiner:
Gate type: Wire
Gate open clearance: 23 millimeters
Strength major axis closed: 20 kilonewtons
Strength major axis open: 9 kilonewtons
Strength minor axis: 7 kilonewtons
Weight: 28 grams
Standard non locking carabiner
They get the job done
My favorite carabiner
Familiarity:

I've put it through the wringer
To me this is the perfect non-locking carabiner. Easy to open, easy to clip, and super light. $4 or $5 more expensive than BD neutrinos (my go to wire gate) but worth that extra expense if you can afford it. I can't yet, but I love the two that I own and use them for everything. Petzl is quickly becoming my favorite climbing brand - the quality shows in their products.
PETZL - Commitment to Quality
Excellent
Familiarity:

I've put it through the wringer
The action is very clean super light and I still trust it when it's below my feet
Petzl Ange L, a good, strong carabiner
Familiarity:

I've used it several times
These Petzl Carabiners are really sick! I was put off by the single wire gate design, but they are very safe and a bomber carabiner! My buddy is the owner, but we have used them on multiple big walls and routes. They are great as a loose biner for aid climbing, used on runners, and as a quickdraw. The nose is narrow, which makes cleaning while weighting a hanger a much easier task! The Ange S Ultra-Lite Wire design cut 6 grams off the Ange L Lite Wire, making it one pure ounce. The design of the Angle S has lost up to 2kN in strength and 3mm of gate opening compared to the Angle L. Here are some more detailed specs taken from Petzl's website.



Specifications

Material(s) : aluminum

Capacity: 21 mm

Certification(s) : CE EN 12275 type B, UIAA

Made in: FR

Guarantee: 3 years



Color(s): Blue

Reference(s): M59 B

Weight: 34 g

Major axis strength: 22 kN

Open gate strength: 10 kN

Minor axis strength: 7 kN

Gate opening: 26 mm



Color(s): Dark Gray

Reference(s): M59 G

Weight: 34 g

Major axis strength: 22 kN

Open gate strength: 10 kN

Minor axis strength: 7 kN

Gate opening: 26 mm
I guess I'll be the first hater...
Familiarity:

I've used it once or twice and have initial impressions
I'm glad I only got one of these carabiners because I really don't like it. The gate is super small; I struggled to clip my 9.8mm through it. The gate is unique, and although I'm sure it's secure, it feels super wobbly. It isn't even the lightest carabiner out there.
Light, Ergonomic, Expensive
Familiarity:

I've put it through the wringer
These are nice and light and handle extremely well. Thicker gloves were surprisingly not very awkward (to me anyways) with the short, single wire gate. They also have a higher than most open gate strength rating. The shape is different than anything I have used before and they have quickly become my favorite carabiner.



However, they are not cheap. At almost $12/biner, there are options that are half as cheap and better than half as good. If you have the money, I highly recommend these if you want/can afford these, however, I'm not sure they are worth their $12 price tag.
Smart Idea!
Gender:

Male

Familiarity:

I've put it through the wringer
This is an awesome biner! The single wire gate isn't like a regular non-wire biner, but it's not like a wire, either. It's uber-light, as light as any wire gate biner I've every used, and it doesn't snag while cleaning. Although the Black Diamond Hoodwire is designed not to snag, it weighs more than the Ange, and it's a wire gate biner. I highly recommend this for anything from quickdraws for sport, trad, or ice, to a biner for racking your cams, to a biner to hold your shoes or slings while you climb.
Light, smooth and handles well
A really great option for lightweight and easy clipping biner. The self cleaning gate/nose is awesome for ice and alpine climbing. Notchless style nose is also amazing for cleaning on steep sport routes. Also the style of gate means no mystery unclipping as it is hooded/protected. Overall I think this is one of the safest, slickest biners out there that you can buy.