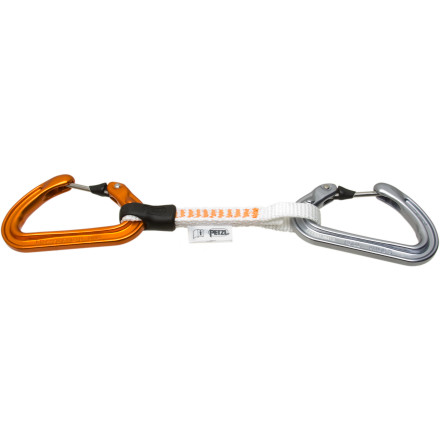 Community Images
Amazing
Familiarity:

I've used it several times
I love these! they are so light weight compared to black diamond pack of five! before i bought these i wore them around in the store and then traded them for the black diamond. Quick and easy for sending. Easy to clip in, doesn't stick. I used them in the gym before outside and it was just as easy to clip in. I would recommend this to anyone!
My favorite quickdraws.....
Familiarity:

I've put it through the wringer
I've been climbing for a couple of years now and ever since the first time I used the Petzl Ange Finesse quickdraw, I've been drawn to their smooth crisp gate action. These not only look higher quality, but they feel it as well when you're clipping your rope on anchor. Petzl makes extremely high quality products and this is no different. The 17cm quickdraw has a blue ange along with a silver ange. I believe the smaller 10cm quickdraw is the one pictured and has the orange/silver combo.




petzl, like many companies, was trying to create a smoother cleaaning wire gate biner. their design acomplishes that, but the single wire gate doens't feel good when clipping. not to mention the gate opening is small. i still prefer double wire gates for the rope and a solid gate for the wall. if i don't send, it won't be because my draws were too heavy.
Petzl Ange Finesse Quickdraw
perfect quickdraw i got the small/large biner... and it is the best setup because the small (is really small) an the large is perfect.. but because the small goes to the bolt i have no problem with it... and they are light really light! durability i dont know havent used them a lot but they seem fine... the gate is smooth no problem uncliping from the bolt or the rope.... just buy it!!! they are expensive but really good i use them for sport climbing... single pitch...
Amazing lightweight draw for trad
I got the small/large draws to use on longer trad and alpine routes. Used them the first time this past weekend on two trad and two sport routes. They're now tied as my favorite with the Wild Country Heliums...
Hi there, could somebody tell me if the...
Hi there, could somebody tell me if the pack Small/Large Carabiner 17 cms is the one with the blue carabiner???
There is any chance to get the pack Large/large Carabiner 17 cms here in Backcountry???
Best Answer
Yes, the blue carabiner is the large one.

If you select the "small/large/17cm" option you wil get a small gray top biner, a large blue bottom biner on the 17cm sling
Excellent light weight fast clipping draws!
These draws totally rock: super light weight (I don't even notice when I'm fully loaded with a set of 12 of these babies!!) and extremely fast to clip!! The keylock nose on these makes cleaning overhanging routes a breeze. I went with the 17cm version with one S and one L carabiner and am glad that I did (my large fingers would have a hard time clipping rope in a small biner. After a month of heavy use the only complaint that I have is that the top biner spins around too easily when racked on my harness (it stays put once hanging on a bolt) - I prefer to rack my draws with the gates facing out (just easier for me to get them off the gear loop that way) and I'll find myself fumbling one mid-route because the top biner has spun to face gate inward ... but, that's easy enough to fix and that's the only negative I've found with these draws.