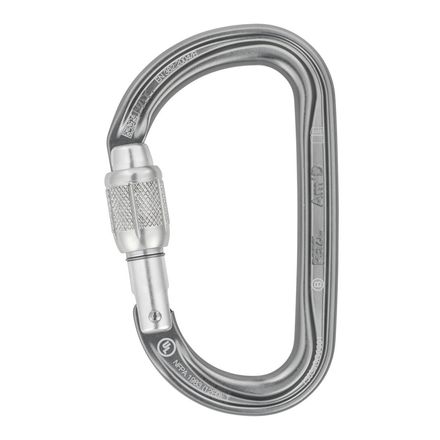 Community Images
Description
Back-up.
Redundancy is the name of the game when it comes to climbing anchors, so let the Petzl Am'D Locking Carabiner back you up when it matters most. The Petzl Am'D comes in three different lock modes (Screw-Lock, Ball-Lock, Triact-Lock) to fit your needs. It has a keylock gate to ensure it won't snag on your gear when you're building an anchor.
Very solid locking carabiner. The action is easy, and I appreciate the fact that there is one more redundant safety feature with the red band that shows whenever the biner is unlocked.
descent carabiner
Familiarity:

I've used it several times
Worthy for this price
Pairs well with your ATC device.
Familiarity:

I've used it several times
This product does great when paired with your ATC, but it is hard to unlock and your hands will stumble around with it if you are not used to it.
Nope try again.
Familiarity:

I've used it several times
There are other self lockers that you can spend your money on. I would not recommend this as a locker to use on a climb. The only thing that I would use this for is maybe with your ATC device but you might stuffle getting if off of you. It's really difficult to unlock in general. I wouldn't even use these for my keys. If you need recommendations on a locking biner look at the screw gate version of this or ANY other Petzl biner that they have.
Works well after you figure it out
Familiarity:

I've put it through the wringer
The tri-act lock is great and I have no trouble opening it with one hand, the only annoyance is sharing it with other people who always struggle to open it. I spent 20 minutes watching TV and fiddling with it and got the motion down, and I don't have particularly large hands or anything.



I've used this carabiner as my main belay device biner for a couple years in dust and sand and dirt and the action still feels plenty smooth.
Sand gets stuck
Familiarity:

I've put it through the wringer
This is a cool biner if you are just climbing in the gym and aren't going to get any grit in it. Not as easy as it looks to clip. You have to press up, twist and then open the gate.

Personally I prefer screw gates.
From Top Left to Bottom Right:



Mammut Wall Micro Locking - MAM004G

Mad Rock Ultralight Wire Gate - MRC0074

Trango Phase Carabiner - TRG0063

CAMP USA Photon Wire Straight Gate - CMP3296

Black Diamond Neutrino - BLD0851

Black Diamond Mini Pearabiner Screwgate - BLD0729

Omega Pacific Five-O Screw Lock - OGP0029

Petzl Am'D Locking - PTZ0129

Trango React Screwlock - TRG000K



Jared D.

Expert Gearhead

800.409.4502 ext 4055

jdowns@backcountry.com
What is the length and width of the Petzl AM'D Locking Carabiner?
All of the carabiners minus the Ball lock has an opening of 21 mm. The ball lock is 22 mm opening. Petzl does not list the length and width of the actual carabiner. Lemme see if I can call a friend who works over there and might have that info.
Best Answer
Length is 4 5/16", widest part including gate is 2 11/16".
Blah. Not a fan (Triact-Lock)
Familiarity:

I've put it through the wringer
So I'll start by saying this is a nice locking biner and I have two of the Triact-lockers. But, woof. Such an incredible pain to use. Other thing I use them for now is when rappelling and have a prusik.



Other than that, I am not a fan.



The material is great. The product is durable. The the motion to open the gate on this biner is next to impossible to do single handed. I've done it with one hand, but it's not easy nor consistent.



Maybe it's time to try one of the other variants?



Jared D.

Gearhead

800.409.4502 ext 4055
My first and last ball lock carabiner
Familiarity:

I've used it several times
I have started to use Petzl Am'D Ball Lock Carabiner couple of years before and decided that one ball lock was more than enough. Because I have experienced difficulties to operate it in winter condition. I guess, if you would use it for some "long-termed" fixed points, it might be good.
Screw lock
Familiarity:

I've used it several times
Screw lock, screw failing, this thing is built to last.



It's sleek and good looking. It's also a little larger than I expected and larger than my BD positron carabiner, that can be a plus and negative in some cases.



It's also a little bit heavier than similar models/carabiners (73.7grams) but i'm not one to worry about weight too much.
I have no doubt this is a great biner. Just DON"T get it in the tri-act lock mode unless you only climb in the gym. I used this only twice now and it's frustrating as #@$% to work with compared to others. I like to be able to open it with one hand, as I might be gripping my axe in the other. And it's nearly impossible for this.
its ok
Familiarity:

I've put it through the wringer
Bought this as one of my first locking biners. Its a good biner, but have been getting the magnetron ones now and love those.
Finally it's okay to be a lefty!
Gender:

Male

Familiarity:

I've put it through the wringer
I recieved one of these as a gift 2 years ago, and haven't bought a different kind of locker since. I have both the classic anodized model, and the stealth matte black also. The double action is really nice, and the action of the gate/ lock mechanism feels great, and has an audible click when it locks. This is one of my favorite pieces of gear. As a lefty I have a lot of trouble with omega jakes, and some of the other auto lockers on the market. I can operate the am'd one handed with a little pressure and my thumb. I use these on the ends of my tree climbing lanyards, on the end of my personal anchor system, and anywhere else I can put one!
Simple
Familiarity:

I've put it through the wringer
I've been using this biner for almost 2 years, it's simple and gets the job done. No complaints whatsoever!
Workhorse Locking Biner
Familiarity:

I've put it through the wringer
First off I'll just say that I prefer the Peztl biners to any other brand I have tried to date. The screw action on the Am'D is not as good as is on my Williams or Lockers, but it is significantly better than the BD screw locks I have tried. Also, red unlocked indicator is a life saver on a screw gate locker.

This is Petzl's most affordable locking biner and has a nice high volume D shape. I think this workhorse will serve you best in anchor building/management or setting up a top rope. If you're looking for a belay/rap specific biner, I would check out the Attache.