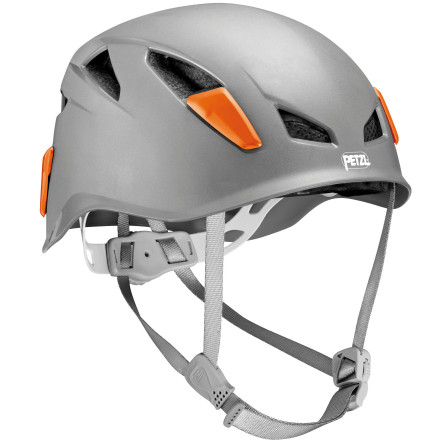 Community Images
Strap on the Petzl Altios Helmet for everything from crumbly sport routes to all-day alpine trad outings. This adjustable helmet features a mesh panel and expanded polystyrene liner to give it a weightless feeling. The space created by the line improves ventilation, and the durable ABS shell protects your melon from trundled or loose rock. Dial in the perfect fit with the adjustable chin strap and adjustment wheel, and attach your Petzl Tikka or Zipka with the four headlamp clips.
Share your thoughts
What do you think of the
Petzl
Altios Climbing Helmet- 2010
? Share a...
This helmet is great. I have a big head (7 1/2") and it fits fine even with a beanie underneath. I prefer to just wear a balaclava under to reduce bulk and for heat venting. Used it for sport, trad, and alpine climbing, though it doesnt have the plugs for the vents, like the Ecrin Roc does to keep rain/ice out, but that never really helped keep me dry in my Ecrin Roc. Headlamps clips work great, never been hit with anything wearing it, but if its Petzl, you know its well tested.
I have a HUGE melon. I bought an Ecrin...
I have a HUGE melon. I bought an Ecrin Rock on ebay, but it is just too small. How's the sizing on this bucket?
I have a 24" head and have used this helmet for a year or so now. It really doesn't fit with the mesh in - The mesh is held with little pop-out things that, well, pop out. With the mesh out it still fits, a bit better than the Elios. However it rides pretty darn high - There's a good inch or more between my ear and the helmet. I'll be looking to try on a size large BD Tracer in the future...
Thanks! I got a Black Diamond halfdome. It also sit high, but it's comfy, and just the right amount of snug. Had it on all day yesterday, no problems, or discomfort. Thought the Grivel Salamander XL might be good, but couldn't find one to try on first.
I wear a 7-3/4 size hat, which is "extra-extra-large" in most hat sizing catalogs. I bought a size2 Altios and it fits well enough. It does ride high due to the suspension of the helmet, but it's comfy and fits (barely) under the hood of my TNF shell when it's blowing.
I wish I hadn't bought it!
I purchased this helmet without having tried it on first (mistake number 1!). The fit is not comfortable for me at all. It places a lot of pressure on the occiput at the back of my head with the rear support. When I tighten it, it pulls my hair. The straps are difficult to adjust over the ears. Overall I'm very disappointed in it. I'll be looking for a new helmet and hoping that I can sell it to someone whose head it fits better than my own....
Elios or Altios? why one over the other?
Elios or Altios? why one over the other?
If your using it for climbing, get the lightest helmet you can. Out of these two the Elios is lighter. I climb with the Petzl Meteor III. The new Wild Country Rock Lite looks pretty sweet. It's super light (a few grams heavier than the meteor) and is well built. You can buy a plastic cover that screws onto the top for alpine climbing. It adds another layer of protection for those sharp ice blocks.
I can't speak for the Alitos, but I love the Elios. Its cheap, light, and protects your brain! I didn't see any reason to spend more money to get the Alitos, and now I'm glad I didn't.
I wanted a nice helmet for guiding and I got it. Not the coolest looking helmet on the planet, but great contruction and nice fitting adjustments. Way better than the meteor in my opinion.
found a keeper after 4 helmet tries
I have a rather small sized head and this one has a thin enough profile it doesn't make me feel like I have a mushroom op top of my head (size 1 helmet). The suspension built into it is top notch, super adjustable and very very comfy for a climbing helmet.
Light,comfortable,strong and user friendly. You can relay on it!
I use this helmet year round and it functions great everywhere from rock in the summer, ice in the winter, and skiing in the spring.
Does anyone know what the fall rating is?...
Does anyone know what the fall rating is? I mean how many times can this helmet take a rock to the dome?
Best Answer
These light weight helmets, like the Altios and Elios, are one shot helmets. Petzl outlines several "retirement" scenarios on their website, but essentially, check your helmet after any impact. If there is any obvious damage or the impact was very significant, retire the helmet. I've had an Elios for 4 years and taken several good wallops from falling ice while ice climbing. The helmet took the blows like a champ and I don't hesitate to keep using it. If I ever took a substantial hit, or if the helmet reaches 10 years old, I will retire the helmet. These helmets aren't like the heavy artillery helmets that people used to climb in... they're more like bike helmets... one "significant" hit and they should be retired... no one wants to define "significant" because no one wants to be liable to an exact definition of when to retire equipment.
The Altios is very light and holds up really well to a brutal beating. for those of us who do fall. took a little to adjust the straps just right but once there you will not even know you are wearing a helmet.
Lightweight, can hardly tell its there.
When wearing this helmet you can hardly tell it is there. While wearing your vision is not obstructed. It has a large adjustable range and I recommend over the elios, it is worth the few extra dollars.
Can anyone give some comparison on the fit...
Can anyone give some comparison on the fit and depth (that is, how far down it goes on your noggin) of this helmet (Altios) versus the petzl Elios?Also, is it constructed to give more side protection than the Elios?
It has a very similar fit to the elios, but has an insert that goes in above your head which can take up space and add some suspension, but you can just pull it out and give the helmet more depth. It has very similar protection to the elios. I would say it is overall just a little bit nicer and more hi tech.
I have only used this helmet a couple times but everything on it is great. The helmet breaths well in hot weather and if you want a sturdy helmet that you can throw around in your car and bag then this is the one for you. I do have a little problem with it sliding down too far on my forehead but will have to mess around with the adjustments to see if it will fix the problem.
My husbands head measures 22 inches should...
My husbands head measures 22 inches should I stick to 1 on the helmets or go to 2?
personally, I would go with the 2. If he decides to climb in the cold, it will be able to adjust larger so he could still wear a beanie under the helmet. But it will also adjust smaller if he decides to shave his head for the summer.