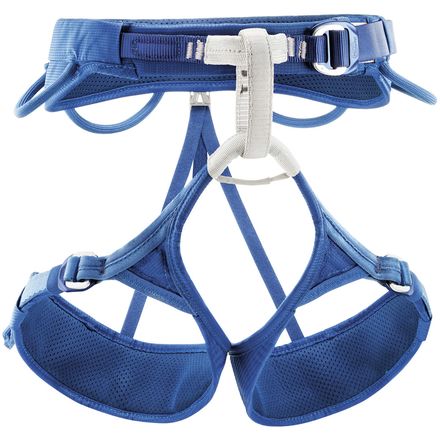 Description
Sporty summers and icy winters.
From rock to ice, Petzl's Adjama Harness is the versatile choice for climbers who ascend year-round. Its EndoFrame design allows a freedom of movement as well as excellent weight distribution and just enough cush for hanging belays. You won't feel compression points, chafing, or irritability while sussing out the beta after each whipper.
DoubleBack Lite buckles offer quick and easy adjustability at the waist and legs to accommodate winter or summer gear. Petzl's harnesses come with red indicators at the high-tenacity tie-in points that let you know when it's time to retire them. Four solid gear loops, CariTools for ice tools, and a rear haul loop that also doubles as a chalk bag hanger help you send any wall that comes your way.
EndoFrame design
DoubleBack Lite buckles
Adjustable leg loops
High-tenacity tie-in points with indicator
Four gear loops, Two CariTool tool holders
Rear haul loop doubles as chalk bag hanger
Detachable leg loop elastics
The cadillac of harnesses
Gender:

Male

Familiarity:

I've put it through the wringer
There's just some gear that you naturally reach out for in a cupboard full of similar items. This harness is one of those. The Adjama provides luxurious comfort, great fit, freedom of movement without fuss. The material and construction is top notch to the point of being that rare find worthy of repeat buys.
Great for Women as well
Familiarity:

I've used it once or twice and have initial impressions
This is my first harness and I absolutely love it. I tried on the Luna (Petzl's female version of this harness) and it just didn't fit as well. I'm 5'0", 135 lbs and this harness is perfect.
Great harness
Familiarity:

I've put it through the wringer
I moved from a BD Momentum harness to this and will never go back. The extra padding and leg loop width make a huge difference when taking big whips or hanging for a while on a hard route. I've sue this for both rock and ice and can recommend it for both.
Great harness
Familiarity:

I've used it several times
This harness is very comfortable and light, but maybe I am skinny or something is wrong with size chart. Waist is ok, but legs are loose.
Pleasantly surprised
Familiarity:

I've used it once or twice and have initial impressions
I used this at a climb night, and I was pleasantly surprised on how light and comfortable it was, especially at this price point. The waist fit incredibly well, and I never felt that any of the buckles of straps were going to slip when put under pressure. Overall, I would recommend it, but I also would like to use it a little bit more.
Nice harness
Familiarity:

I've used it once or twice and have initial impressions
This harness works really well. Easy to get on and adjust. The extra places to clip stuff really come in handy.
Solid and classic
Familiarity:

I've put it through the wringer
I've had the Adjama through its multiple iterations over the last decade. I've been through 3 different ones now (about 1 per 3 years) and have used most of the styles and models. This harness is a mainstay of the Petzl line because its a jack of all trades - excelling in sport, trad, mountaineering, and ice arenas. Its not too bulky for high-end bolted climbs where weight really matters, but still holds enough features for equipment laden trad multi-pitch outings. There's a few reasons I keep coming back to this harness after so many years: 1) It fits me really well. This is variable for all people, so try on and preferably hang in the harness if at all possible. For reference, I'm 6', 160lbs, tall and slim. 2) I'm an all around climber and this harness excels in all styles of climbing.

A few things to note: As with all harnesses, this one does get uncomfortable after hanging in it all day. If you're a setter at a gym or into long aid routes, look for something with more padding and a wider waist belt. Having said that, I've used it on 2 different bigwalls and many hours setting with little suffering. Secondly, it seems that Petzl adjusted their sizing on this model. I usually wear a small in Petzl harnesses but this style has me in a medium, which is closer to other manufactures sizing.
Had mine for years now...
Gender:

Male

Familiarity:

I've put it through the wringer
This harness has been great while "learning the ropes," so to speak. It's simply time I graduate to a better harness, so I bought the "Aquila," thanks to some helpful advice from the peeps at backcountry.com!
(THANKS GEOFF CONNER and TEAM!!!)

I simply out climbed the "Adjama" but that isn't to say it's a terrible harness. Anything but terrible in fact.

The sizing at Petzl is sporadic, however, so buyers beware. I highly recommend speaking to a gear expert like Geoff before ordering due to this fact. For example, I wore a Large in the Aquila and after losing some weight (approximately 50 lbs), it became saggy and bulky when climbing with a full rack or draws. But the Petzl Aquila in large is nice and snug, so you see there's some draft when it comes to differing styles from Petzl harnesses. Pay attention to waistline because it changes from each model to the next, so even as a Petzl user one can't trust judgment to experience alone...

I love the blue on white color scheme in recent years. Mine was all neon blue in the older model Adjama from a few years ago. The colors they choose at Petzl are ALL very "eye catching" to say the least...

My Adjama also shows very little signs of wear after so much use over the years. I climb a quite a bit; a few times a week at least and it held up, so that should give you an idea of the quality product that Petzl produces and longevity. Basically, the money is well spent for high quality harnesses IMO.

If you're wanting a mid-level harness to get you started the right way, this is it! Solid product that will hold up to abuse from a new user. Petzl is the best brand on the market when it comes to harnesses, IMO.

I'll miss it sometimes. Actually, I probably won't miss it because my new Aquila is AMAZING!!!!!!! If you're looking for a high end model then look to the Hirundos and Aquila!

=0)

Great product!
PETZL - Sama / Selena / Adjama / Luna
PETZL - Commitment to Quality
Looks like this one is new for this year. Whats the difference between this one and the adjama 2 grey harness
Hey Taylor B.,



To my knowledge, these two harnesses are actually the same (with the exception of the color scheme).



Feel free to hit me up with any other questions you may have.



Ben

1-800-409-4502 ext. 4767

brabinowitz@backcountry.com
There are some slight differences.. On the points of adjustment (thighs & hips) there are some more slots on this model to run the end you pull through to get it out of the way. Additionally, the the stretch material on the back of the leg loops is adjustable.