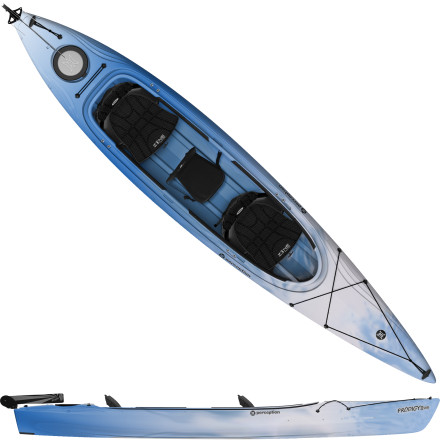 Perception Prodigy II 14.5 Tandem Kayak w/ Rudder - 2014 - Discontinued
View Larger Image
Detail Images
Outfitted with luxuriously comfortable seating for two and a rudder, the Perception Prodigy II 14.5 Tandem Kayak lets you share a relaxing morning paddle with whomever you choose. A sleek deck design has a hatch for storage, adjustable seating, and a roomy cockpit. Molded handles make it a breeze to carry the Prodigy, and when you hit the water, you'll glide with speed, thanks to the efficient and stable hull shape that cuts through the water quietly so you can enjoy a little up-close wildlife viewing.
A sweeping rocker shape lifts the bow and gives the hull the ability to move through the water quietly and quickly while remaining maneuverable
Rudder kit increases your ability to steer the Prodigy and controls attach easily to the foot brace rails
DLX seating provides adjustable support in the cockpit and thigh padding has multiple adjustable positions
Bow and stern cockpits both include adjustable and removable foot braces for added cockpit comfort
A 10-inch rear storage hatch seals with a rubber cover and uses a bulkhead to separate the storage from the hull interior
Skid plate on the bottom of the hull reduces wear and tear when loading, unloading, or pulling your boat from the water
Share your thoughts
What do you think of the
Perception
Prodigy II 14.5 Tandem Kayak w/ Rudder - 2014 - Discontinued
? Share a...
It seems that the rudder is set up to be...
It seems that the rudder is set up to be used only for solo. The pedals are way forward but not forward enough for two people to ride.
Best Answer
Rudders are always operated by the person seated in the rear of the kayak. So the pedals are right where the feet of the person in the back should be resting- thus allowing them to control the steering. In tandem kayaks set up like this, the person in the front is often sitting between the feet of the person in the back. Hope that helps!
Thanks Josh but that isn't the way this boat is set up,hence my question. Rear seat not adjustable fore and aft. No space along side of the fwd seat for legs. With the fwd seat adjusted to the middle of the cockpit, the rudder pedals adjusted all the way fwd I can make it work for fwd steering.

it looks like there is a third seat in the...
it looks like there is a third seat in the middle, is there?
Best Answer
Hey Beth,

Yes, the seat in the middle is a removable padded kid's seat.
This is our first kayak so keep that little fact in mind as you read the rest of this review.

My wife and I have had this little gem for a little over a month now. It has probably been in the water a total of 20 times now in 4 different lakes. Sometimes in tandem, sometimes in single config. I have even fished from it and taken one of our four rescue dogs along.

This kayak is a great starter system for a married couple. If you have a little patience when first learning your partners cadence, you will paddle far and fast and never miss a beat. If you take it out solo, you will be just as pleased as it is VERY easy to maneuver.

Now, for the single down side. The rear dry hatch wall. Like has been said above, I have had this out on the water about 20 times. The sealed partition that is in the aft of the boat meant to hold and keep water out of the dry bay has already come unsealed and is letting water in. I only had some stuff in dry containers and the rest got soaked (stupid me) including the key fob and my fishing license. Now, it is an easy fix, just reseal it. But, I feel that it should not have happened yet.

Overall, this is a great kayak. It will give us many years of use and has introduced us to a great sport!! I am sure that you and your family will enjoy this as much as we have!
Would like you to describe the skid...
Would like you to describe the skid plate.
If you are referring to the drag plate at the rear of the craft, it is tough! It is an EXTREMELY hard piece of plastic that is bolted to the kayak. I am not sure what the type of material is, but is much harder than the hull and can take a ton of dragging!!
IS this kayak well suited for one as well...
IS this kayak well suited for one as well as tandem?
John, you can use a tandem as a single but it is a little harder to maneuver and much harder to transport because of the heavier weight, almost 75 pounds.
Best Answer
I use it as a single more often than as a tandem. Sure, it ways a hefty 73 lbs, but, after lifting it on top of our Subaru Impreza OBS (2/10ths of an inch taller than the stock height, not much but it gives you a base height) several times, it does get much easier. Think, lifting weights. We have a Yakima Bow Down Kayak rack which sits pretty high on top of factory bars. Probably another 6" up but it is nothing a mostly healthy person can't handle. No offense to the ladies, but if you are not into lifting weights, strength training, or are all around fit, it may be a tad more difficult for you. But, with some ingenuity, and a fulcrum point above the car, you as well can get it onto your roof rack.