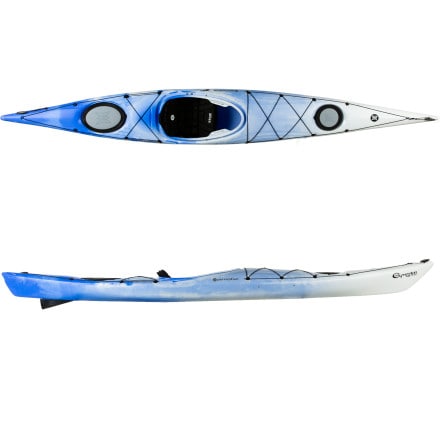 Colors

Detail Images
Description
Comfort and performance—anywhere, anytime.
During the week, the Perception Expression 15.0 Kayak is your after-work tension-reliever; on the weekend, it turns into a long-range adventure vehicle. An up-swept bow and peaked deck shed water quickly for more speed and performance, while the progressive rocker offers maneuverable handling in tight quarters. At the same time, it remains stable and predictable when loaded down with gear so you can explore seas, rivers and creeks with security.
Zone Deluxe seating system, adjustable padded thigh braces, and Slidelock foot braces offer customizable support and comfort for longer trips
TruTrak Skeg system uses a retractable skeg so you can control how your boat tracks: looser when up, straight-as-an-arrow when down
Bow and stern bulkheads and plenty of bungee deck rigging give you ample storage space for a weekend camping trip
Soft Touch molded handles with a rubber underside make it easy to get a grip when you're loading or unloading
SlideLock foot braces accommodate varying leg lengths easily by sliding along a track and locking into place
Rudder capable (not included)
Share your thoughts
What do you think of the
Perception
Expression 15.0 Kayak - 2014 - Discontinued
? Share a...
Posted on
Additional Quality control issues
07/24/2012 Update to my initial review: Its been approximately three weeks since I replaced the seat back with the recommended backband. Magically, I can get in and out of the boat with zero difficulty. Additionally, no problems rolling it as well. However two new problems have emerged. When I went to replace the seat back I took out the entire seat. On the seat bottom I found that the left seat foam support was perpendicular to the right support, their supposed to be parallel. Who ever installed the seat initially did not wait for the glue to dry and it slid completely out of place. This would explain why I felt like my Left glute cheek was lower than my right. So I fixed that. Now for the next problem, both the stern and bow bulkhead walls are leaking like crazy. Perception used some kind of tape, and it's pulling up on both sides of each wall. I contacted Perception and they said I needed to address it with the retailer (Mountain Man Outdoor Sports, in Old Forge, New York) I bought it from. I contacted them and they stated I needed to send pictures, etc..., which I did. The person I contacted at Mountain Man (Clark), checked on another Expression they had in stock, and he indicated the taping was peeling off their boat walls as well. It's been over a week since I e-mailed them and no reply. I will be buying three more kayaks for my family members over the next couple of years, I can assure Perception, they won't be in the running for my next yaks or recommendation to my friends. As for Gromulus's comment about "my bad" on the seat back. The seat back is advertised as "Adjustable", which it is, it just doesn't lower.
Posted on
Nice boat with one major exception
I bought this boat 2 weeks ago and had put approximately 25 miles on the Black River in Northern New York without problem. My initial impression was this was an excellent boat. However, yesterday I took the boat out to Southwicks Beach on Lake Ontario. There was a pretty good chop with 2-3 foot swells. My purpose for the trip was to practice deep water self rescues and rolls. I took the boat out about 100 meters and dumped it. I've done stern entries on other boats with no problem, however the Expression was a whole different ball game. I popped up on the rear deck with no problem, then my dilemma. As I scooted forward, the seat back presented as a four inch high groin / thigh hurdle, even with the seat bottomed out. After approximately 25 attempts with only 3 successful entries, I was cursing the boat and the heavens. My groin had taken multiple shots, my thighs, knuckles, and other body parts were freely bleeding from catching the sharp edges of the seat back . Additionally, if you don't clear the seat, it folds forward and you find yourself sitting on the back of the seat, with no way to correct it without bailing out. I was exhausted and livid. I was thankful I hadn't tried this on the ocean or in a Florida / Georgia swamp, chum comes to mind. All joking aside, this is a very serious design flaw and could have been fatal had I been much further out. I called Perception about this issue this a.m. and their rep indicated the "design was not intended for open water self rescue, it's more of a recreational boat". Perception does not advertise this boat as a "Recreational" boat. The rep stated that if I planned on open water rescue and rolls, I would need a back band set up. He gave me a part # 8023007, Phase 3 XP Back Band. They wouldn't comp me for the replacement. Perception needs to not advertise this boat as an "Ocean Touring Sea Kayak", until they retrofit their boats with the appropriate back bands.. Although I have enjoyed the boat's overall performance, the seat issue is really scary. So for the time being I'll be sticking close to shore. This has not been a good start to my relationship with Perception.