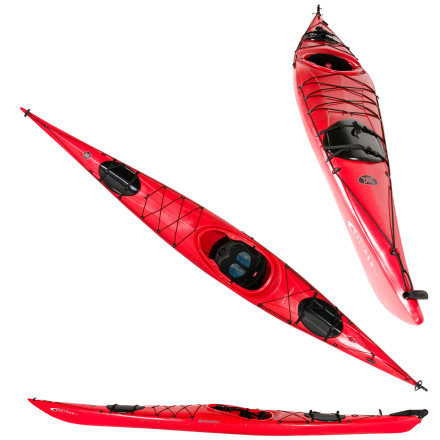 Detail Images
The Perception Eclipse Series Kayak with Rudder gives you the choice of a 16ft- or 17ft-kayak that efficiently covers long distances over water and carries all the gear you need for a few days of camping along the way. This touring kayak paddles effortlessly thanks to its slim yet stable profile. A foot-controlled expedition touring rudder helps it track straight and turn with ease. Liquicell padded seating reduces pressure and provides excellent comfort for long days on the water. Smaller women paddlers should consider the responsive 16ft kayak for a speedy, stable ride. When it's time to load up, there's plenty of room in the 17ft boat with 8850cu inches of space in two water-tight compartments and lots of deck lashing for overflow.
Share your thoughts
What do you think of the
Perception
Eclipse Series Kayak w/ Rudder
? Share a...
Unanswered Question
Write your question here...yeah! I made...
Write your question here...yeah! I made the fatal mistake and sold my 17'2" eclipse, now I am back from Europe and cannot find one w/ rudder, not skag. Anybody know where I can find one?
This boat is really fast in the water. It tracks quite nicely, although as someone else has mentioned, it does weathercock in the wind. The rudder really helps to compensate and can help to keep the boat straight. This certainly isn't the most stable kayak I've ever been in, however, it is very fast and it handles chop and waves quite well. If you have a little kayaking experience under your belt, this shouldn't be too much of a problem.
Great boat, It was very easy to maneuver and liked how long it was. Very good tracking and tons of storage space for whatever.
I love my boat! Speed, easy turning, and punching though chop and open water on the mighty Columbia River all come together for a great adventure ride. The v-bottom, though not super stable initially, is totally fast and maneuverable both in tight creeks and big water. The storage units with a two-part hatch are a bit funky, but water-tight and solid. The gel- butt seat has been comfortable, but the low-back nature of it is a bit small for me. I would like more substantial surface support. I'm 6'1" and 190. The pedal rudder system works well, but the foot slide inside gets gritty on the beach and requires daily sand maintenance. Overall, a great touring/adventure boat for trips and open water kayaking.
This is a great boat for anybody looking to get into kayak touring. It handles a large load very well, and is super comfortable. The only complaints are how much it weathercocks in the wind, but the rudder helps with that.
This kayak was great. I spent two weeks paddling in Baja California, and this was definitely a comfortable boat to be in. Great for any paddler. Stable for beginners and bigger paddlers, but still fun to play around in. Got my first offside role in this boat.
Best touring kayak available
This is the best touring kayak on the market. It is super lightweight, durable, has a bunch of storage room and paddles very well. It tracks so well, but can be a little unstable.