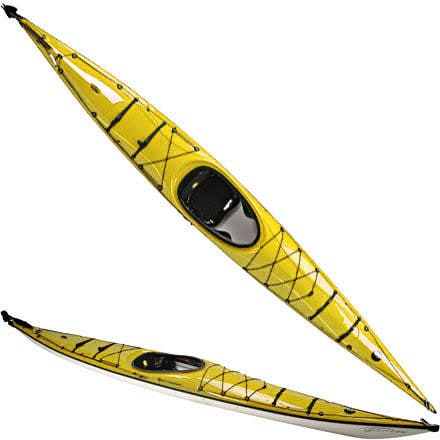 Description
Did we mention this boat is revolutionary?
Think you won't notice a few extra pounds? The Eclipse 17.0 Airalite Kayak is willing to bet otherwise. Especially on the long hauls. Made from light but tough Airalite, this Eclipse is as tough as rotomolded plastic, but enjoys the same stiffness and lightweight usually associated with fiberglass composite kayaks. The Eclipse features an upswept bow that breaks and rides waves wonderfully, and flush mounted hatch covers that won't snag things. Because it's a top-end expedition kayak, the Eclipse will hold a line for miles and miles (and miles,) aided by the Yakima rudder to keep your line honest in heavy wind and seas. Since you'll be exploring rocky coastlines and quiet inlets for days at a stretch, you'll appreciate the Eclipse's bevy of comfort features, including a fully adjustable seat with lumbar support and foam knee braces. Ample storage space lets you take everything up to and including the kitchen sink, and the Eclipse's flared midsection means that the more you weigh it down, the steadier it gets. Deck rigging lets you keep essentials like water, food, navigational equipment and a spare paddle close at hand. When you set out on an Expedition in the Eclipse Airalite, you can be confident you're tackling the great unknown in a boat designed from top to bottom to meet your needs on the open water.
Share your thoughts
What do you think of the
Perception
Eclipse 17.0 Airalite Kayak w/ Rudder
? Share a...