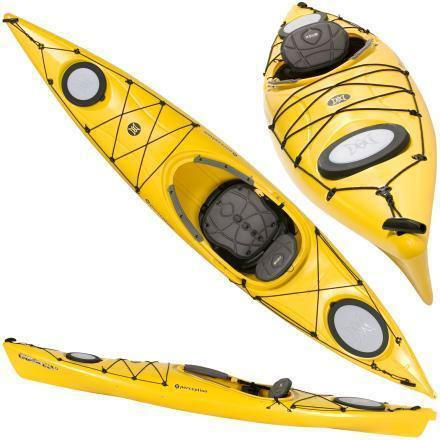 Paddlers looking for a smooth ride on an easy-to-handle craft can choose Perception's 12-foot Carolina Kayak, while younger paddlers who weigh up to 120 pounds will enjoy the Carolina 12 XS. The Carolina 12 Kayak's adjustable seat and knee pads with inner or outer brace options keep you comfortable on day trips. Adjustable foot pads on both the Carolina 12 and the 12 XS give your feet something to brace against while you paddle. Bow and stern hatches on the Carolina 12 Kayak hold lunch and other gear, while double-sealed bulkheads keep water out of the hatches.
Share your thoughts
What do you think of the
Perception
Carolina Series Kayaks
? Share a...
Posted on
Im a small 13 year old, and looking for a...
Im a small 13 year old, and looking for a more upgraded kayak than the one I already own. Would a full size kayak be too large to handel, or would I need an XS?
Responded on
It is based on personal preference.
Unanswered Question
Posted on
I paddled the Carolina 12 yesterday and...
I paddled the Carolina 12 yesterday and liked it a lot but the cockpit seems a bit cramped after my Prodigy 10. Does anyone have experience with both the Carolina 12 and the Prodigy 12 to compare their handling, speed, tracking, etc?
My Perception Carolina Kayak arrived today in perfect condition and it looks great sitting on my living room floor. South-Eastern Ohio received a good three inches of snow today and the water is still frozen 500 miles in all direction. Looks like I will have to wait another month to get it in the water.
I am really happy with it at this point but who wouldn't be?
I want to thank this site for the great customer support that you offer and I will return to write a review when I get it wet.