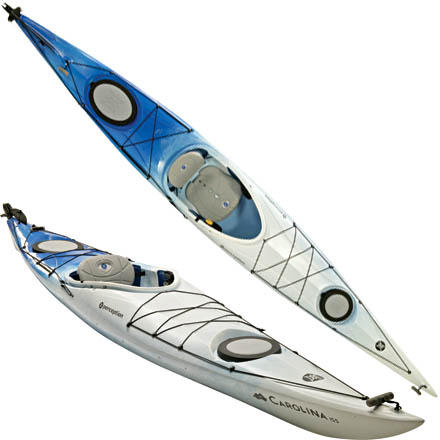 The Perception Carolina 15.5 Rudder Equipped Kayak is a long-distance touring board designed for big paddlers and bigger loads. The Carolina's large cockpit is easy to enter and exit, and the Zone seating with adjustable backrest assures that you'll be comfy while you're on the water. With a massive 11,500cu in of storage under two dual-density water-tight hatches, this Perception kayak carries plenty of gear to make your camping time comfortable as well. Drop the retractable rudder when the cross wind is trying to blow you off course, and the Carolina tracks straight and turns exactly where you want it to.
Share your thoughts
What do you think of the
Perception
Carolina Series Kayak 15.5 - Rudder
? Share a...
Unanswered Question
i was lookin to do some kayakin in mainly...
i was lookin to do some kayakin in mainly rivers, brooks, and lakes...not the ocean so much.....but i got a chance to get a perception carolina 15.5 sea kayak for a little cheaper than a new one. dont know what a perception carolina is or even if its any good for what i need??? any help would be appreciated...by the way hes sellin me the kayak, skirt, lifejaket, and ore for 1000 and tells me he paid 1800 for the kayak alone?? so if anyone knows weather or not this guy is full of shit let me know..haha