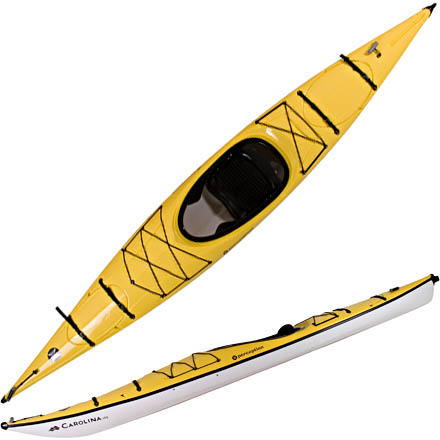 The Perception Carolina Airalite Series Kayak takes advantage of the latest hull materials to decrease drag and weight, making this day-touring kayak very easy to paddle and transport. Thanks to its Airalite construction, the Carolina provides the performance of a composite boat for the cost of a plastic with less weight than either. Bow and stern Airalite hatches provide easy access to storage space for a couple days worth of gear, and deck rigging allows you to strap on even more. Ideal for long day trips and overnight journeys, the Carolina Airalight kayak glides through the water with ease whether you're paddling it empty or packing the kitchen sink.
What do you think about this product?
Have questions about this product?
I don't know much about kayaks but I paddled this around some finger canyons in Lake Powell - what a blast. It's amazingly light for dealing with loading on roof racks, etc. Put it in the water and it's expectedly unstable side-to-side but man it's fast. Just an easy paddle and you are just cruising. Really fun to use...kinda like a road bike on the water. Fast fast fast.