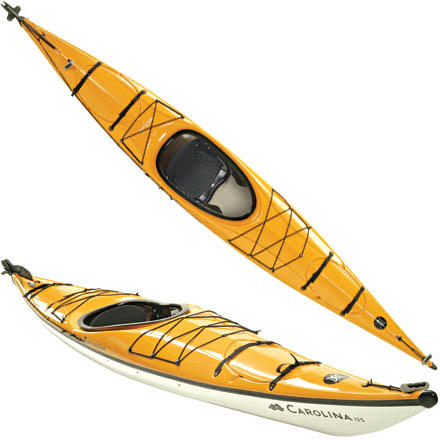 The Perception Carolina Airalite takes the boat that virtually invented the day-touring category, and joins forces with the kayak material of the future. The Carolina tracks well, cruises efficiently, and paddles easily for new or seasoned paddlers alike. The addition of Airalite only ups the level of stability and performance with great acceleration and impressive speed. Airalite kayaks are co-extruded, high-impact acrylic over premium impact ABS. That means they're light and stiff like composite kayaks, and as tough as plastic. For your paddling comfort, Perception included a Comfort Fit System complete with padded foam thighbrace and ratchet adjustable backband. Dual hatches ensure that you can take it all with you when you go. And we encourage you to go.
What do you think about this product?
Have questions about this product?
My racy red kayak is as much fun as my husband's racy red Vette! This beautiful boat handles easily. Getting into and out of this boat is easy, even for a 5'10" person. The ratchet adjustable back band makes it comfy for long paddles. Only downside: the first boat I received was the wrong one (not the Airalit!), but the company corrected their error immediately with fast and friendly customer service.
Wonderful! Thanks for excellent service, good price, and a nice riding machine. I have used it twice already and am very happy with it.