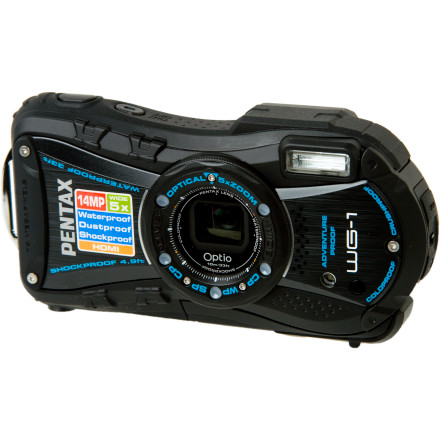 Detail Images

Community Images
Like a certain caped comic-book superhero, the ridiculously rugged Optio WG-1 Kit Digital Camera can take whatever punishment you're in the mood to dish out. Waterproof to 33 feet (so you can shoot underwater), shockproof from up to a 5-foot drop, crush-proof to withstand up to 100KG of force, cold-proof to 14F, and dust-proof, this is one point-and-shoot you're going to have to work hard to destroy. Also tough to beat: advanced features in this high-res 14-megapixel camera that allow you to capture anything from detailed Super Macro shots to HD movies.
Quick 1.3-second power-up time and 0.03 shutter lag means you'll be ready to get the shot with a moment's notice
Digital Microscope mode with LED lens lighting captures subjects as near as 1cm from the camera
Shoot HD video and use the movie edit function to complete basic, on-the-fly editing in-camera
5X optical zoom combined with 6.7x digital zoom allows you to shoot anything from spectacular landscapes to tightly framed snapshots
Face-detection and pet-detection modes zero in on the faces of your loved ones to ensure sharp focus
Triple anti-shake protection prevents different kinds of camera shake so you can nail crisp, clear shots even if you're jostled or on an unstable surface
Built-in flash allows you to fill in shadowy areas or shoot in the dark with an effective area of 13 feet (3.9m) at wide angle to 8.2 feet (2.5m) shooting zoomed
HDMI port lets you play back your images on your high-def TV
Custom image modes include black and white, sepia, toy camera, retro, high contrast, starburst, soft, fisheye and a variety of others
Comes with battery, charger, strap, caribiner strap, macro stand, USB cable, AV cable, and software CD
great pics underwater and on dry land
I love this camera so far - I've had it for a few months and have taken video and pictures underwater which I think came out really well. I tumbled around in some very rough waves and sand quite a bit with it and it came through without a scratch. I'm also really happy with the dry-land pictures it takes. I really love not having to worry about the camera getting splashed or dirty (just makes it easy to bring it along). So far, no problems.
Unanswered Question
does it have a remote feature?
does it have a remote feature?
Unanswered Question
I ahve a Pentax Optio W10 that has finally...
I ahve a Pentax Optio W10 that has finally died. Will the connections, batteries, and scan disks work in the Pentax Optio WG-1?
Pentax WG-1 Ionian Islands, Greece
An untouched photo taken with my Pentax WG-1 in Greece this summer. Great Camera, Great Quality.
Excellent Camera - Great Pictures, Tons of Features and Bomb-Proof
I brought my Pentax WG-1 Camera to Greece's Ionian Islands this summer and was very impressed with it's picture quality, myriad of functions and supreme durability. Whether I was using the panorama feature to capture expansive vistas or taking underwater photos, the Pentax WG-1 never let me down - it is easy to use, has more features than you can even imagine, and most importantly, takes excellent pictures. See attached photo for example of an unedited photo from the Pentax WG-1. I'll post a couple others as well to check out.
I found the picture quality of this camera to be sub par to many other less expensive, and often lower megapixel digital cameras. On a tripod the pictures are decent but still not what I expected. I found this to be a cheap camera in a tough case. The interval video and photo feature's were the best part of the camera, and those I will miss. I have many pictures taken with this by myself as well as others from various trips and the most of pictures look like garbage.